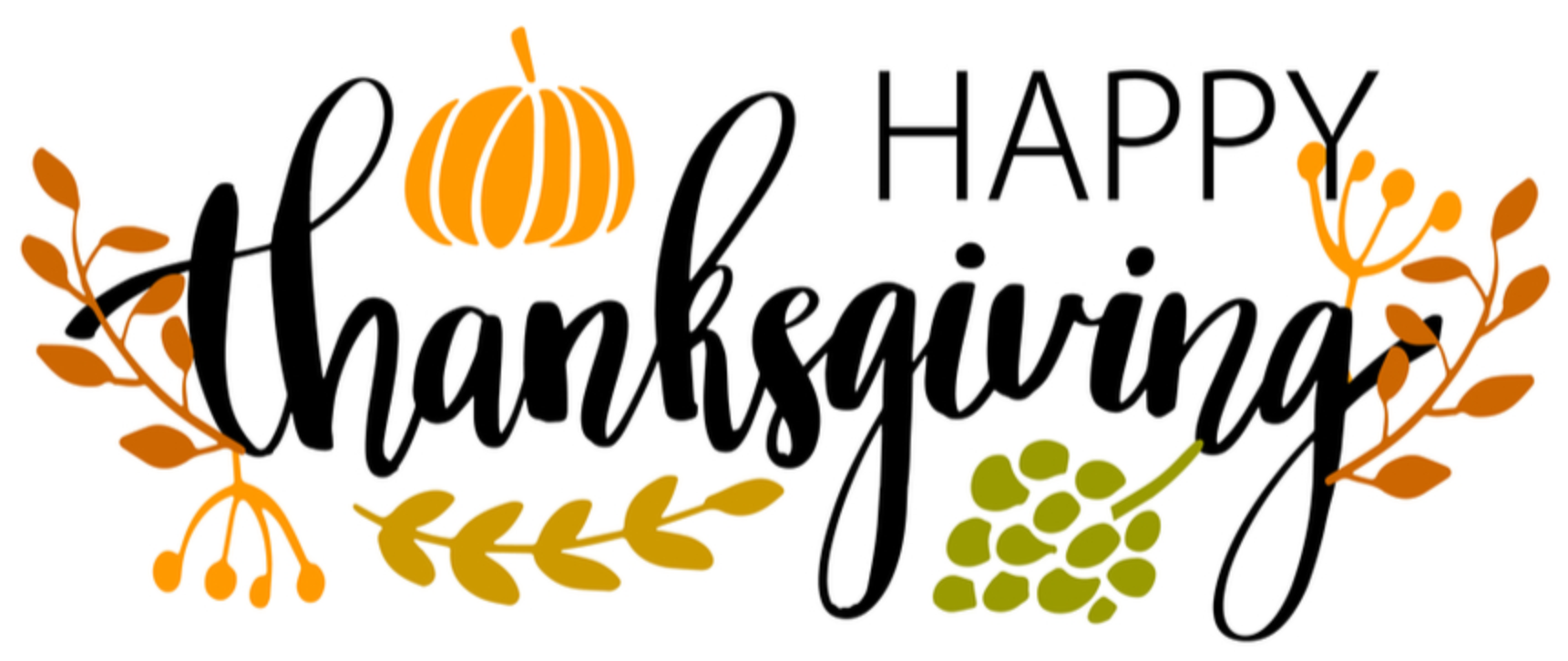 It's a beloved tradition around here to gather the entire Grace Team around the table each year for a Thanksgiving feast. Sadly, like almost everything this year has wrought, tradition has been set aside for our top priority at Grace Technologies; health and safety. But we won't let that keep us from celebrating. Many of you know Drew Allen already, but for anyone new to the blog Drew is our Vice President of Strategic Development and second-generation leader of Grace Technologies. In regards to Thanksgiving 2020, Drew wanted to share some words with you all.
We've almost made it to the end of 2020 and we at Grace have a lot to be thankful for this year in particular. First and foremost to all of our partners, customers, and Humpday Subscribers across the globe, THANK YOU!

This has been a year like no other and we have held our own. My family and I have have been so impressed with the Dream Team at Grace. Whether it's our executive and administrative teams ensuring everyone's safety at the office through new procedures and cleanliness, our IT Department moving A LOT of folks to work from home within the period of a week, our engineering and production teams designing and producing face shields within a week for our frontline healthcare workers at the beginning of the pandemic, our sales team navigating the uncharted terrain of restricted travel, our engineering team assembling a summer internship program and everyone working like mad to make our Predictive Maintenance System successful, our marketing team doing a TON of new virtual projects, our accounting team vigilantly managing a crazy year where budgets did not go according to plan in the midst of insanity and challenges while doing all the leg work for a massive shift to a new manufacturing software platform, our production team still meeting our customer shipments in the midst of a (hopefully) once-in-a-lifetime derecho, coming together virtually to celebrate big wins in the midst of a pandemic, sharing loss of loved ones, especially when we can't be there, and, finally, surrounding my family in prayers, gifts, love, and kindness as my mom goes to battle against an all too familiar foe again; ovarian cancer. You have all done it as a family.

These are just a few of the incredible feats made by the Grace Team that have led us to be recognized as a 2020 Top Workplace and Manufacturing Leader. And I wish for all of you that, while Thanksgiving looks different this year (I know it does for me!), you have time to cherish your family and remember that in the midst of challenges you all are overcomers. I am grieved that we aren't able to celebrate the holidays in our traditional Grace way but it gives me hope that next year the celebrations will be even that much bigger, that much more special, that much more Grace. We are doing great things in partnership with all of you and you continually inspire me and make me proud to work at this company that supports such critical industries across the world. From the bottom of my heart, THANK YOU!
But there is one person that didn't make Drew's list. On behalf of all of us at Grace, THANK YOU, Drew, for your steadfast leadership during unprecedented times. There was no blueprint for how to navigate this year and your leadership inspired and nurtured the creative freedom we embraced to succeed in a year that told us we could not. Thank you for giving us a vision that allowed us to collaborate and create memories we can all look back on proudly!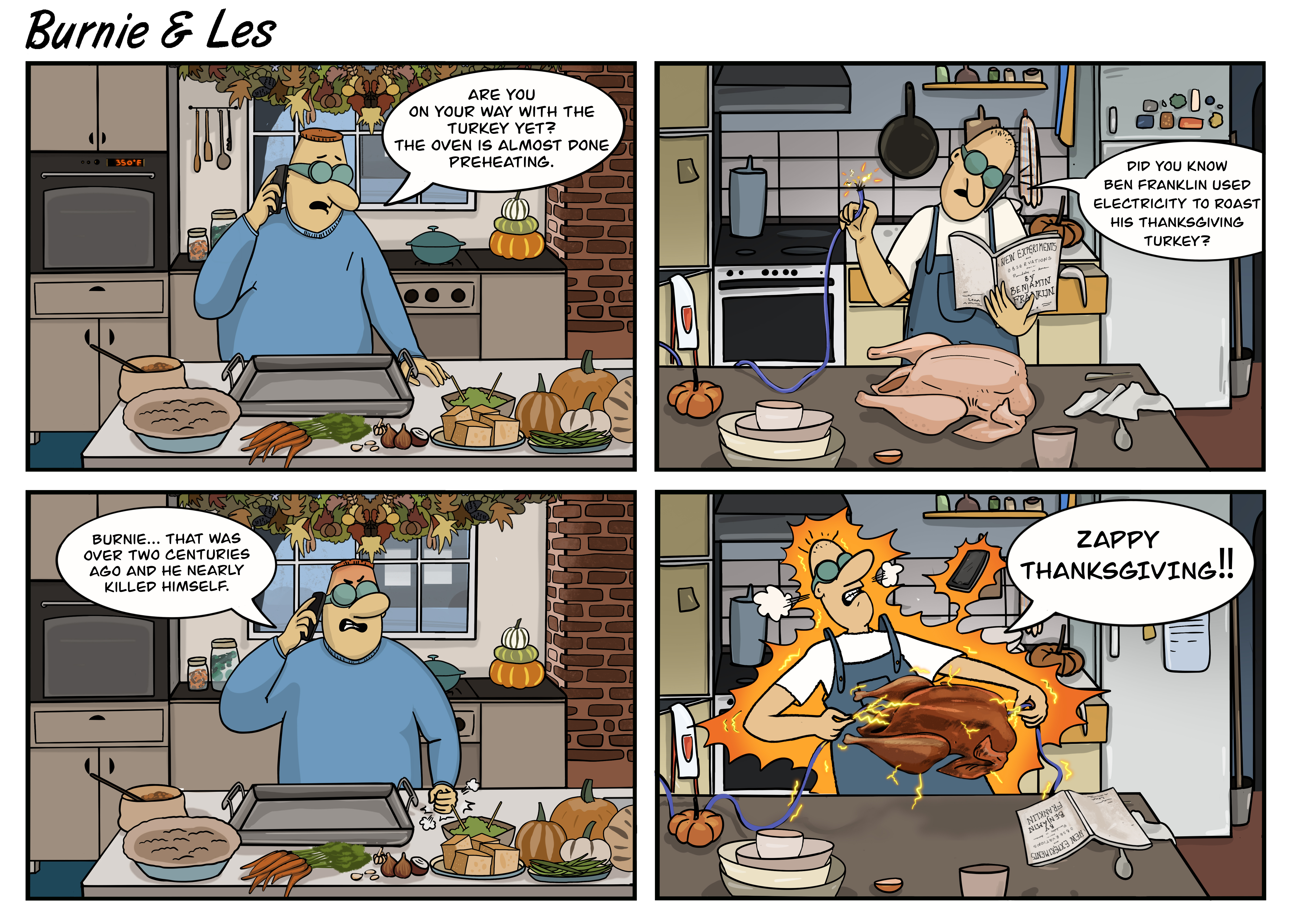 And now, back to your regularly scheduled Humpday: This comic is actually based on a true story. In his experimental phase (which, let's be honest, was his entire life), Benjamin Franklin devised an unconventional method for roasting a turkey using electric shock, as he believed it would achieve an uncommon level of tenderness. This should come as no surprise to friends and family of Franklin as he once proclaimed, "I never was before engaged in any study that so totally engrossed my attention and my time, as this has lately done."
In 1750, when Franklin hosted an elaborate and electrified barbecue, he roasted a turkey using a proprietary electrical jack, an electric device he invented that would rotate the turkey as it roasted before a fire, which was kindled by an electrified bottle.
However, he later confessed that things didn't quite go according to plan, "I have lately made an experiment in electricity that I desire never to repeat. Two nights ago, being about to kill a turkey by the shock from two large glass jars, containing as much electrical fire as forty common phials, I inadvertently took the whole through my own arms and body, by receiving the fire from the united top wires with one hand, while the other held a chain connected with the outsides of both jars." As you celebrate turkey day tomorrow, please do NOT try this at home!
Since Franklin's time, we have embraced much more conventional and safer methods when utilizing electricity. Just yesterday, EMEA Business Development Coordinator, Chris Schneck, demonstrated one of these methods in a live stream on LinkedIn.
"How do you perform a proper Live-Dead-Live test with the Voltage Test Station?" is one of our most frequently asked questions. Since most things have gone virtual this year, Chris has been regularly participating in interactive live streams to address questions regarding our electrical safety products and how they enhance productivity and maximize personnel safety. Check out the complete demonstration below:
As Chris demonstrates, be sure to always follow the "live-dead-live" test procedure as per OSHA and NFPA 70E (2015), Article 110.4(A)(5), 120.1, and Annex G. With a properly rated test instrument, verify the test instrument to a known source, then insert the test probes into the R-3MT test point assembly to verify the presence of voltage. Next, open the isolator and proceed to verify the absence of voltage on the R-3MT assembly by measuring L1-L2, L1-L3, L2-L3, L1-G, L2-G and L3-G. Once you have verified voltage absence, re-verify the test instrument to a known source.
---
Our offices will be closed tomorrow and Friday. We will return Monday, November 30.
Stay safe and have a HAPPY THANKSGIVING!