Top Workplace 2020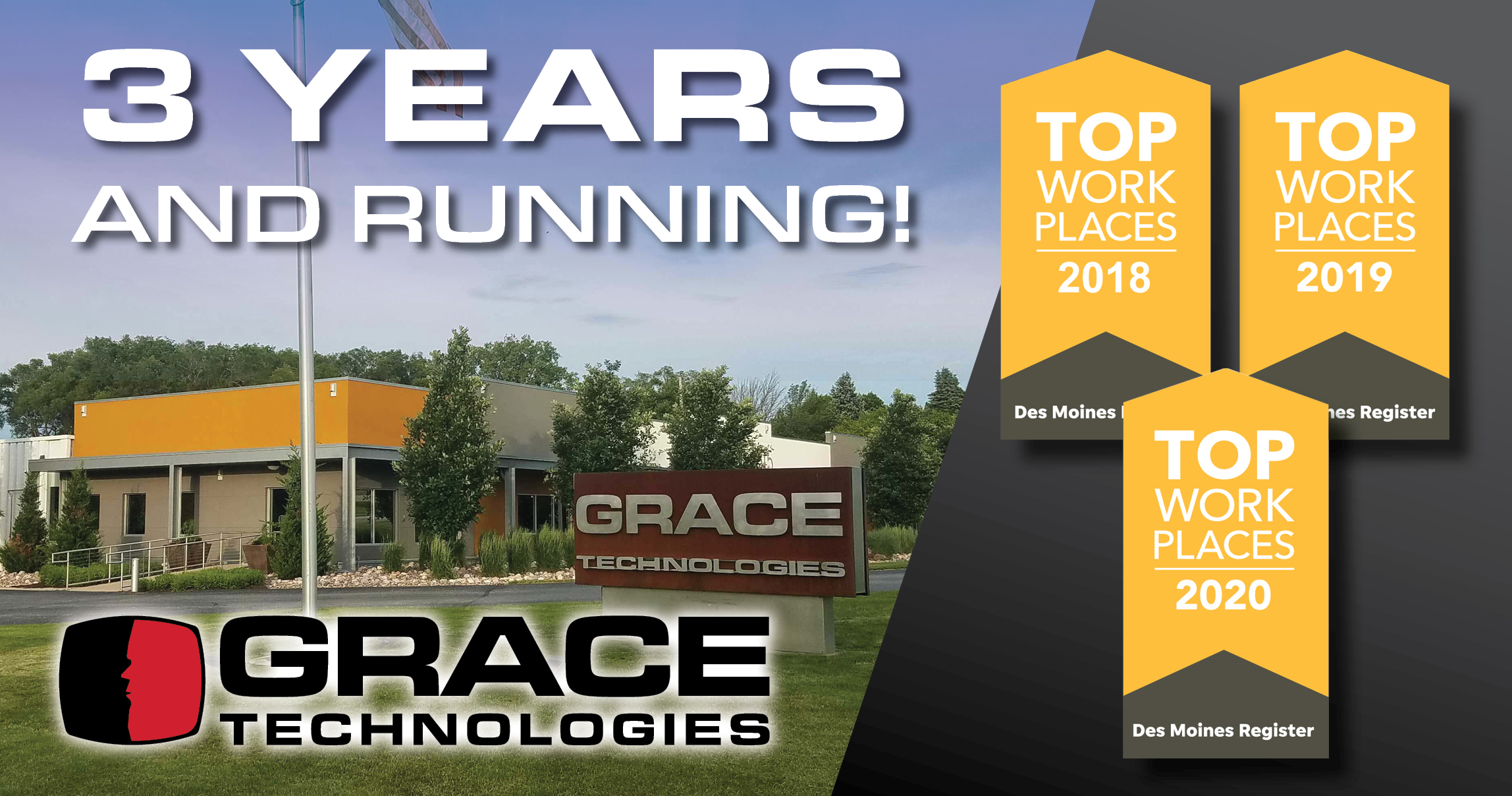 Last week, it was our honor at Grace Technologies to be recognized by The Des Moines Register as a Top Work Place for 2020. This is our third consecutive year receiving this award and it wouldn't be possible without our dream team; the entire Grace family. This honor comes in the wake of Grace also being honored and recognized in four categories by the Manufacturing Leadership Awards.
This year has been challenging to navigate for all of us and much of the praise Grace received is how well they handled safety amidst the pandemic and transitioning employees to working remotely. Honorable mentions and huge shout outs were given to our incredible IT team, Chris Newman and Jimmy Bollinger, for their tireless work to support us all with the new normal. I think the largest interruption we received this year was not from the pandemic, but the derecho storm that recently swept through Iowa and knocked our power out for days. Even during that, our IT dynamic duo got a generator on site to power our servers. They're always on top of everything!
The Top Workplaces 2020 list of award recipients is based solely on employee feedback gathered through a third-party survey administered by employee engagement technology partner Energage, LLC. The anonymous survey uniquely measures 15 drivers of engaged cultures that are critical to the success of any organization: including alignment, execution, and connection, just to name a few.
"In times of great change, it is more important than ever to maintain a connection among employees," said Eric Rubino, Energage CEO. "When you give your employees a voice, you come together to navigate challenges and shape your path forward based on real-time insights into what works best for your organization. The Top Workplaces program can be that positive outcome your company can rally around in the coming months to celebrate leadership and the importance of maintaining an employee-focused culture, even during challenging times."
"I'm really proud to say Grace Technologies has been named a Top Workplaces in Iowa by the The Des Moines Register for three years running," said Drew Allen, Director of Global Business Development, "Great job, team! We are doing our best and most important work yet. Big things are coming from Iowa and Grace! Keep an eye out."
Believe in the Cure & National Ovarian Cancer Awareness Month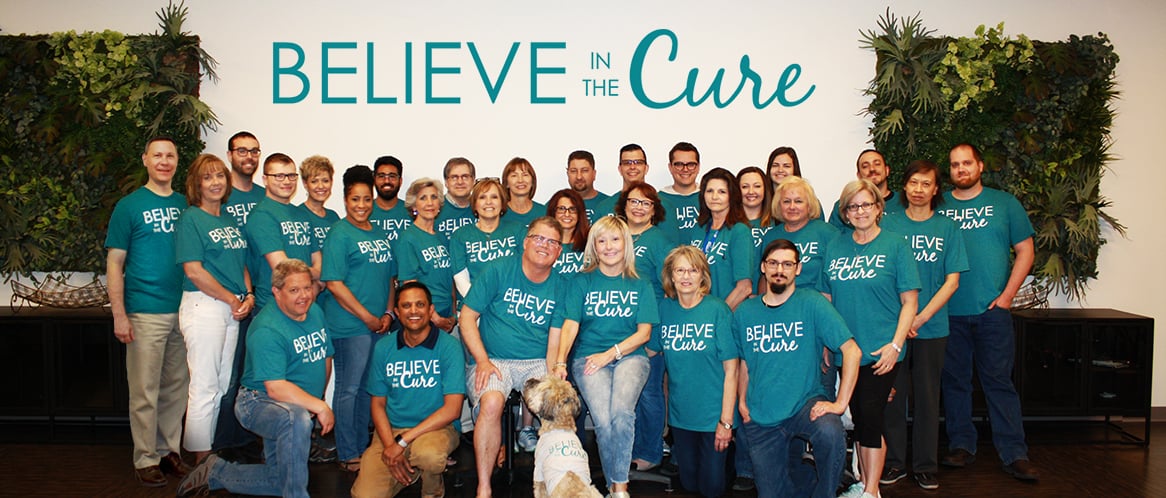 Founders of the Believe in the Cure initiative, Phil & Jane Allen, wanted to commemorate this occasion by also recognizing that September is National Ovarian Cancer Awareness month. Each employee received a Champagne bottle full of caramelized popcorn and a teal Believe in the Cure bracelet!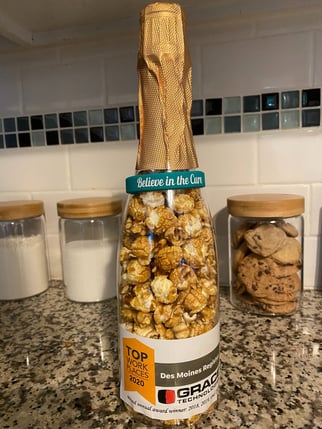 According to research, ovarian cancer ranks fifth in cancer deaths among women, accounting for more deaths than any other cancer of the female reproductive system. A woman's risk of getting ovarian cancer during her lifetime is one in seventy-two and with a late-stage fatality rate of 90% there's one woman dying from ovarian cancer every ten hours.
The American Cancer Society estimates that about 22,440 women will receive a new diagnosis of ovarian cancer just this year in the United States alone. Although the rate at which women are diagnosed with ovarian cancer has been slowly falling over the past 20 years, there is still a staggering 46% overall survival rate, which vastly depends on the stage of diagnosis.
With ovarian cancer, early detection is key and is made even more possible with awareness (take the 60-second BEAT Test to recognize the signs and beat ovarian cancer!).
Thank you all for your support over the years for Believe in the Cure. Please consider donating to the important research being conducted by Dr. David Bender, MD, and his team at the University of Iowa Hospitals & Clinics by clicking here. Dr. Bender has clearly demonstrated the need for continued research in the hostile world of Ovarian Cancer. They need better detection and treatment methods and with the help of people like you and foundations like Believe in the Cure, they're one step closer every day.
The Factory Futurist Podcast

Don't miss the incredible connections and conversations being made on the Factory Futurist podcast with Drew Allen. Be sure to check out our latest episode. New episodes coming soon!
Subscribe to the Factory Futurist podcast:
Google Play
iTunes Podcasts
Stitcher
TuneIn
iHeartRadio
---
Stay safe and have a GREAT week!