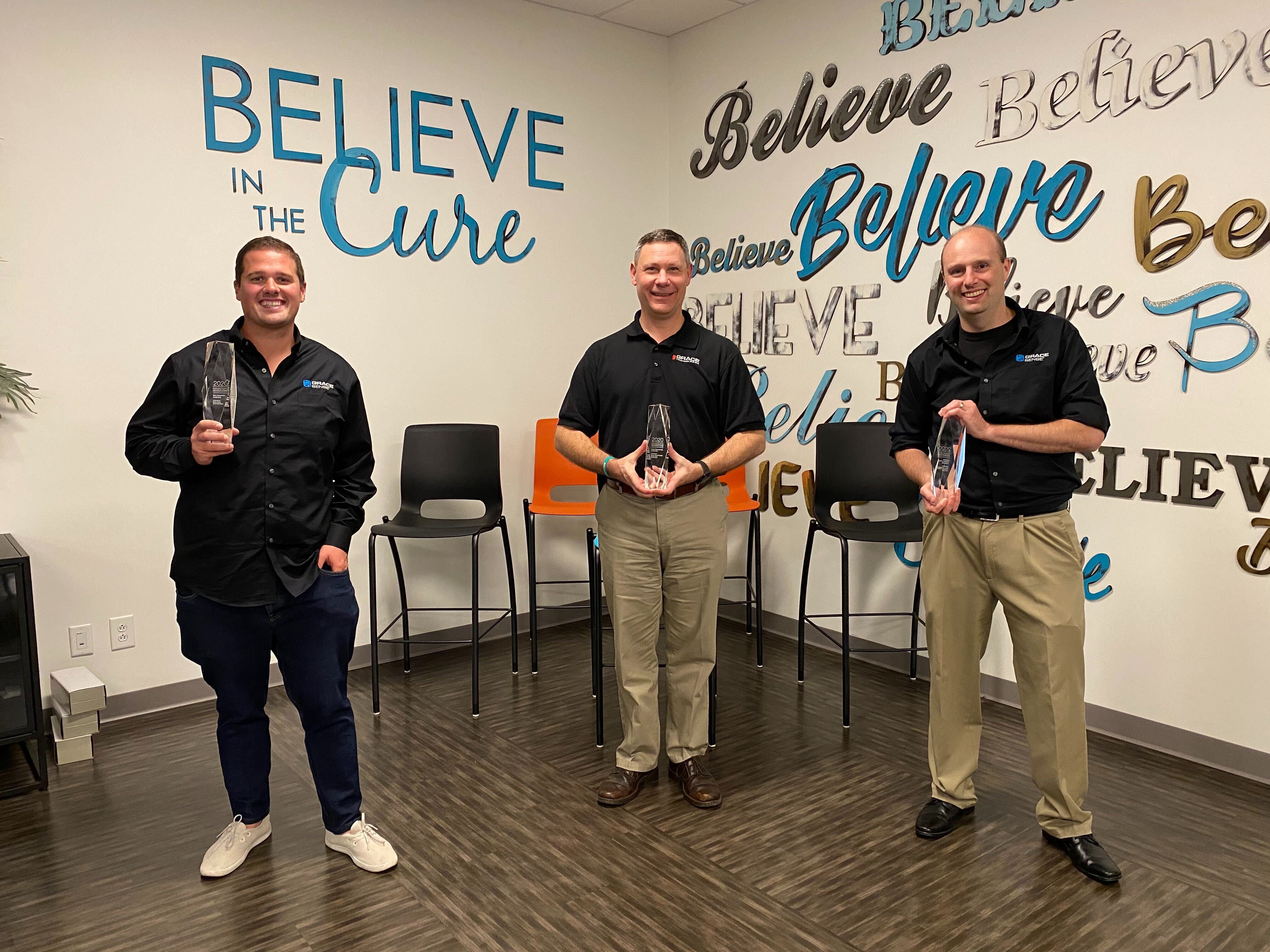 A little over a week ago, we held a socially distanced watch party for the Manufacturing Leadership Awards Gala that we were meant to attend in Florida. Obviously, that was not going to happen and like many other events this year, it went virtual. A couple of months ago, we announced that we had won in three categories. This event is meant to honor the award recipients and also award companies in outstanding categories.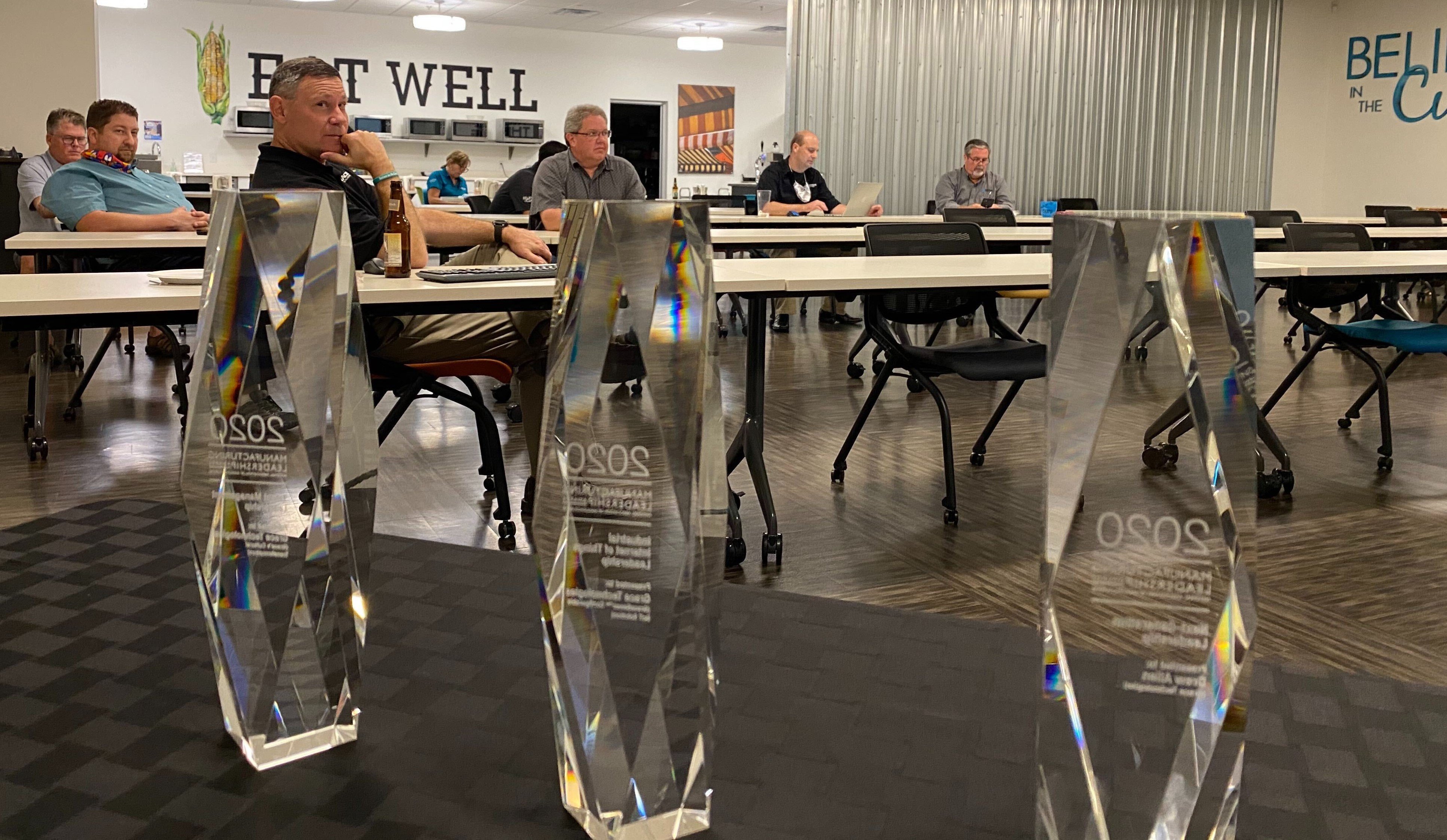 The event organizers were charismatic and quick on their feet to pull off an exciting virtual experience. It felt like our own little Oscar party. Speaking of which, in a separate room, Drew was watching the event from the "green room" (i.e. a separate Zoom meeting) where nominees in the outstanding awards category were set to be announced. He quickly made friends with fellow nominees and although we did not take home a trophy in the outstanding category, we are still honored to be recognized in three incredible categories.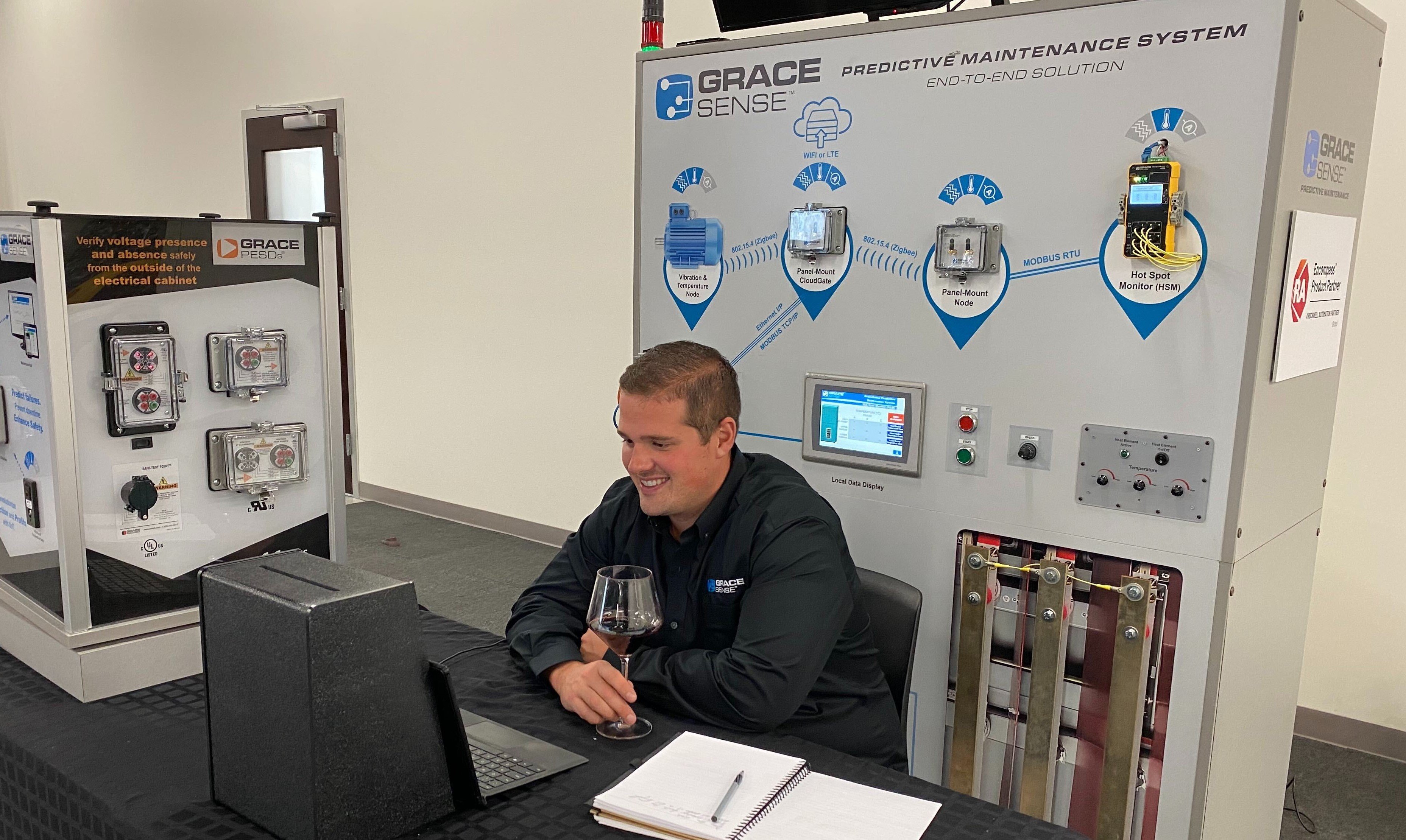 Drew Allen, our VP of Strategic Development, was recognized by the Manufacturing Leadership Council as an individual who, through his ideas and achievements, has established that he embodies and exemplifies the leadership qualities required in the Manufacturing 4.0 era. Follow the Factory Futurist podcast to see the incredible connections Drew is making with entrepreneurs and visionaries who are shaping the Manufacturing 4.0 era.
The latest innovative line of predictive maintenance solutions from Grace was recognized in the category of Industrial Internet of Things Leadership. The IIoT centric GraceSense Predictive Maintenance System helps end users optimize their maintenance budget allocations through pervasive sensing, edge computing, and cloud-based predictive analytics that can provide actionable information to maintenance and reliability engineers.
Lastly, Grace was also honored with an award for Talent Management Leadership for our efforts in a Cultural Transformation project. Our leadership team created new and overhauled existing policies to reflect a modern business with an innovative cultural approach. Examples of this include an improved corporate value system, company social engagements like weekly happy hours, and implementing an unlimited paid time off program called Responsible Time Off.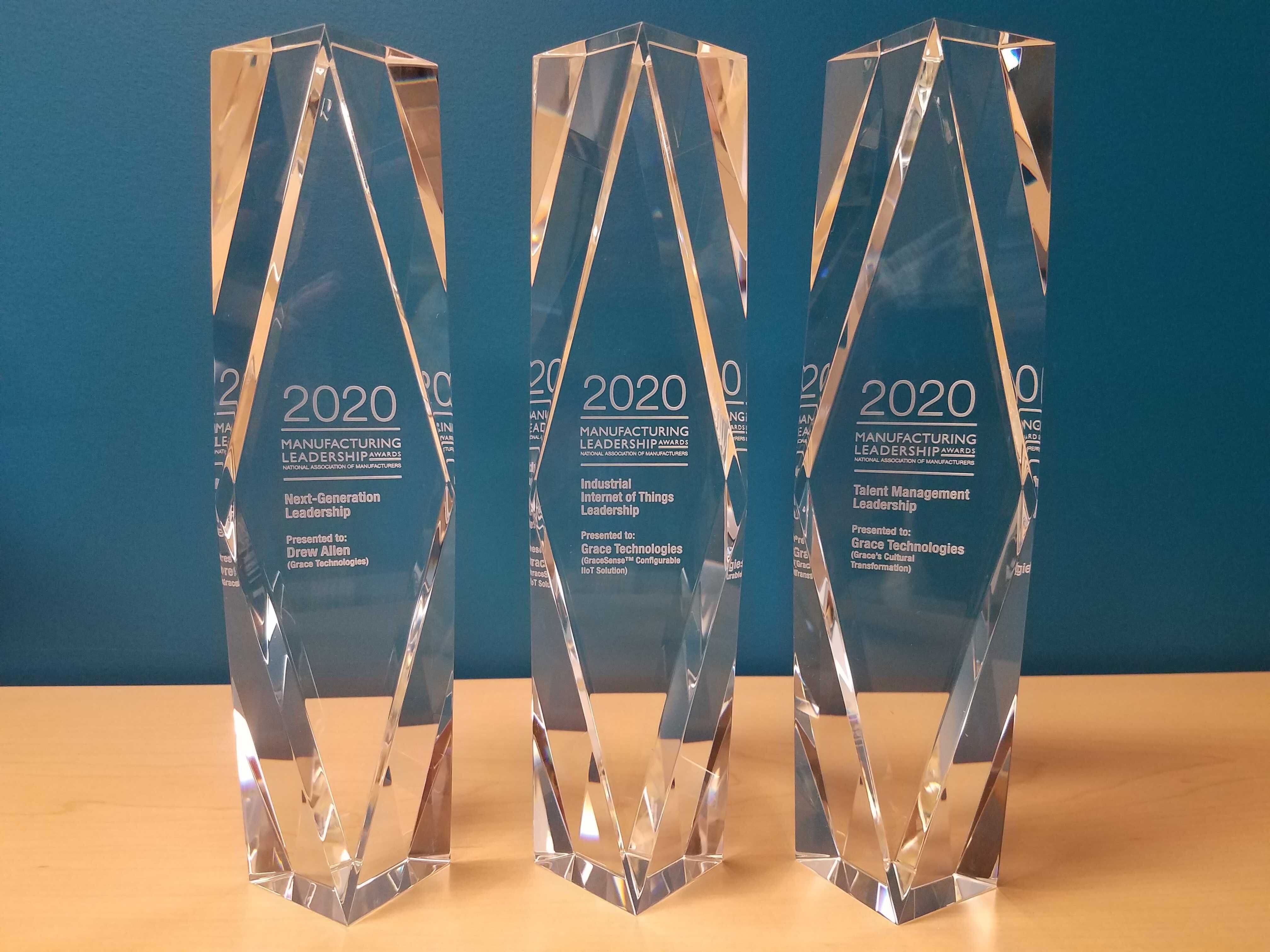 "At a time when the industry is more innovative and competitive than it ever has been, these award winners truly stand out as leaders of manufacturing's digital transformation," said Manufacturing Leadership Council Co-Founder, Executive Director and Vice President David R. Brousell. "We congratulate them for their outstanding achievements."
In association with the National Association of Manufacturers - NAM, the Manufacturing Leadership Awards honor manufacturing companies and individual manufacturing leaders that are shaping the future of global manufacturing. Winning projects and individual manufacturing leaders have demonstrated achievement in one of a wide range of categories, and are chosen by a panel of expert judges for results that have delivered clear and compelling value, return on investment, and other tangible outcomes.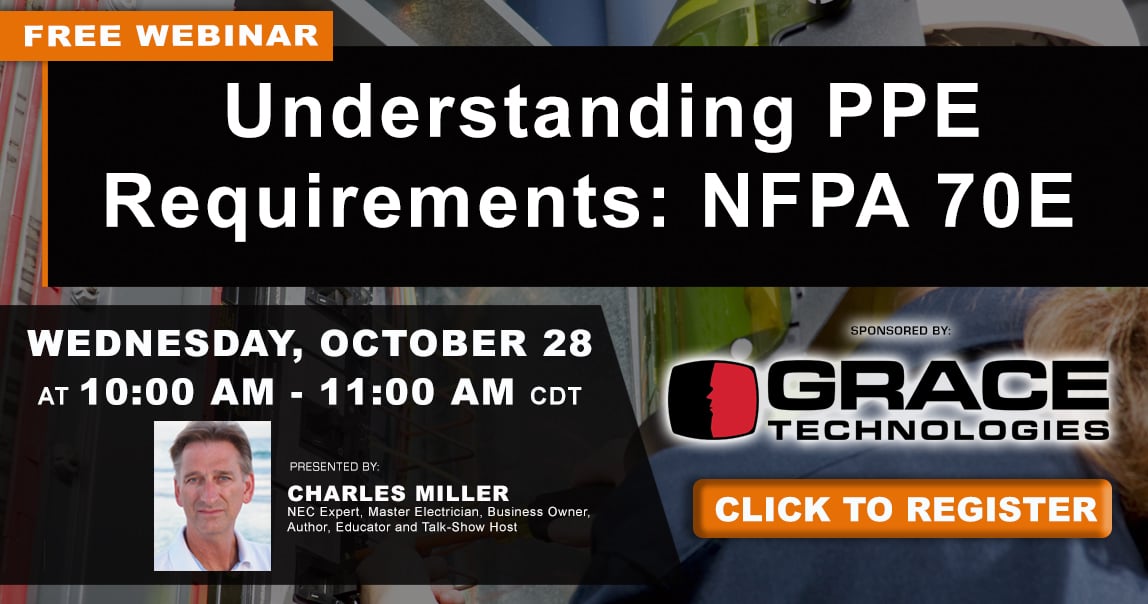 Upcoming Webinar: Registration is still open for our next FREE webinar! "Understanding PPE Requirements: NFPA 70E" is worth 0.1 CEU for those attending the live broadcast with NEC Expert, Master Electrician, Business Owner, Author, Educator, and Talk-Show Host, Charles Miller. Click here to register!
About this Webinar: When risks associated with electrical hazards are not adequately reduced, employees shall be provided with, and shall use, protective equipment designed and constructed for the specific part of the body to be protected and for the work to be performed. Some of the provisions discussed will pertain to rubber gloves with leather protectors, arc-rated gloves, arc-rated face shields and arc flash suit hoods, arc-rated balaclavas, arc-rated clothing, arc-rated outer layers, hearing protection and eye protection.
The Factory Futurist Podcast

Don't miss the incredible connections and conversations being made on the Factory Futurist podcast with Drew Allen. Be sure to check out our latest episode. New episodes coming soon!
Subscribe to the Factory Futurist podcast:
Google Play
iTunes Podcasts
Stitcher
TuneIn
iHeartRadio
---
Stay safe and have a GREAT week!