condition monitor sensors
Predict FAILURES, pREVENT dOWNTIME, eNHANCE SAFETY
Our suite of smart devices provide advanced analytics with deep insights about machine health to prevent unplanned downtime.
Wireless condition monitoring solution capable of providing real-time, sensor-based insights to almost any industrial application.
Advanced analytics provide asset managers with deep insights to machine health to effectively prioritize resources and maintenance spend.
Improve overall plant reliability, safety, and maintenance metrics by remotely monitoring asset health.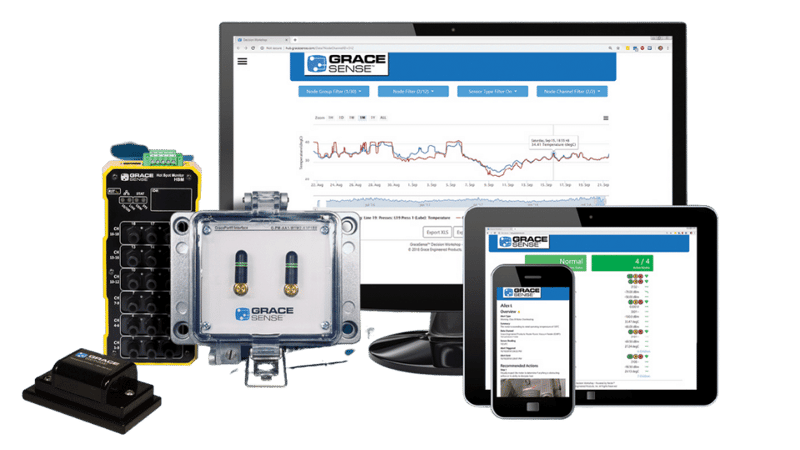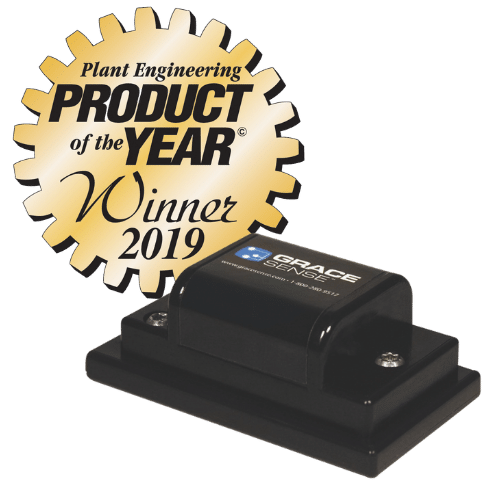 Vibration & Temperature sensor
condition Monitoring sensor
Wireless sensor nodes that monitor vibration and temperature to insightfully assess the health of rotating equipment.
Using advanced edge processing and IEEE 802.15.4 ZigBee compatible communication, these nodes enable plant floor personnel to continuously monitor equipment, detect defects, and predict health on any rotating equipment.
Panel-Mount™ Node
configurable hardware architecture
Configurable hardware architecture with a wide selection of inputs, transducers, radios and power options mounted in our IP65 environmentally rated housings.
Cost-effective solution to bring in hardwired third-party sensors via 0-10V, 4-20mV, as well as serial communication over RS485.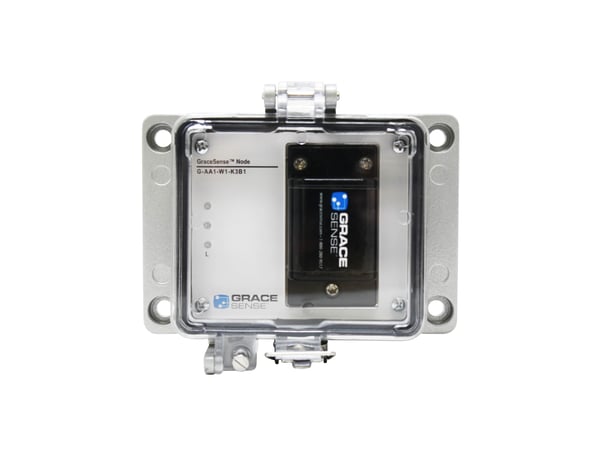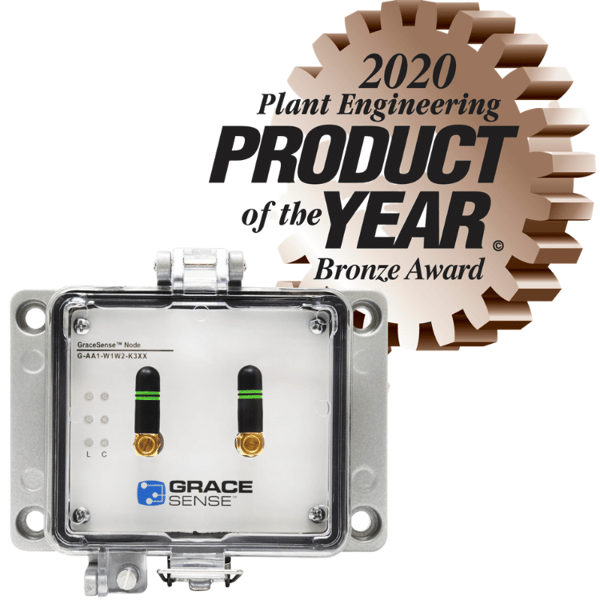 Gracesense gateways
cloudgate™, controlgate™, combogate™
GraceSense™ gateways transfer accumulated field node information to an actionable troubleshooting platform via our Maintenance Hub Cloud and/or your PLC, SCADA, DCS system.
The CloudGate™ transfers field node information to the browser-based Maintenance Hub were actionable, real-time insights are provided. We offer WiFi or LTE configuration that can provide cloud-based support to all GraceSense™ wireless nodes within a 30m radius.
The ControlGate™ is the gateway into plant floor control systems. This gateway configuration provides users quick integration into their control networks via PLC/SCADA and EtherNet/IP™ or Modbus TCP/IP.
The ComboGate™ is a hybrid configuration that provides data to both PLC/SCADA/DCS systems using EtherNet/IP or Modbus TCP/IP and communication options to the Maintenance Hub via LTE or WiFi.
HOW OUR GRACESENSE SYSTEM WORKS
hot spot monitor
Continuous Temperature Monitoring
The GraceSense™ Hot Spot Monitor (HSM) is a continuous, non-conductive temperature monitoring device that detects potential hot spots and alerts personnel of abnormalities in electrical equipment.
Continuously monitor temperature in critical equipment real-time, for inaccessible locations with the doors closed. Providing maximum safety and protection for personnel and identify equipment failures before they occur to avoid unplanned downtime and equipment failures.
Integrate the Hot Spot Monitor with a panel-mount node to remotely monitor in the browser-based Maintenance Hub or via MODBUS TCP/IP or EtherNet IP into your existing SCADA system.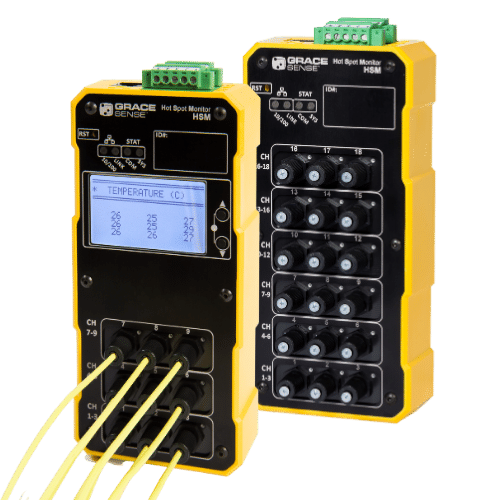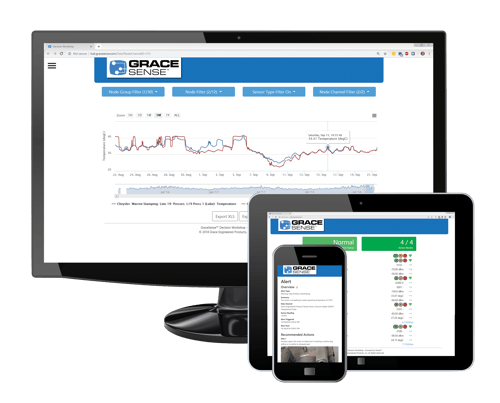 Maintenance Hub
REal-Time analytics
Intuitive browser based interface that provides real-time asset statuses using dashboards, plot trends and analytics that provide system information, reports and issue alerts.
Hosted either in the cloud or on a local server, the Maintenance Hub displays system information, generates reports and issues alerts via SMS and email containing actionable step-by-step remediation instructions.
Service Packages
EAse of Integration support
Our expert technicians are here to help ensure a successful transition into our Predictive Maintenance solutions.
We provide Cloud-based monitoring, installation oversight with setup assistance, routine node maintenance and personnel training.
We have a range of options including on-site, remote or a combination of services to ensure confidence knowing that the system is properly setup, monitored and maintained to provide actionable information.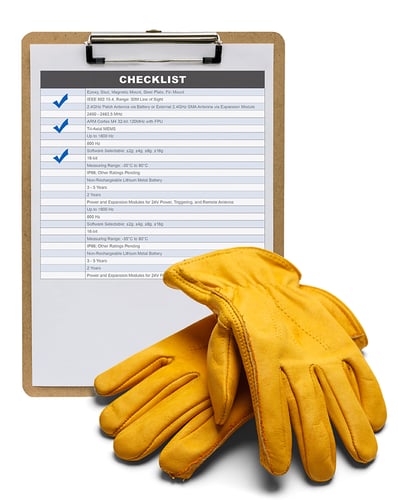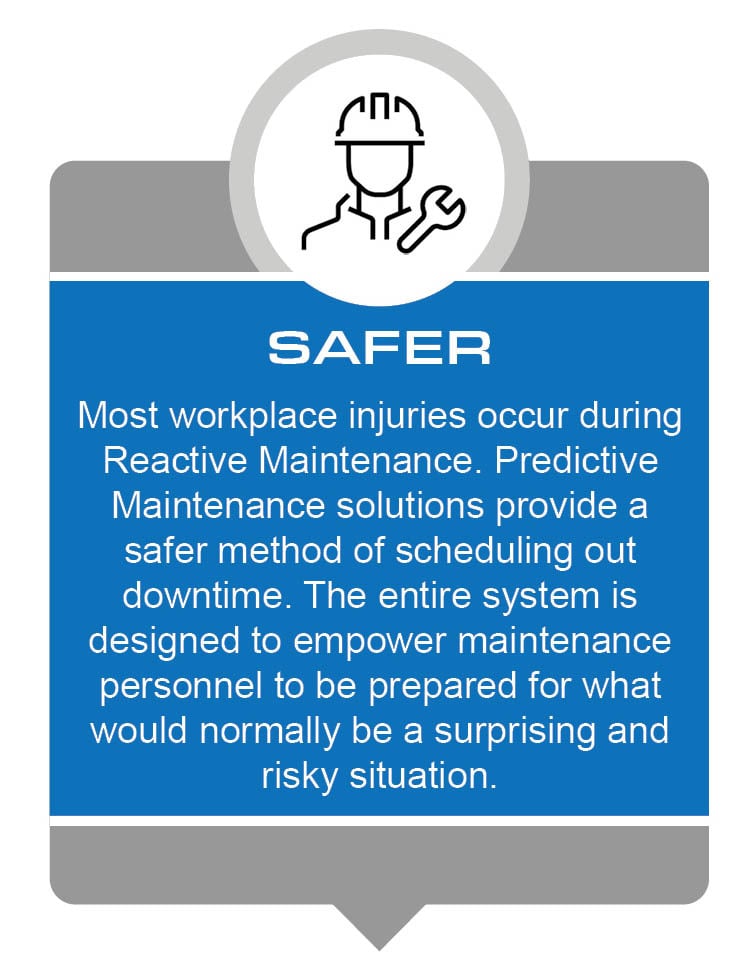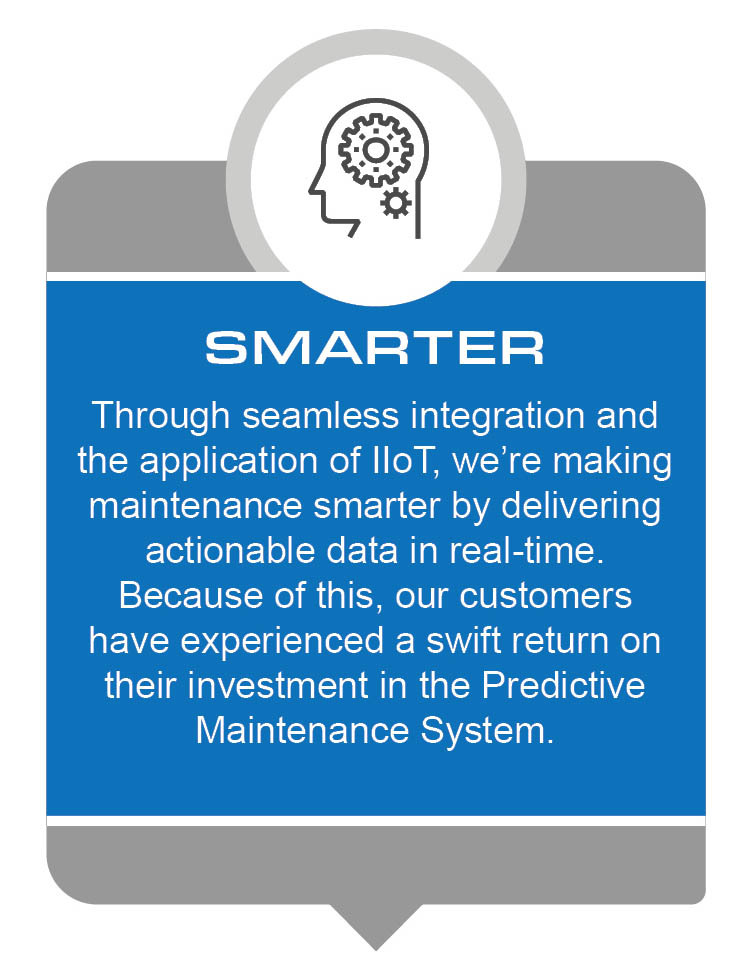 gracesense overview
Predictive maintenance system
IIoT Smart Devices designed to reduce unplanned downtime by providing continuous, remote vibration and/or temperature monitoring for switchgear, transformers and rotating equipment.
Learn how one of the world's largest automotive manufacturers avoided losing $0.5M in unplanned downtime by installing the GraceSense Predictive Maintenance System in their Automotive Stamping Plant.