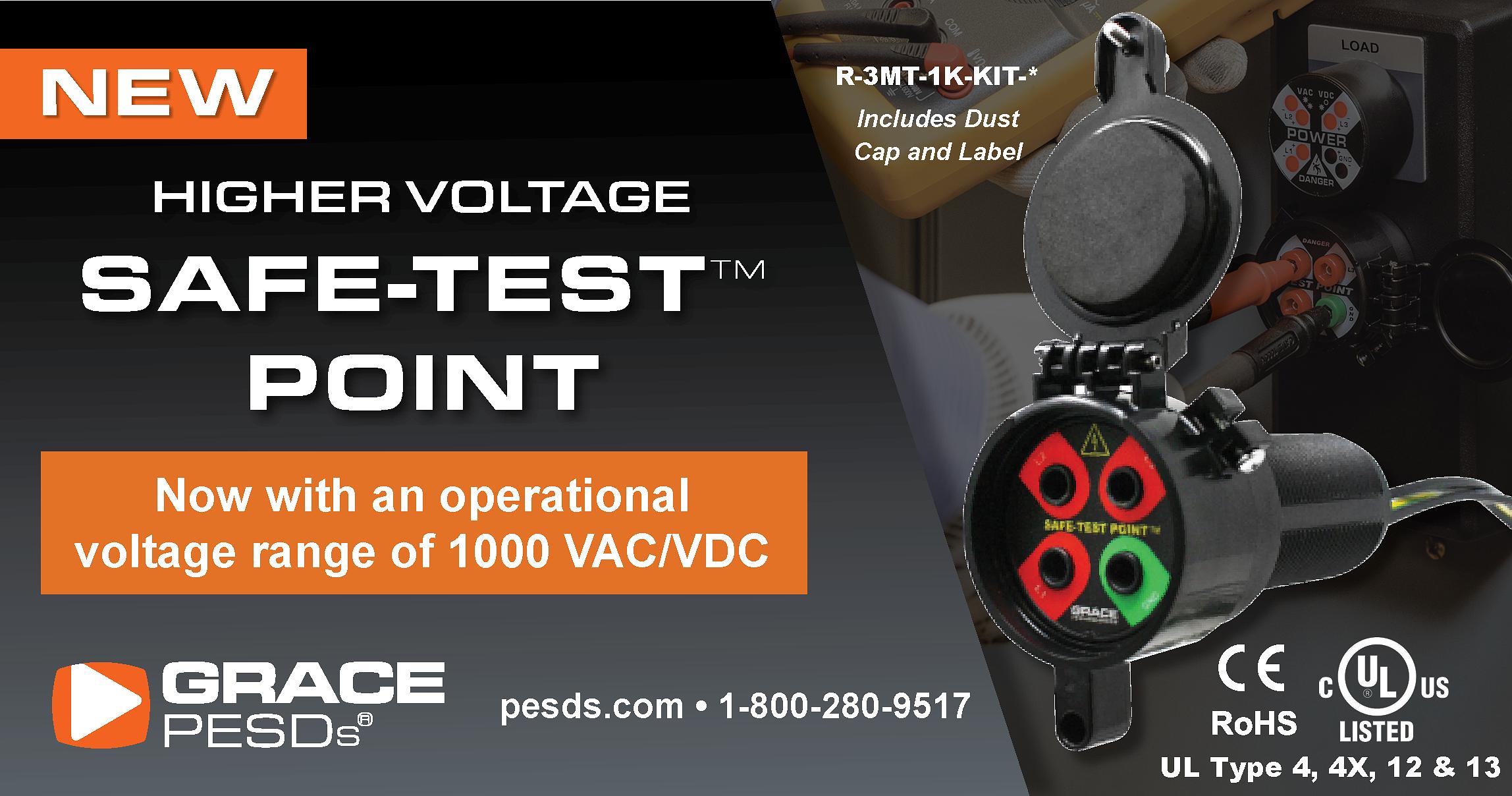 I've had the privilege of attending many of our larger trade shows over the years and one thing remains constant when we meet qualified workers; they love the Safe-Test Point. There are various devices and methods for presence and absence of testing, but the Safe-Test Point is intuitively designed to work with the most essential part of an electrician's toolbox; their trusted multimeter.
The Safe-Test Point is a Permanently Mounted Accessory (UL 61010) that meets NFPA 70E Article 120.5 (7). When properly incorporated into a facility's written Lockout/Tagout (LOTO) procedure, the Safe-Test Point inherently reduces the risk of shock and arc flash occurrence by providing a method of verifying energy isolation without personnel making direct contact with hazardous voltage.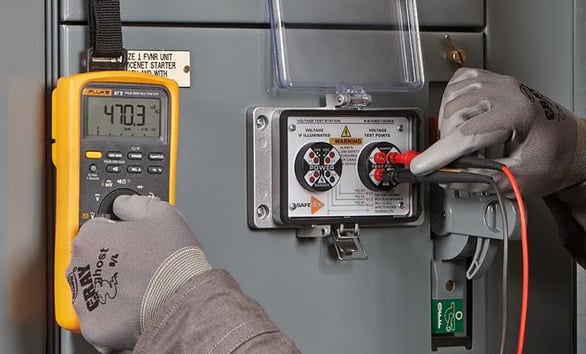 Grace's Permanent Electrical Safety Devices (PESDs) can also be combined into a unit that includes both a voltage presence LED indicator and our high-impedance protected Safe-Test Point for absence of voltage testing. This Voltage Test Station combination unit provides a safer and more productive means of performing both Mechanical and Electrical LOTO.
The Voltage Test Station and Safe-Test Point are hardwired directly to the source and do not depend on a battery to operate. Multiple configurations of these devices are available allowing for installation on the side of an enclosure, door, or flange.
The test point jacks allow measurement of AC/DC voltages either phase to phase or phase to ground. By inserting insulated meter probes with .080" tips into any two test point jacks, you can take a voltage reading with your properly rated test equipment.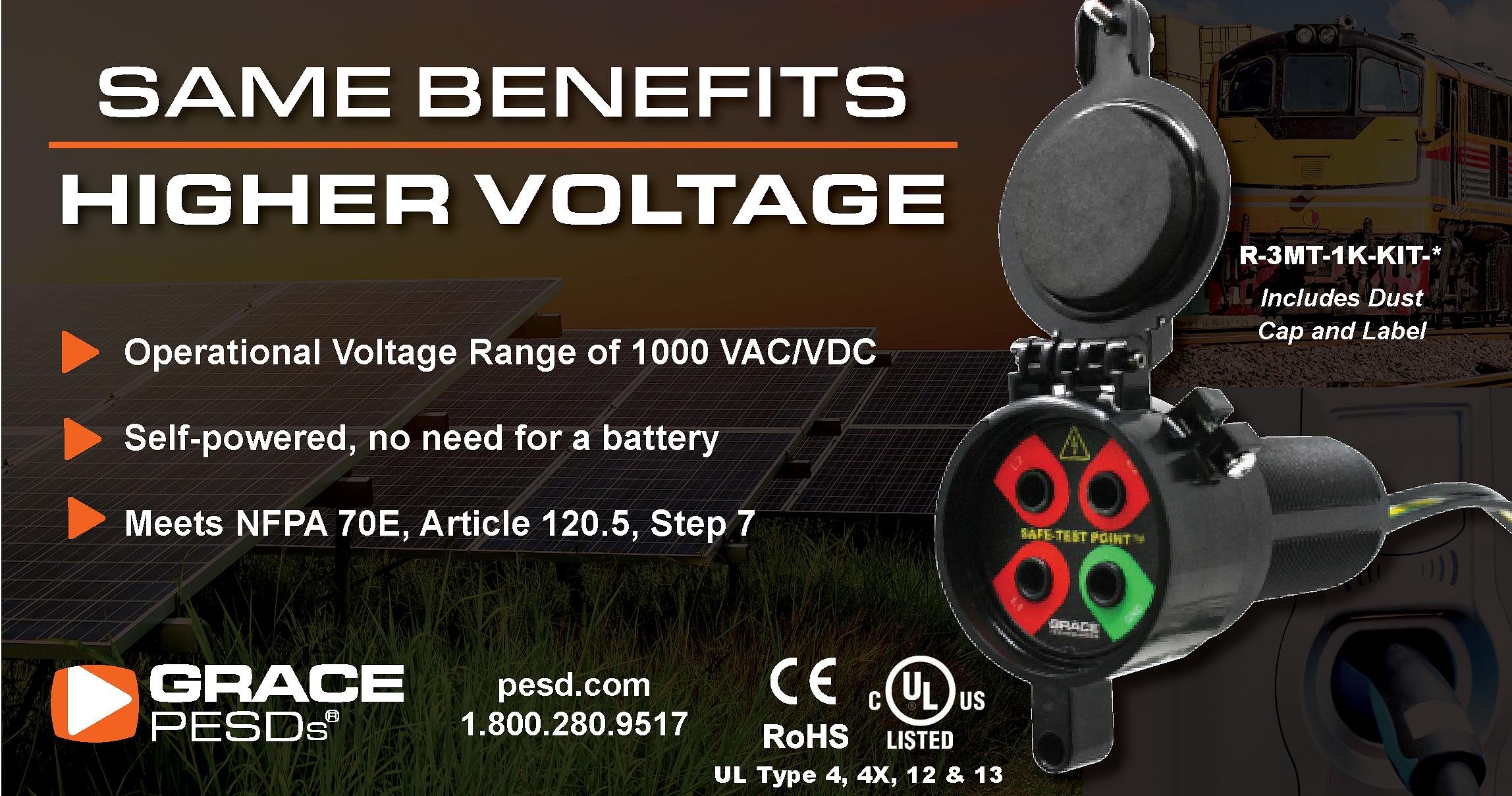 We recently expanded the Safe-Test Point product family to now include testing for higher voltage ranges up to 1000 VAC/VDC. This device does not replace previous versions of the Safe-Test Point, which are still available for equipment with voltage ranges lower than 1000 VAC/VDC. EMEA Business Development Coordinator, Chris Schneck, showcases the product in this new video:
What makes this different from the existing Safe-Test Point (R-3MT)?
Operational Voltage Range of 1000 VAC/VDC
UL type enhancement of 4/4X in addition to UL type 12, & 13
14 AWG leads that will make it easier for UL 508A feeder tap requirement connections
How does this make absence of voltage testing safer and more productive?
Enables a qualified worker to test for absence of voltage from outside the electrical cabinet door through high impedance protected test point jacks
Meets NFPA 70E, Article 120.5, Step 7

(live-dead-live test)
Self-powered, no additional power supply required

(no need for a battery)
Below are some resources for our new 1000V Safe-Test Point:
For more information, please contact Sales@GraceTechnologies.com
---
Stay safe and have a great week!