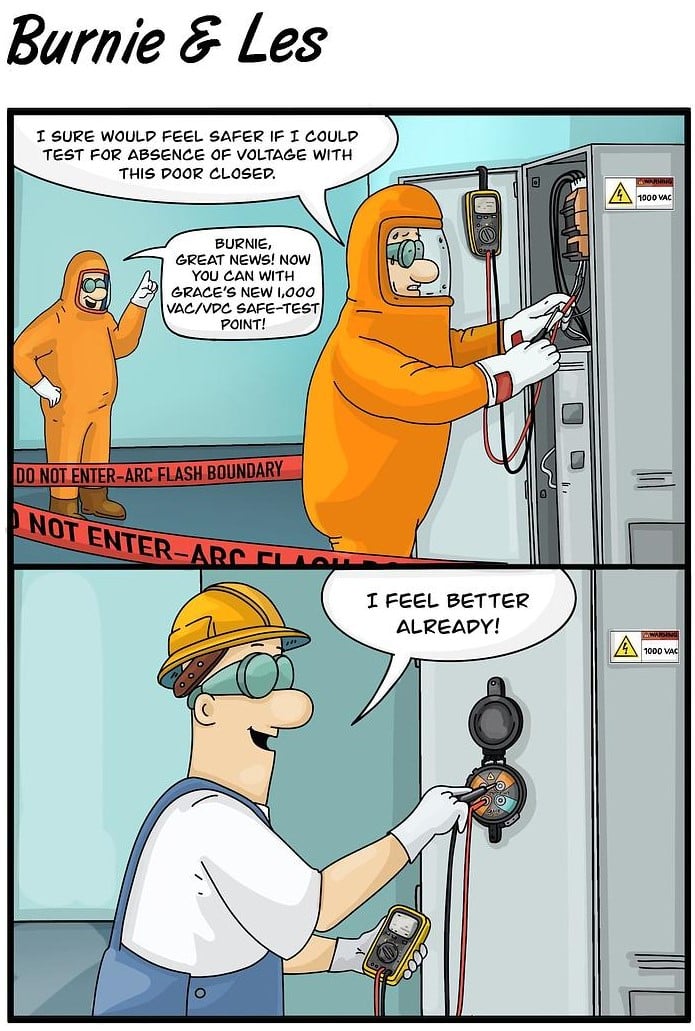 Today, we're excited to announce the launch of a 1000V Safe-Test Point; the newest addition to our GracePESDs product line. This absence of voltage testing device now tests up to 1,000 VAC/VDC equipment. The Safe-Test Point is a Permanent Electrical Safety Device (PESD) that, once installed by a qualified electrician, allows absence of voltage testing to be performed safely with a multimeter through the device's high impedance-protected test points. Request a free sample today!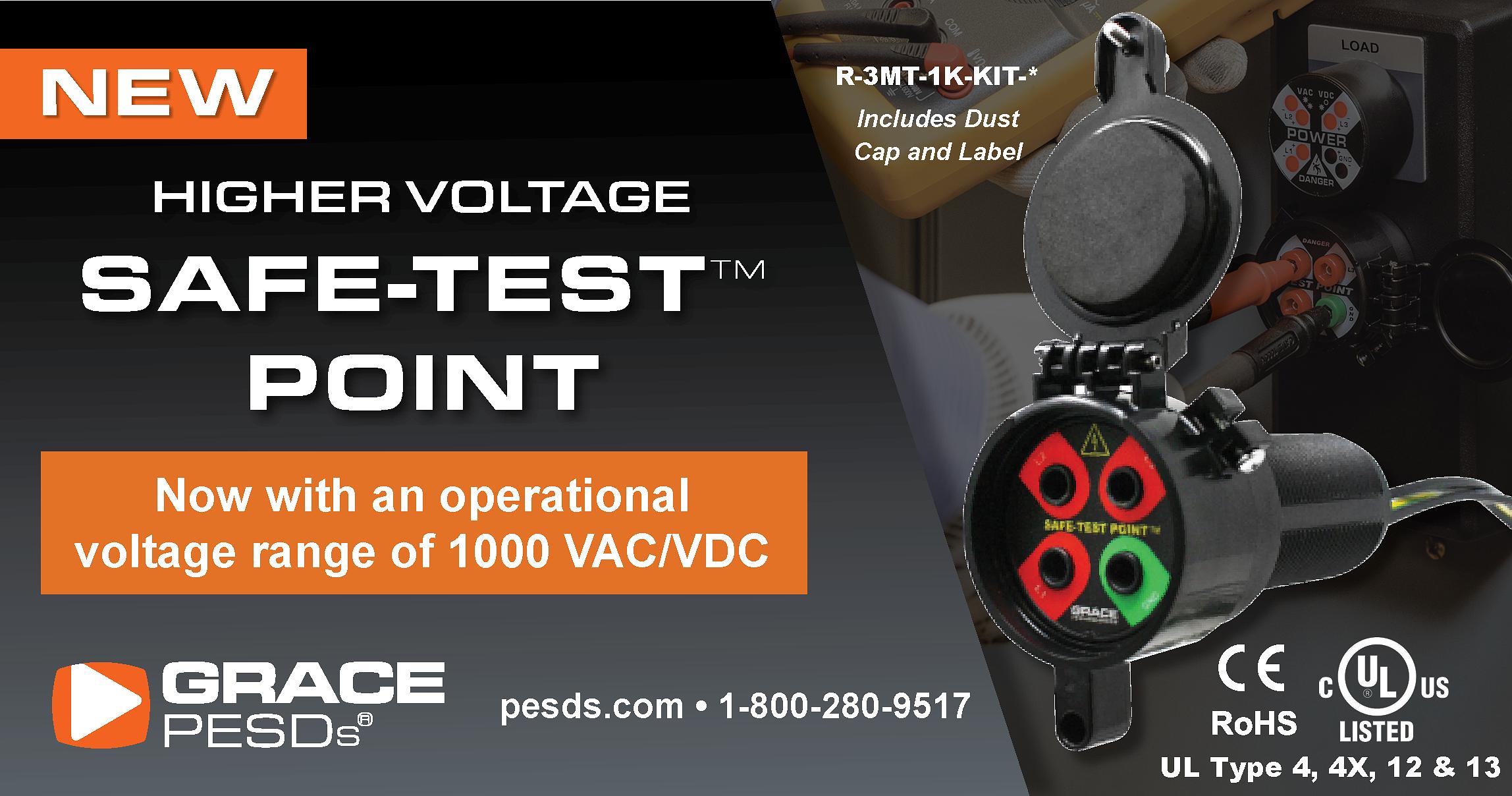 What makes it different from the existing Safe-Test Point (R-3MT)?
Operational Voltage Range of 1000 VAC/VDC
UL type enhancement of 4/4X in addition to UL type 12, & 13
14 AWG leads that will make it easier for UL 508A feeder tap requirement connections
How does it make absence of voltage testing safer and more productive?
Enables a qualified worker to test for absence of voltage from outside the electrical cabinet door through high impedance protected test point jacks
Meets NFPA 70E, Article 120.5, Step 7

(live-dead-live test)
Self-powered, no additional power supply required

(no need for a battery)
Potential industry applications for 1000V Safe-Test Point include:
Railroad & Locomotive
Electric Vehicle Manufacturers (Tesla, Lucid, etc.)
Energy Storage Systems
UPS Applications in Data Centers
Commercial EVSE equipment (superchargers)
AC/DC Inverters
Below are some resources for our new 1000V Safe-Test Point:
This device does not replace previous versions of the Safe-Test Point, which are still available for equipment with voltage ranges lower than 1000 VAC/VDC. For more information, please contact Sales@GraceTechnologies.com.
Our newest model is rated for use on equipment up to 1000 VAC/VDC and we are proud to manufacture this device at our facility in Davenport, IA. This absence of voltage testing allows qualified workers to safely test the line side, load side, or both by inserting multimeter insulated probes into any two test point jacks to take a voltage reading. The new 1,000 VAC/VDC Safe-Test Point™ PESD will not replace previous models of the Safe-Test Point which will remain available for customers. These devices were previously rated up to 600 VAC and 1,000 VDC.
By inserting insulated meter probes with .080" tips into any two test point jacks, you can take a voltage reading with your properly rated test equipment. With the addition of a Safe-Test Point™ within any electrical safety program, by following the proper safety procedures outlined in NFPA 70E, the user's risk of arc flash or shock hazard is significantly reduced.
With the addition of a Safe-Test Point™ absence of voltage testing device, users have seen their Lockout/Tagout (LOTO) procedures drop to as low as five minutes. At the same time, this device has also made compliance even simpler by reducing the margin of human error that results in LOTO being one of OSHA's most-cited violations each year.
"The development of this new Safe-Test Point™ will bring optimized electrical safety to more doors and consequently, more people," said Drew Allen, President & CEO of Grace Technologies. "Our team is very proud to provide a safer and more productive method of performing LOTO, which is critical for minimizing injuries in the workplace and maximizing equipment uptime."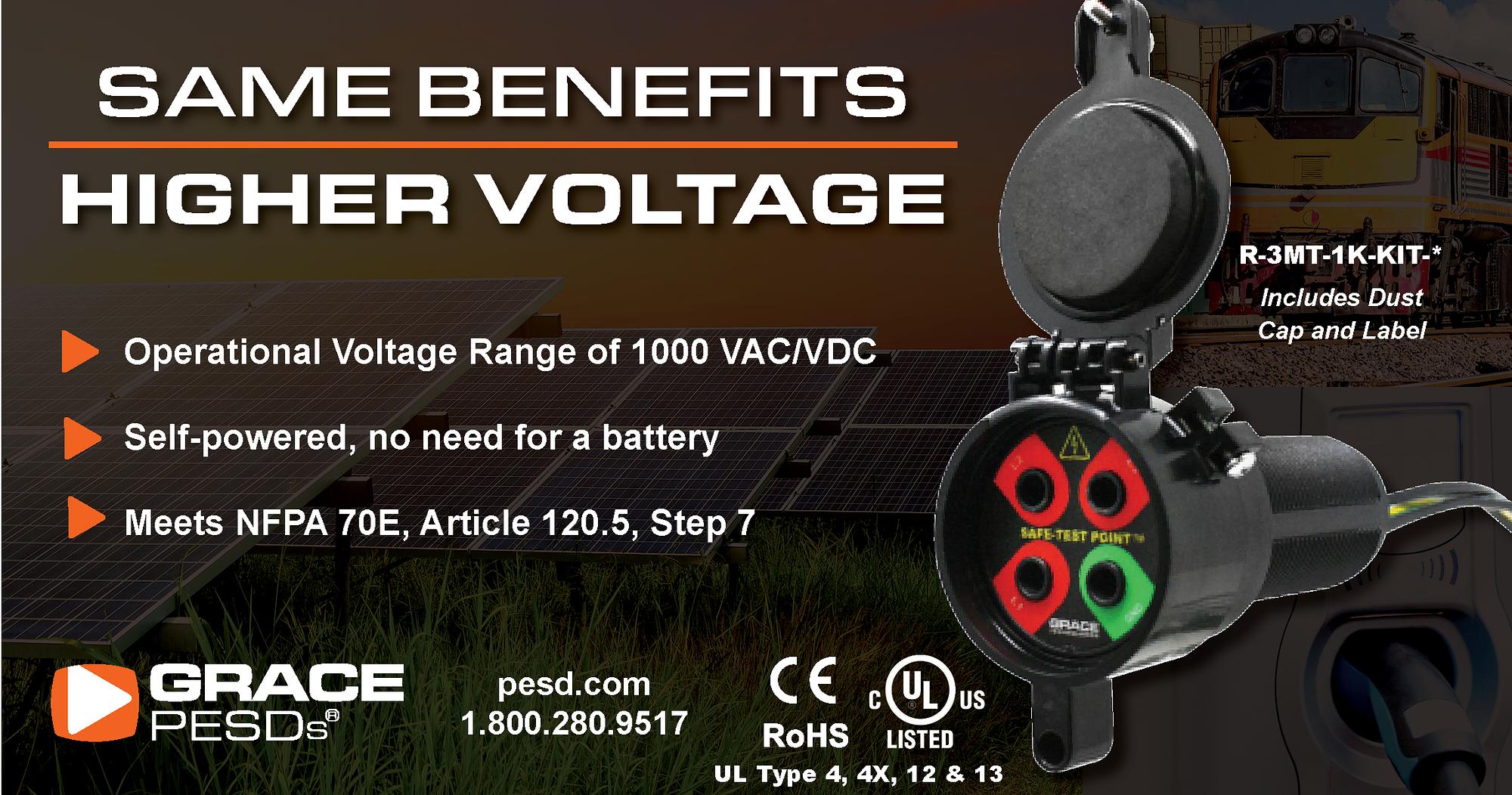 The new 1000V Safe-Test Point is available now and you can even request a free sample to experience the LOTO difference for yourself. Upgrade your electrical safety program today with GracePESDs and click below to request your FREE 1000V Safe-Test Point sample:
---
Stay safe and have a great week!