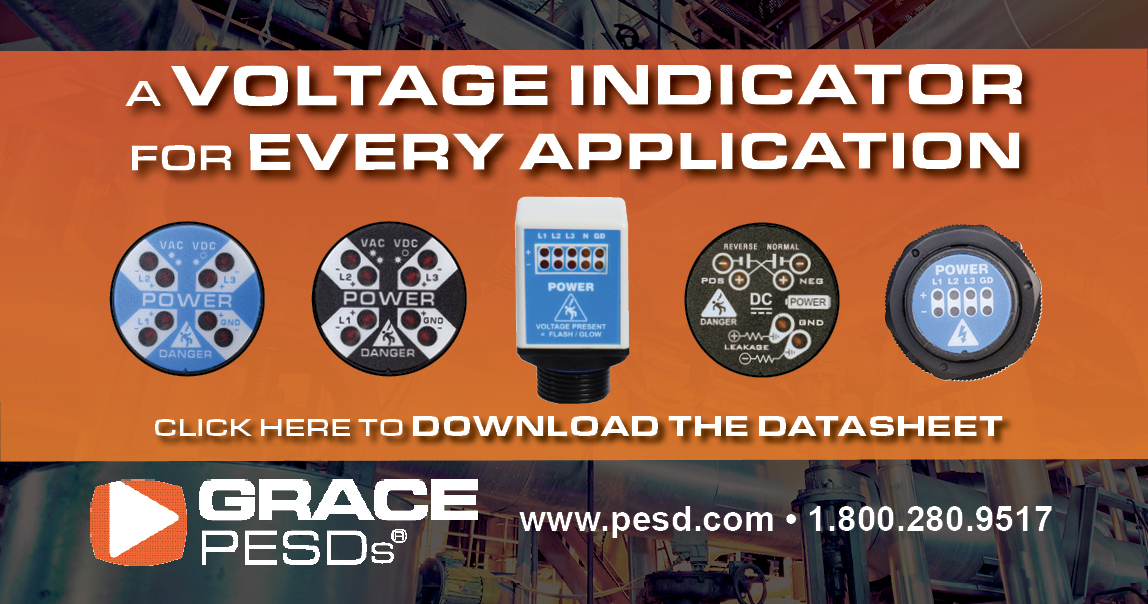 Permanent Electrical Safety Devices (PESDs) greatly assist with a safer, smarter, and more productive Lockout/Tagout (LOTO) procedure. But how and when each device is best suited for each step of the process may require some clarification. For starters, our GracePESDs® voltage indicators are best suited for verifying the presence of voltage. This is visually represented by flashing or non-flashing LED lights from the device that is hardwired to the load side of an electrical feeder or disconnect switch.
However, when the lights are no longer illuminated, this is not to be considered an accurate representation of the absence of voltage. In order to verify absence of voltage, a qualified person must go beyond visual verification and perform a metered test, which is where our Safe-Test Point and Voltage Test Station would come into play.

Failure to perform proper mechanical or electrical LOTO can lead to electrocution, electrical shock, arc-flash, and other hazards. In addition to huge penalties by OSHA for non-compliance, these hazards often result in lost time wages, compensation claims, permanent disability, and fatalities. Voltage indicators from GracePESDs® improve safety around live voltage and can identify faults before maintenance is performed.
Voltage indicators are permanently installed self-powered devices that visually represent the presence of voltage with flashing or non-flashing, redundant LED lights. Typically hardwired to the load side of an electrical feeder or a disconnect switch, these indicators illuminate whenever hazardous voltage is present in any individual phase. Voltage indicators assist task-qualified personnel with enhanced productivity and reduced risk while performing mechanical LOTO tasks.


*Select R-3W-SR are not CAT III, IV rated and can be distinguished by red, blue, and yellow wires
With a voltage indicator for every application, you'll never need to compromise safety. From the standard R-3W to the CAT III/IV rated fiber optic R-3F2, we're ready to help you improve your electrical safety program today. The most recent additions to the lineup include the DC application indicator, R-3W-DC, and the Flex-Mount, R-3D2.
The Flex-Mount was specifically designed to be able to mount onto the top, bottom, or side of a disconnect switch, for example. It includes labels that come with the kit for directional mounting. All of the above-mentioned voltage indicators are UL Listed.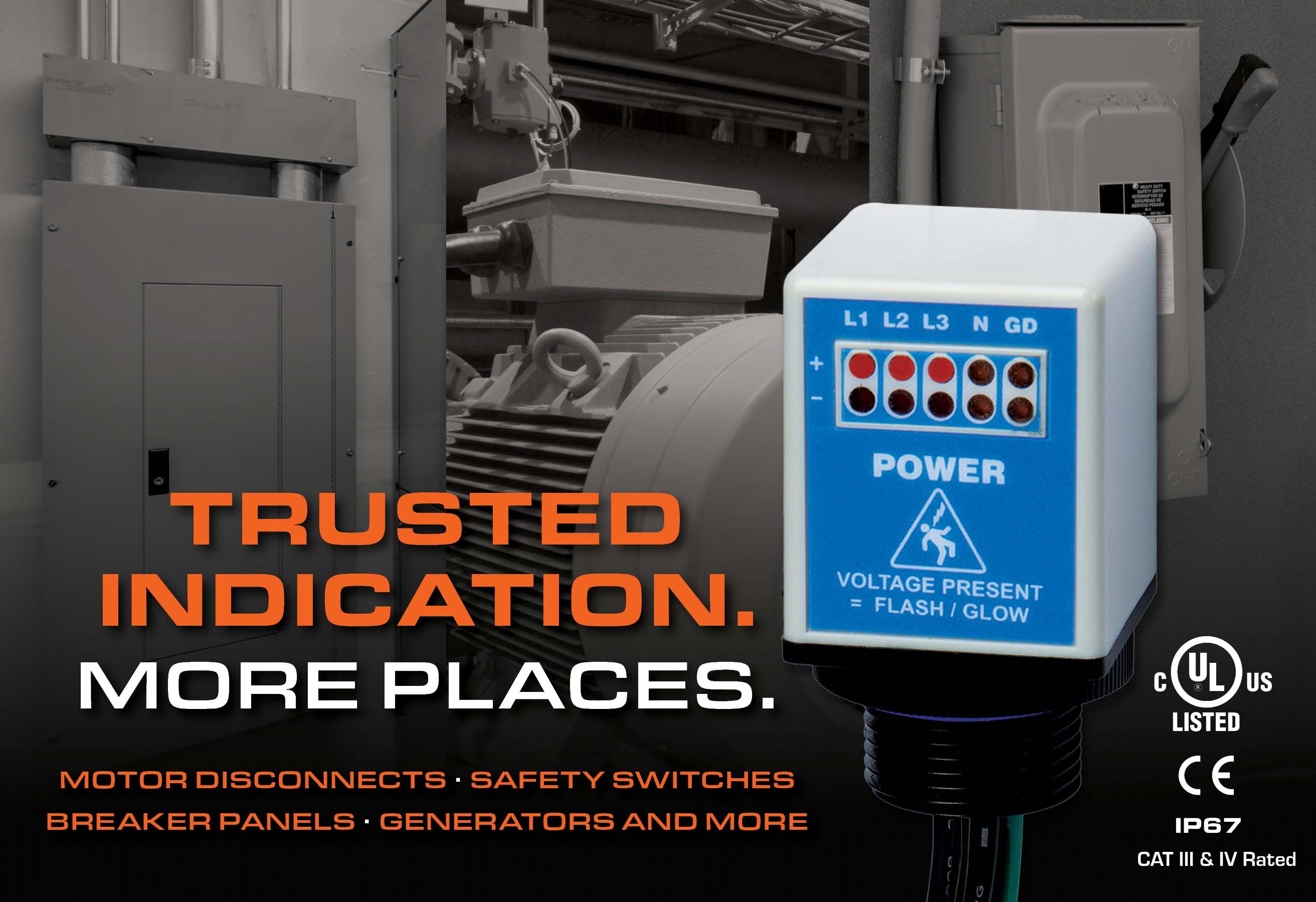 The Flex-Mount is especially unique because it conveniently mounts onto any electrical equipment that features an M20 or ¾" conduit knockout. This 3-phase voltage indicator uses redundant, long-life LEDs (flashing or non-flashing options available) to provide a visual representation of energy presence with the flexibility of being mounted virtually anywhere conduit knockout (alternate mounting position labels are provided).
In addition to the four-wire option, the Flex-Mount is the first voltage indicator PESD to utilize an optional five-wire configuration for use on wye power systems. The Flex-Mount comes fully potted with CAT III & CAT IV ratings and can be hardwired directly to a voltage source making it ideal for use in both AC & DC applications.
We also have an indicator for medium voltage application with the R-1V Medium Voltage Indicator. This PESD is installed differently than the previously mentioned indicators as it mounts directly onto a medium voltage bus to alert personnel to voltage presence with flashing LEDs.
The Medium Voltage Indicator is designed to provide sufficient illumination to be easily seen through a regular or IR viewing window mounted on a medium voltage starter, transformer, switchgear, or other power distribution equipment. The R-1V is built for long life and reliability with solid-state LEDs and is coated with flame-rated material. The Medium Voltage Indicator also uses capacitively-coupled resistivity to provide high surge immunity.
Alternative Door Mount Conduit Options for the
Safe-Test Point™ & Voltage Indicators
UPDATE: We're experiencing a shortage of a component included with our door mount kit due to global supply chain issues. The door mount kit is a popular and highly requested add-on with the purchase of our Safe Test Point and R-3W series of voltage indicators. In this video, Director of Technical Marketing, Bhanu Srilla, demonstrates alternative door mounting conduit options for PESDs such as the Safe-Test Point™ and R-3W series voltage indicators. These options serve as alternative methods for our typical door mount kit adaptor parts that are currently experiencing a shortage in supply.
---
Stay SAFE and have a GREAT week!