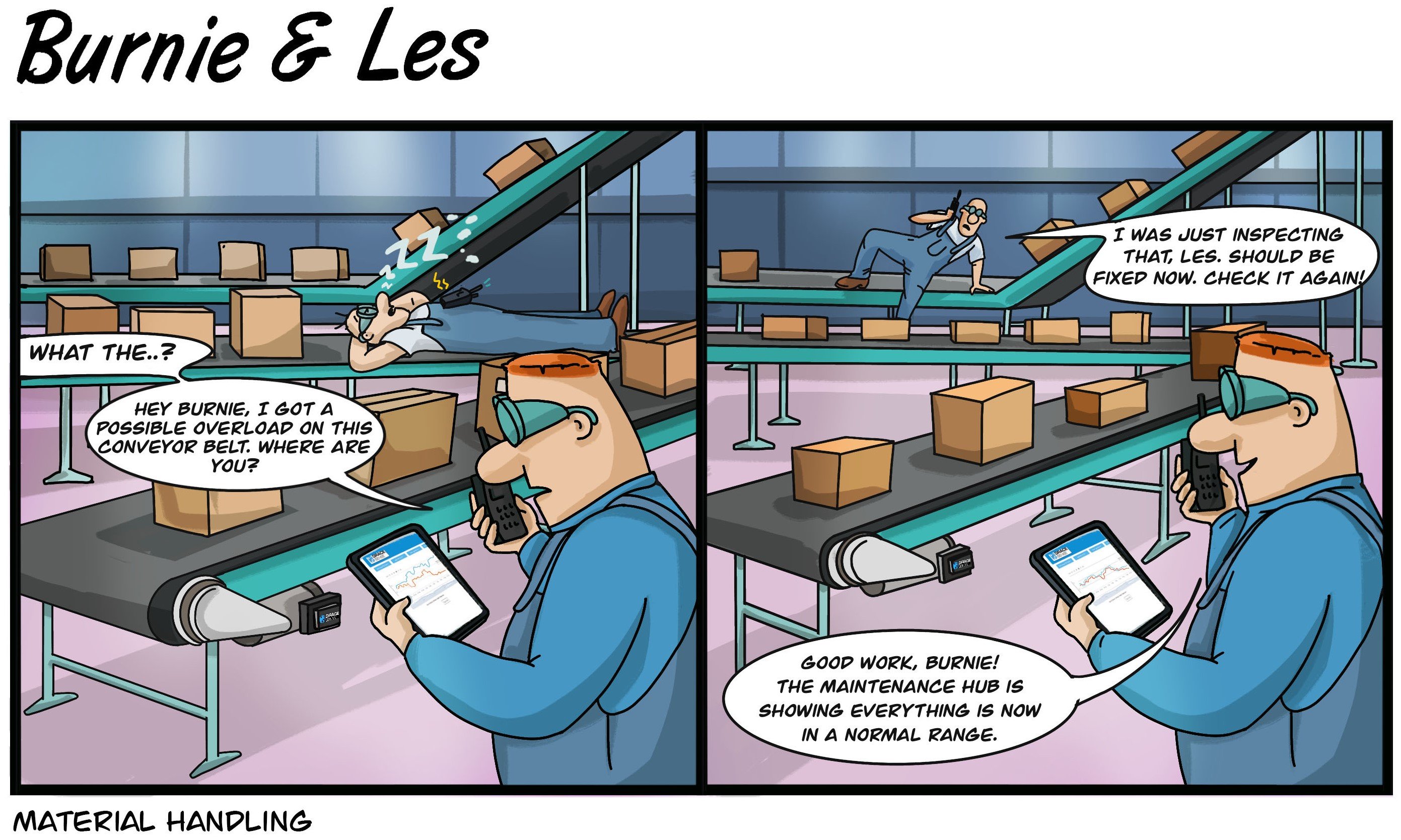 Material handling involves the short-distance transportation of materials within manufacturing, warehousing, and distribution settings. For decades, this industry has depended on manual labor and equipment, however, through emerging technologies, many safety and productivity risks are being averted through the adoption of semi and fully-automated equipment.

According to a 2018 MHI Annual Report, investment in automation and robotics for material handling will result in an increase from a current 34% adoption rate to a 73% adoption rate within the next five years. This includes automated mobile robots and automated conveyor systems for sorting, picking, packing, and palletizing applications. With new processes and technology come new maintenance strategies. Optimizing these strategies is crucial for the success of your team's productivity and overall safety.
The Cost of Unplanned Downtime
The below stats are staggering and relative across organizations of all shapes and sizes. And revenue loss is not the only impact being made; 70% of workplace injuries occur during reactive maintenance. Due to these economic factors, a culture of expediting maintenance to get a plant back up and running as soon as possible often results in injuries due to unpreparedness. Maintenance teams are applied pressure to work quickly, which can result in ignoring their training, safety codes, and, ultimately, human error. These risks can be mitigated with a culture that adopts predictive maintenance solutions that allow maintenance teams to be more prepared and more secure with their planning and execution of tasks.

Automated Conveyor Systems Maintenance
The continuous flow of conveyors enables materials to be transported over relatively long distances. However, the stress put on these mechanical machines over such lengths of time can result in a breakdown when least expected. Troubleshooting can be a tedious and arduous task as pinpointing the exact location of failures is difficult.
Due to the continuous demand for uptime, the machinery is known to be subject to wear and tear on critical points like bearings and, in many cases, can be overly maintained due to breakdown fears. In the event of a breakdown, an organization faces a considerable loss of production due to unplanned downtime. Delays in getting the machinery back up and running often occur due to unpreparedness and a lack of replacement parts. Furthermore, personnel safety is at much greater risk during events of reactive maintenance.
Within the materials handling space, IIoT opportunities for automated conveyor systems have the potential to house integrated intelligent devices, like the GraceSense™ Vibration & Temperature Nodes, to monitor critical failure points. These devices can not only share data insights about impending failures but can also support worker safety by preventing a reactive maintenance scenario. Instead, maintenance teams are well-equipped and better prepared to execute and prioritize their tasks.
The GraceSense™ Predictive Maintenance System is an IIoT asset condition monitoring system that utilizes wireless sensor technology integrated alongside wired sensors. Advanced data analytics provide asset managers with deep insights into machine health to effectively prioritize resources and maximize the value of their maintenance spend.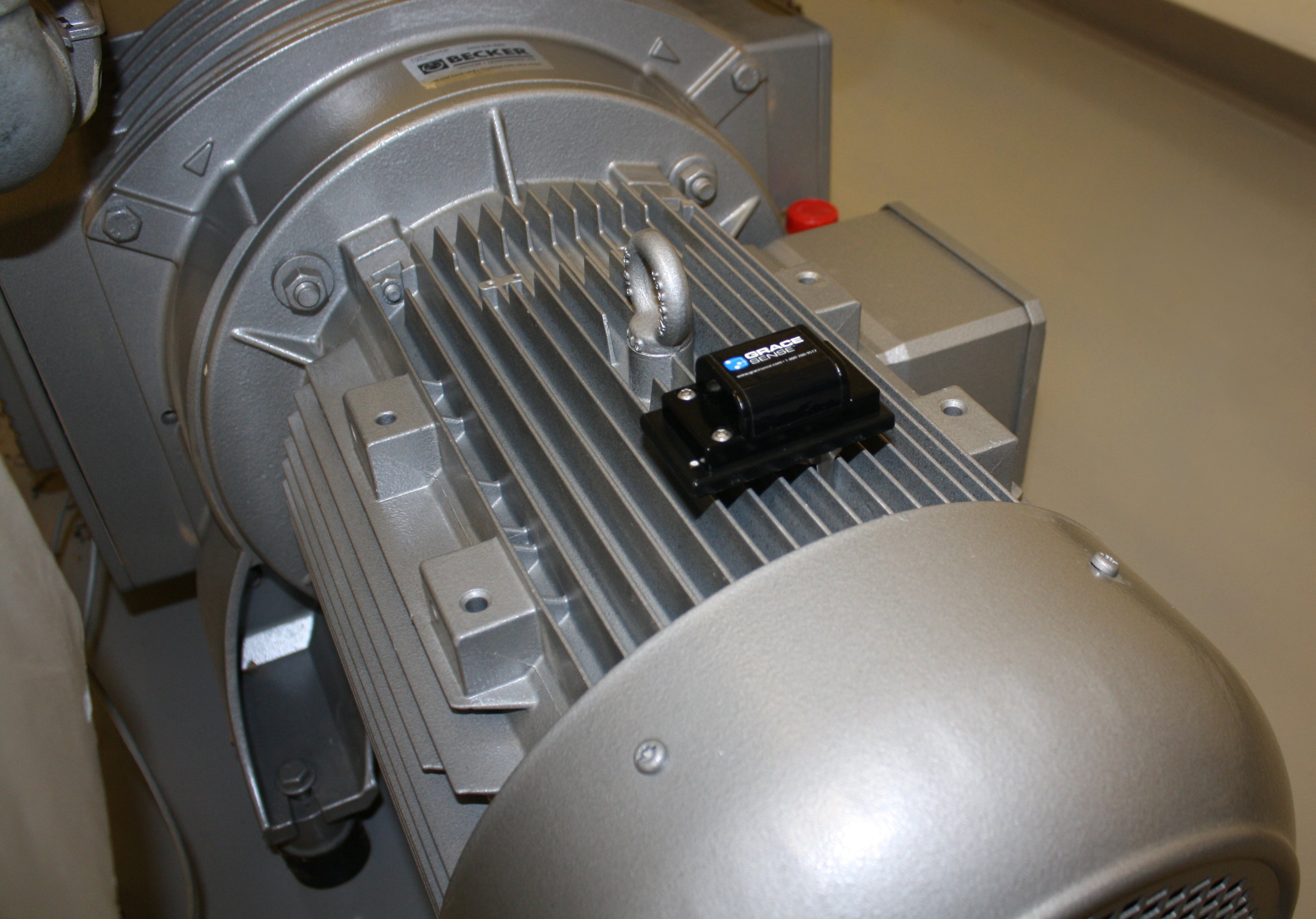 Deployment of the GraceSense™ Predictive Maintenance System, an IIoT smart monitoring system, will improve conveyor maintenance management in the following ways:
Vibration: Anomalous vibration occurs when a conveyor breakdown is impending. The application of a vibration monitoring device will provide early detection and additional time to prepare the necessary repairs when abnormal vibration harmonics are detected early on. A vibration monitoring device detects malfunctions by continuously monitoring the machinery and will send an alert to personnel to schedule maintenance and avoid an unexpected breakdown.
Temperature: In the event of a bearing failure and/or misalignment on a conveyor system, a temperature monitoring device will capture a significant rise in temperature over time due to the increased load placed on the motors and drive system. When a sensor detects a temperature increase early on, dedicated personnel will receive an alert that the monitored point requires attention. The failure prediction and alert enable personnel to act fast to prevent unplanned downtime.

GraceSense™ technology improves overall plant reliability, safety, and maintenance metrics by remotely monitoring asset health and sending timely notifications to plant floor personnel through SMS or email alerts with pre-configured, step-by-step remediation instructions when anomalous behavior is detected.
Our GraceSense™ IIoT devices provide advanced analytics about machine health to prevent unplanned downtime. Wireless condition monitoring solution capable of providing real-time, sensor-based insights to almost any industrial application. Learn how you can get started today with our Starter Kits:
---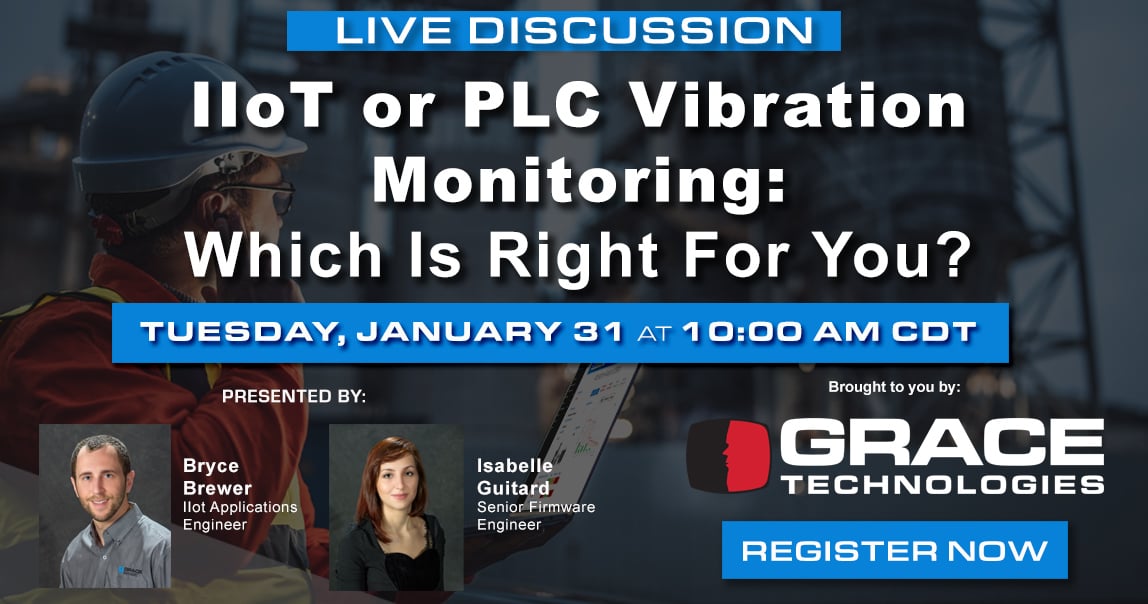 You're invited to join us on Tuesday, January 31 for our next FREE webinar: "IIoT or PLC Vibration Monitoring: Which is Right for You?" This webinar will be hosted by our GraceSense™ Engineering Team, Bryce Brewer & Isabelle Guitard.

Vibration Monitoring allows you to continuously monitor the equipment critical to your operation. This will enable you to keep an eye on your equipment from a central location, reducing the need for on-site inspections, and increasing efficiency. This can also allow you to quickly respond to any issues that may arise, reducing the risk of unplanned downtime. But which method of vibration monitoring is right for you? Register today to find out!