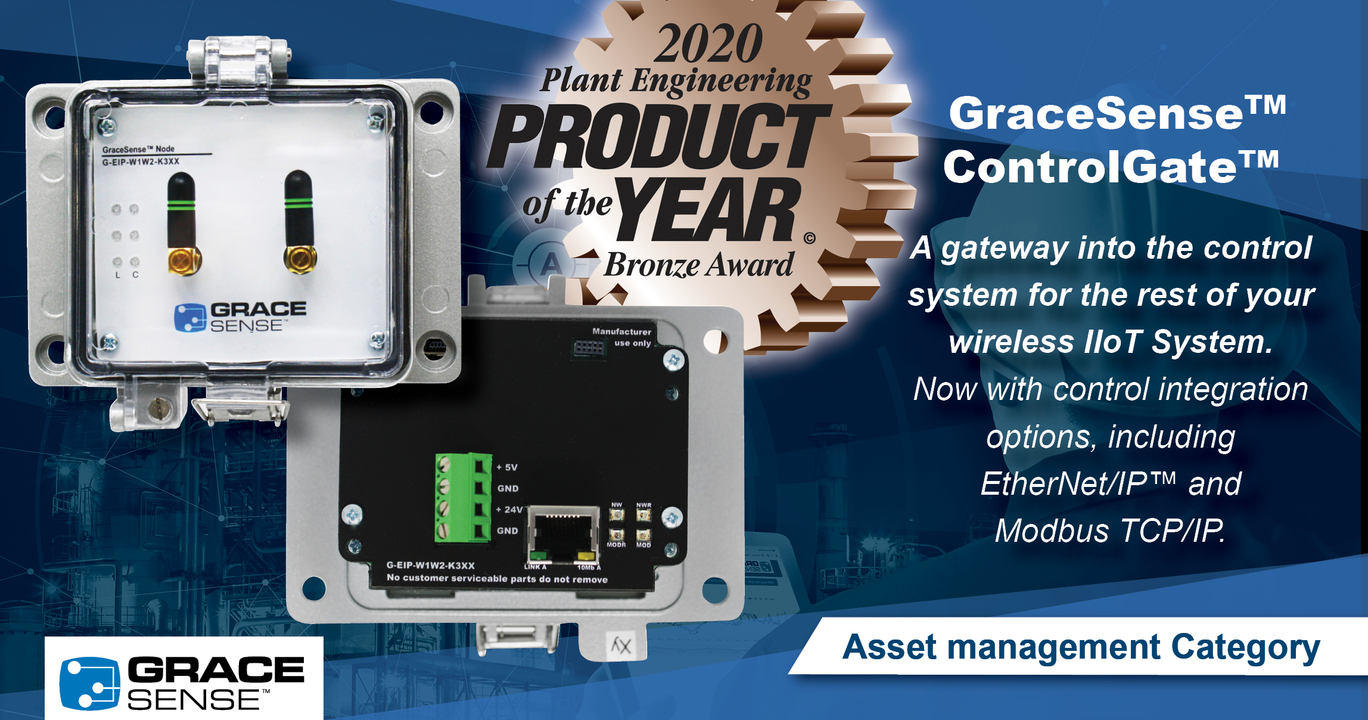 We're very pleased to announce that the GraceSense™ ControlGate™ has taken the BRONZE in Plant Engineering's 2020 Product of the Year program! This is the second time we have been awarded in this category with the Vibration & Temperature Node taking SILVER in 2019. The ControlGate™ gateway and Vibration Temperature Nodes are part of our GraceSense™ Predictive Maintenance System line of smart devices.
GraceSense™ gateways transfer accumulated field node information into an actionable troubleshooting platform via our Maintenance Hub Cloud and/or your PLC, SCADA, DCS system. Our Predictive Maintenance System gateways come in three forms: ControlGate™, CloudGate™, and ComboGate™. These devices are all powered by 24-volts and offer configurations for Cloud data transferring via WiFi/LTE as well as control network integration via EtherNet/IP™ & MODBUS TCP/IP communication options. ComboGate™ configurations allow both options of communication.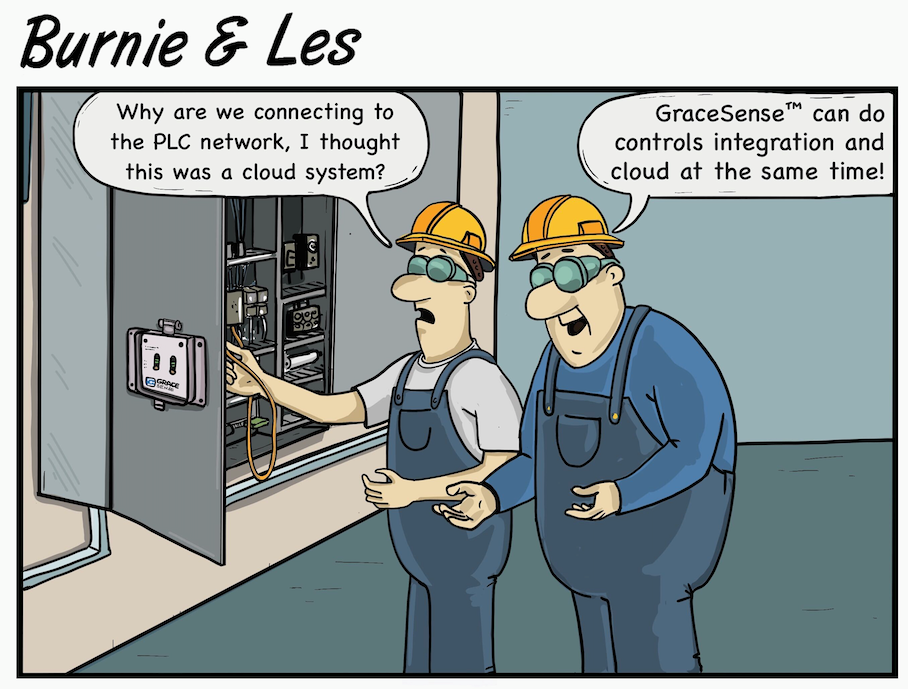 After the success of our Vibration & Temperature Node in 2019, we submitted our ControlGate™ in the category of Asset Management for Plant Engineering's 2020 Product of the Year program. ControlGates™ are aptly named as the gateway into the control system from the rest of your wireless IIoT system.
This is a unique capability that many industrial users want so they can have all of their data in one place, including their SCADA/DCS/Control systems. These gateways have a variety of wireless communication options, including WiFi, LTE, and ZigBee, and control integration options, including EtherNet/IP™ and Modbus TCP/IP, based on the preselected configuration.
ControlGates™ provide support to wireless Vibration & Temperature Nodes within a 30m radius. These nodes can be dedicated to specific applications. They can also be configurable as Panel-Mount Nodes that accept a variety of sensor inputs, such as Current, Temperature, Pressure, Flow, Fluid Level, Humidity, and more.
The Panel-Mount Node is a child in the network like our Vibration and Temperature Node. Panel-Mount Nodes typically have hardwired sensors that gather information from field nodes and send this data to its parent gateway. Panel-Mount Nodes also include replaceable, long-life batteries as well as 24-volt connections.
The goal of ease of integration into any control system was a key design concept to allow users to quickly adopt into their system. The system can be dynamic with a variable amount of connected wireless nodes, yet the provided integration tools make what once was difficult to a very simple installation with integration times of less than an hour. This is all done while having the option to still use the Maintenance Hub cloud offering to visualize data, send out automated alarms and alerts based upon user-defined criteria, and more.
Learn more about the GraceSense™ Predictive Maintenance System: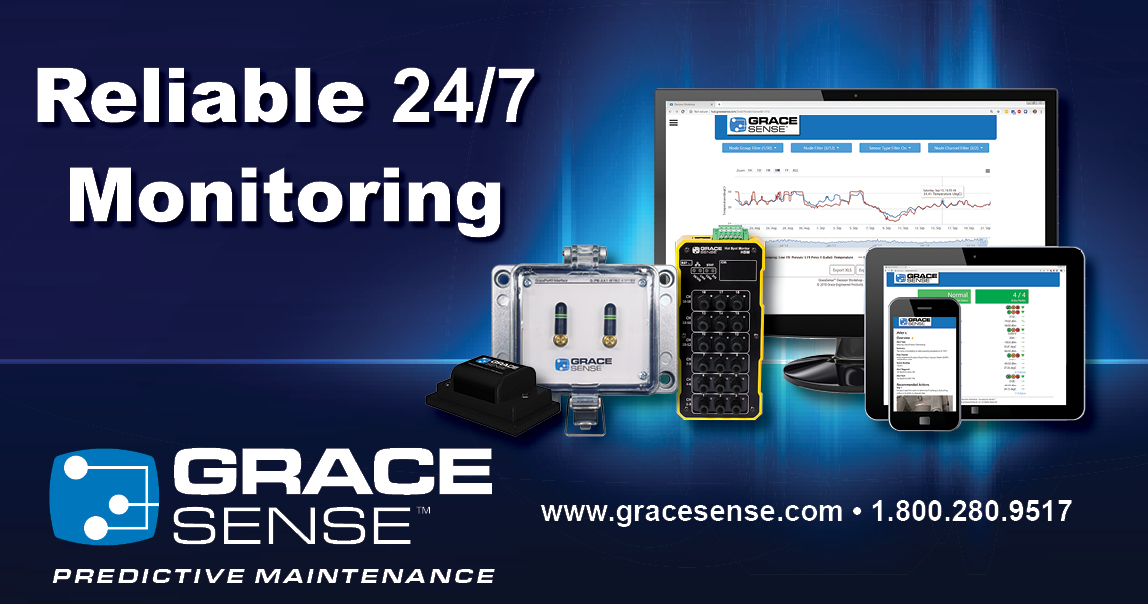 Are you actively looking for a solution that can maximize the up-time of your critical assets?
Would you benefit from a system that can both continuously monitor failure indicators like temperature, pressure and vibration? Would you like your maintenance staff to receive real-time alerts about potential problems before your equipment fails? Look no further!
Contact us today
to discuss your application and how we can help you predict failures, reduce downtime, and save money.
---
Stay SAFE and have a have a GREAT week!