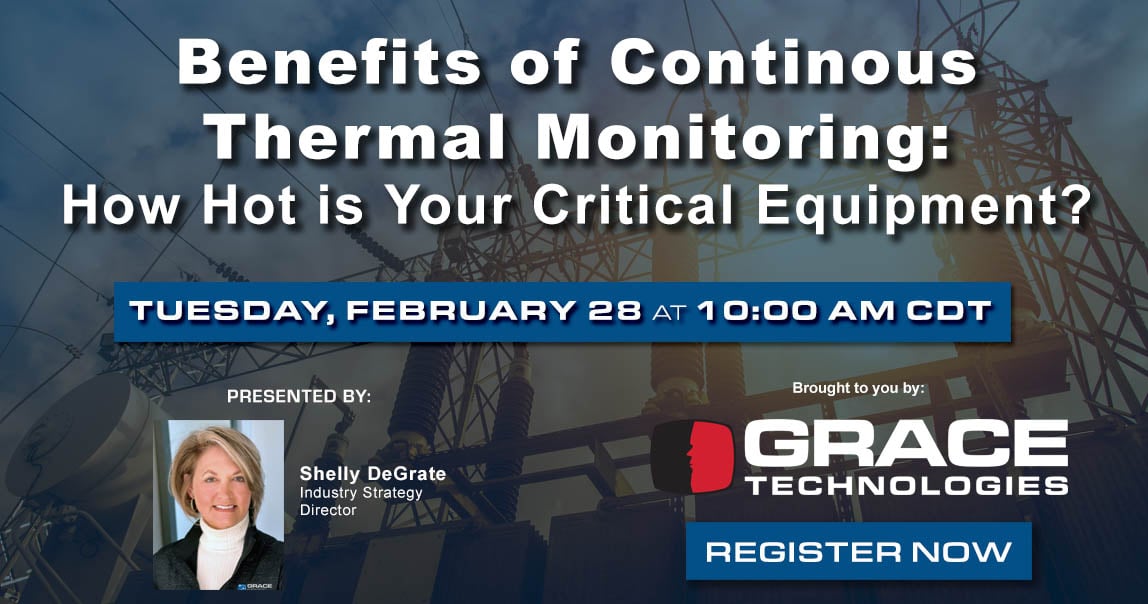 Next week, we will be hosting a webinar with Grace's Industry Strategy Director, Shelly DeGrate! This webinar will cover the benefits of continuous thermal monitoring so that you can always answer the question: how hot is your critical equipment? Shelly will also provide a demonstration of the GraceSense™ Hot Spot Monitor. You'll see how easy it is to upgrade your maintenance program with this predictive solution!
Many facilities around the world operate under reactive maintenance. In this strategy, we wait for the asset to fail then fix or replace the equipment, costing significant downtime due to unpreparedness. Reactive maintenance scenarios often lack required parts and are at a higher risk of personnel becoming injured (70% of injuries occur during reactive maintenance). Downtime is significantly increased when maintenance is unplanned and personnel cannot make repairs safely or efficiently.

This isn't the optimal strategy when the cost of downtime is greater than the cost of the maintenance activity. With the GraceSense™ Hot Spot Monitor, maintenance becomes predictable and allows preparation before a costly, unexpected downtime scenario occurs. Facilities operating on a reactive maintenance plan are at a higher risk in response to these run-to-failure scenarios. Reactive maintenance is the critical component that the Hot Spot Monitor seeks to combat.
The Hot Spot Monitor makes your maintenance strategy predictable and helps you prepare before a costly, unexpected downtime scenario occurs. An important factor in determining the reliability and uptime of an electrical system is the condition and the availability of the power distribution equipment such as low, medium, and high voltage switchgear (up to 80KV), transformers, and circuit breakers. In these types of equipment, loose connections commonly occur due to vibration, fault conditions, and thermal expansions. If gone unnoticed, they can cause failures and shutdowns, loss of productivity, loss of revenue, and risk of injury/fatality to personnel.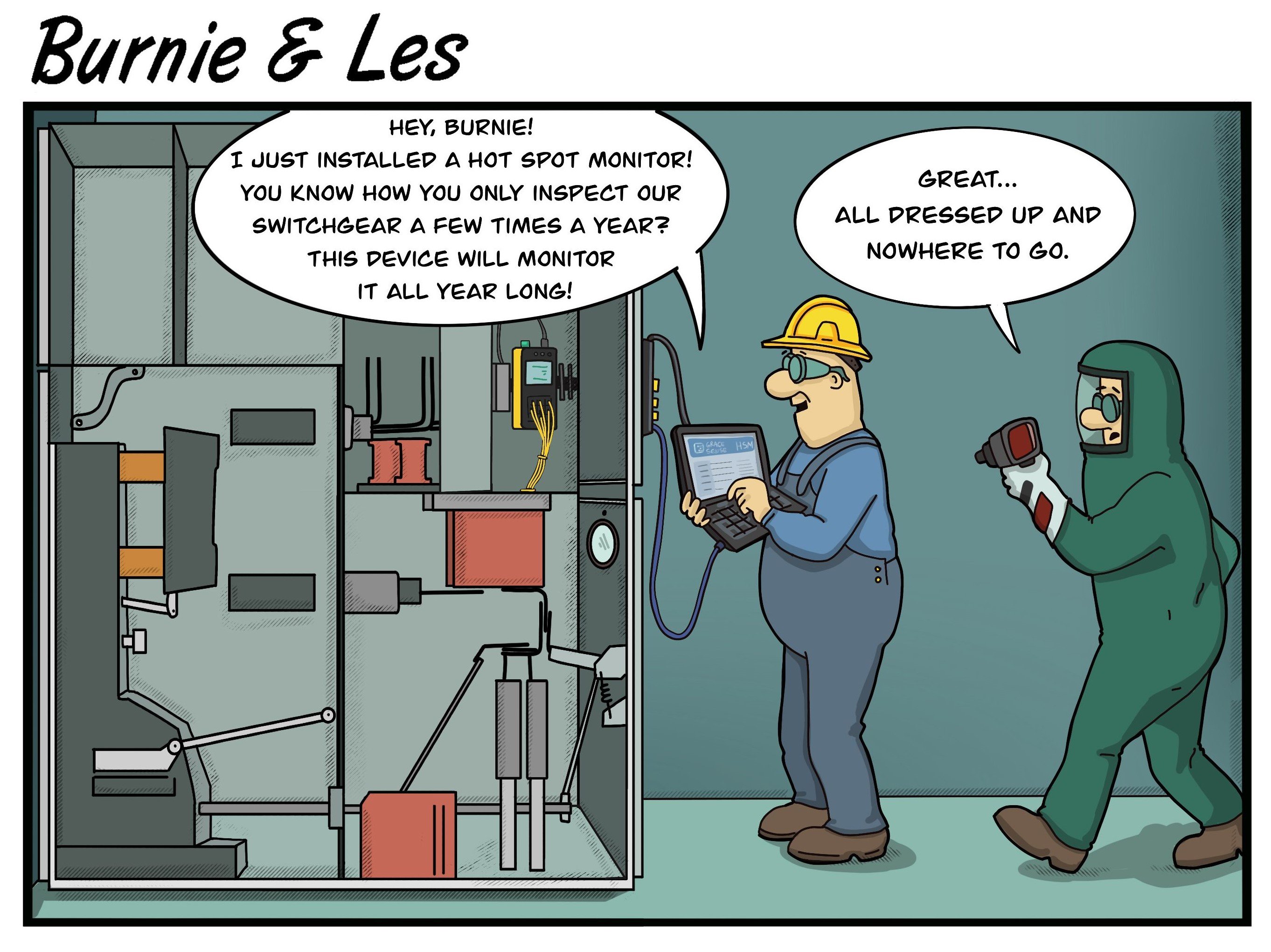 Installation of a Hot Spot Monitor is simple and serves as a suitable and superior alternative to periodic thermography inspections. This device identifies potential hot spots to enable users to predict the failures in electrical equipment. Using fiber optic cables, the Hot Spot Monitor connects to the potential failure points within transformers, as well as other critical mechanical connections within the electrical distribution network.
The device utilizes a non-conductive polymer optical fiber cabling system that monitors temperatures and alarms maintenance personnel when the temperatures rise or drop below the preset thresholds, indicating an imminent potential failure. Connections are secured through a ring-style lug at the end of each of the provided nine to eighteen connection points, depending on the model.
Through the application of these types of predictive monitoring devices, the allocation of maintenance resources can be redistributed to other priorities. Furthermore, early detection of an impending failure in a critical motor provides the necessary preparation time to source replacement parts. Once deployed, these monitoring sensors can begin real-time data captured from that point forward.
Monitored data is pushed to a cloud-based system and viewed through a browser-based user interface. Most importantly, the moment a sensor detects anomalous behavior, it can issue an alert to maintenance personnel via SMS/email. These alerts help maintenance personnel pinpoint issues immediately based on feedback from the sensors.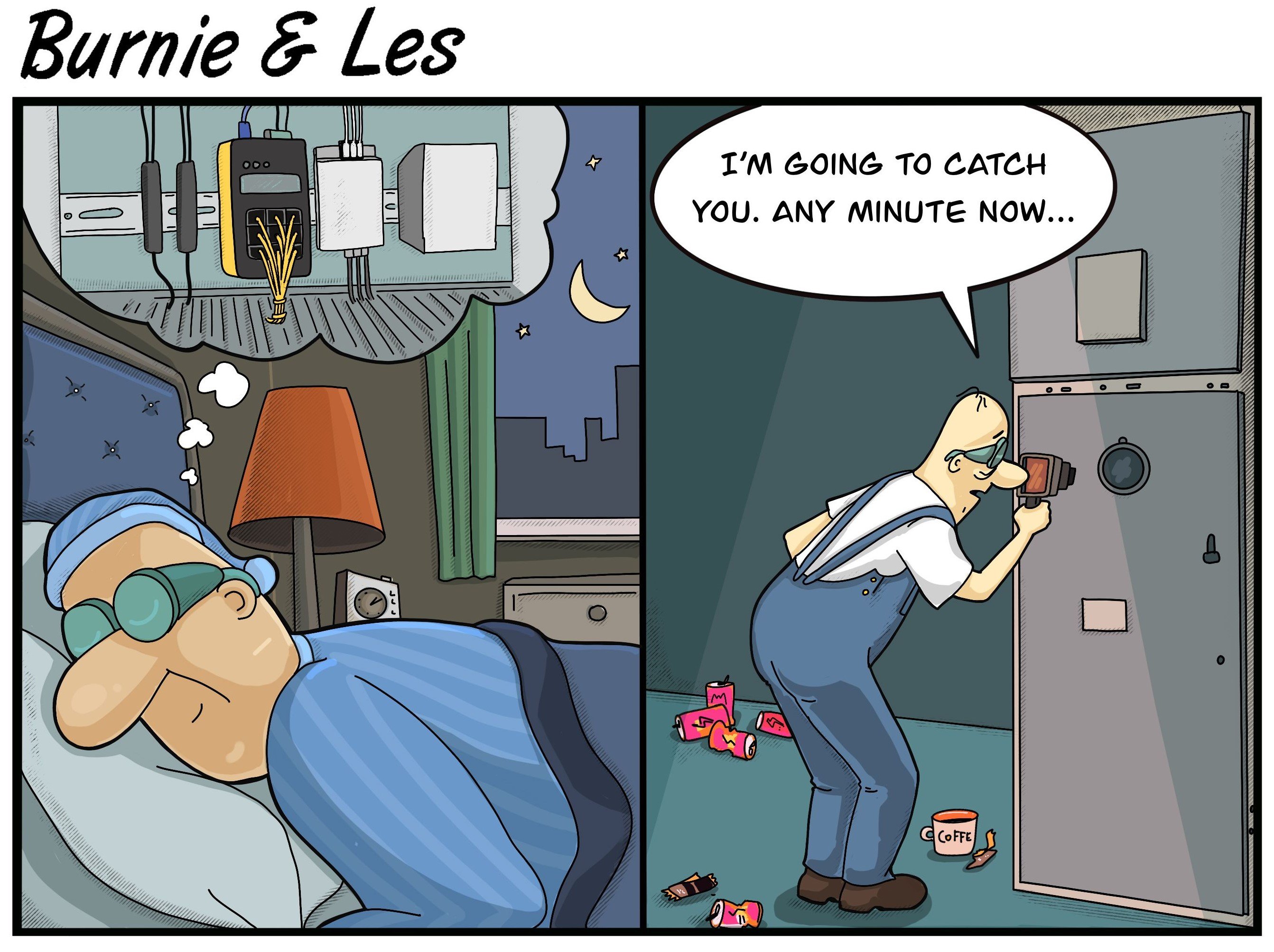 At Grace Technologies, we aim to make maintenance safer, smarter, and more productive. Like Les, you can sleep soundly knowing the Hot Spot Monitor has you covered. While you have peace of mind knowing the device logs, and alarms that enable you to trend temperature variations that are indicative of a potential fault, you certainly won't want to imagine life without a Hot Spot Monitor like Burnie here. It will always keep an eye on your equipment so Burnie doesn't have to.

Learn more about what GraceSense has to offer in our Starter Kit offer. Do you have end-of-year money available for an IIoT solution that will help you maximize uptime on your critical equipment and reduce unplanned downtime? Look no further! Follow the link below to get more information:
---


We've been nominated for the Plant Engineering 2023 Product of the Year program! Check out the official Plant Engineering POY webpage for more information. Winners are chosen by popular vote which is why we're asking for your help. Please help us bring home the gold by casting your vote! Follow these simple steps to participate:
Create an account before voting.

View the complete list of nominees and cast your votes in each category

Note that you do not need to vote in every category




Click 'Submit Ballot' and you're done!