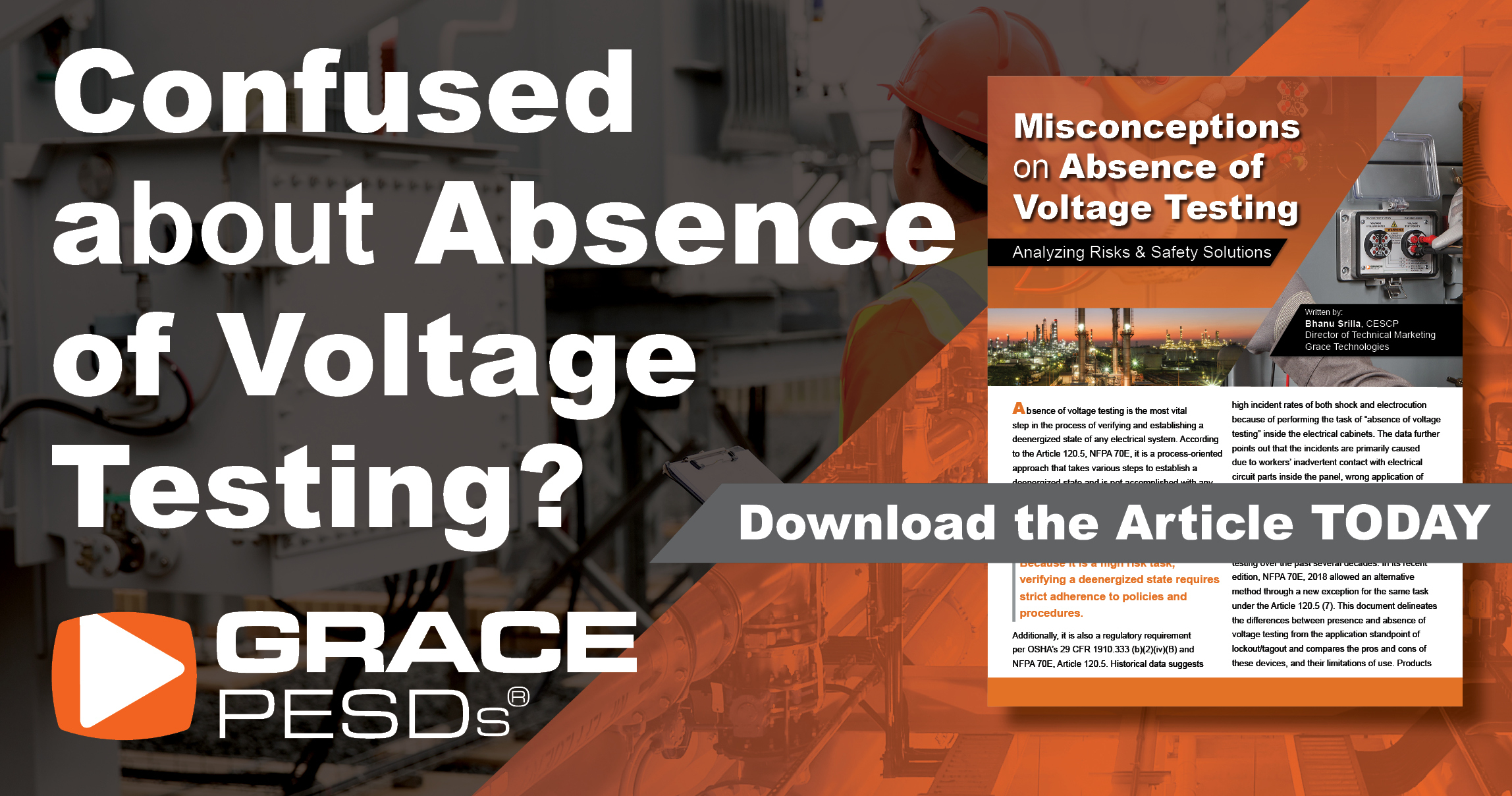 Absence of Voltage Testing is a hot topic among safety experts and electrical safety product manufacturers right now. This comes in the wake of a recent revision to NFPA 70E with Exception No. 1 of Article 120.5 (7). This Exception, based within the Control of Hazardous Energy standard, has been wildly speculated upon and has caused quite a stir in its true interpretation when it comes to application. We have a few folks at Grace with decades of experience in this sector who have helped pull together the clearest interpretation of what exactly Exception No. 1 means for Absence of Voltage Testing and GracePESDs.
Exception No. 1 states: An adequately rated permanently mounted test device shall be permitted to be used to verify the absence of voltage of the conductors or circuit parts at the work location, provided it meets all the following requirements:
It is permanently mounted and installed in accordance with the manufacturer's instructions and
tests the conductors and circuit parts at the point of work
It is listed and labeled for the purpose of verifying absence of voltage
It tests each phase conductor or circuit part both phase-to-phase and phase-to-ground
The test device is verified as operating satisfactorily on any known voltage source before and
after verifying the absence of voltage
To dive into what this means for our Permanent Electrical Safety Devices (PESDs), Director of Technical Marketing, Bhanu Srilla, has written an interpretation to this Exception along with the misconceptions surrounding the use of PESDs for Absence of Voltage. Please read and share this important information!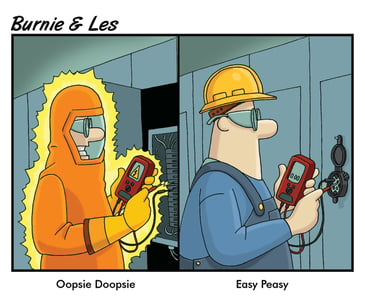 If you'd rather watch this excellent perspective in absence of voltage testing and PESDs, we do have a video presentation by Bhanu Srilla. He discusses the facts and myths around the application of various PESDs such as Voltage Indicators, Voltage Portals, Safe-Test Points, & Voltage Test Station in detail within Lockout/Tagout (LOTO) applications and provides an interpretation to OSHA and NFPA 70E standards. And just like the published article, Bhanu presents additional clarification around NFPA 70E, Exception No.1 within Article 120.5 (7) and its relevance to PESDs. Check it out below:

Don't miss the incredible connections and conversations being made on the Factory Futurist podcast with Drew Allen. Be sure to check out our latest episode. New episodes coming soon!
Episode 006: Dr. Gleb Tsipursky outlines the problem with COVID-19 and how manufacturers should prepare for another upward curve as states begin to reopen and loosen restrictions. Without restrictions, hospitals will become overrun. Dr. Tsipursky examines how people, marketing, manufacturing, and businesses aren't prepared for the "new normal" and shares advice on how to appropriately adapt.
"People are having false hopes and vigilance is dropping, and that's very unfortunate." -Dr. Gleb Tsipursky
Known as the Disaster Avoidance Expert, Dr. Gleb Tsipursky is on a mission to protect leaders from dangerous judgment errors known as cognitive biases, which devastate bottom lines and bring down high-flying careers. His expertise and passion is developing the most effective and profitable decision-making strategies, based on pragmatic business experience and cutting-edge behavioral economics and cognitive neuroscience, to empower leaders to avoid business disasters and maximize their bottom lines.
Subscribe to the Factory Futurist podcast:
Google Play
iTunes Podcasts
Stitcher
TuneIn
iHeartRadio
---
We are social distancing! HUMPDAY Giveaways will be temporarily suspended. But in the meantime, please feel free to comment below and let us know how you're doing...
&
Wishing you all the best for health and safety. Have a GREAT week!