graceport+
What is a GracePort
+ HMI Cover?
The GracePort+ is a large UL listed housing that protects Human Machine Interfaces (HMI) and other valuable electrical components.
The HMI cover kit features a strong and rigid design that mounts securely to the outside of an electrical control panel and provides easy access to electronic components.
The polycarbonate cover and corrosion resistant 316 stainless steel hinge pin are designed to provide protection from dust, dirt, oil, water and other environmental contaminates found in an industrial setting.
The GracePort+ HMI cover kit is available in UL 1, 2, 3, 3R, 4, 4X and 12. It is also UV rated with a Formed-in-Place (FIP) gasket which makes it well suited for outdoor applications.
find your graceport+
Human Machine Interface (HMI) Cover
Our GracePort+ HMI Covers can be used as stand-alone HMI Covers. Find the best option for your application by using our HMI Model Selector guide.
Customization of the GracePort+ provides the ability to select specific configurations to meet precise needs with our GracePort® components or power options and our GracePESDs, Permanent Electrical Safety Devices.
You can also request special text and company logos to be printed directly on the face plates.
We offer flexible mounting options with hinges on the top, bottom, left or right and padlockable capability.
We have five available sizes: 10", 12", 14", 16" and 20".
Don't see what you are looking for? Contact our Inside Sales team at sales@gracetechnologies.com.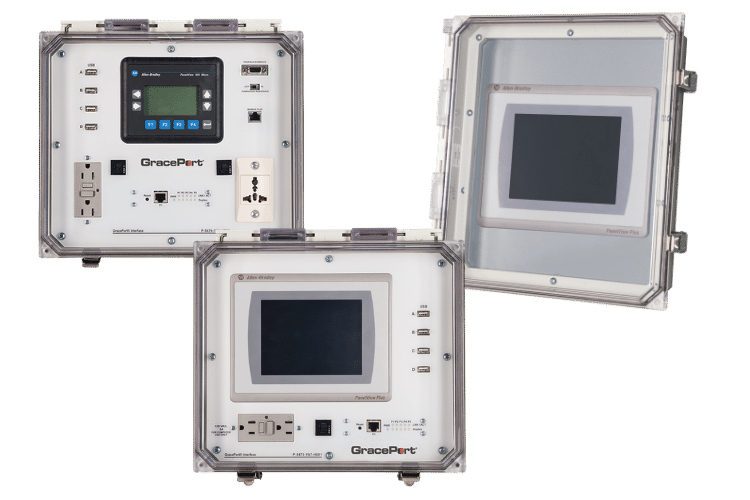 GRACEPORT+® HMI COVER RESOURCES
download our free ebook
making your industrial control panels safer and more productive
Why Industrial Control Panels (ICPs) pose a high risk and

GracePorts Increase Safety

The difference between energized work and normal operation in an ICP

The effect of complacency in your Electrical Safety Programs and how to improve compliance

How Panel Interface Connectors can improve ICP task productivity by 90%