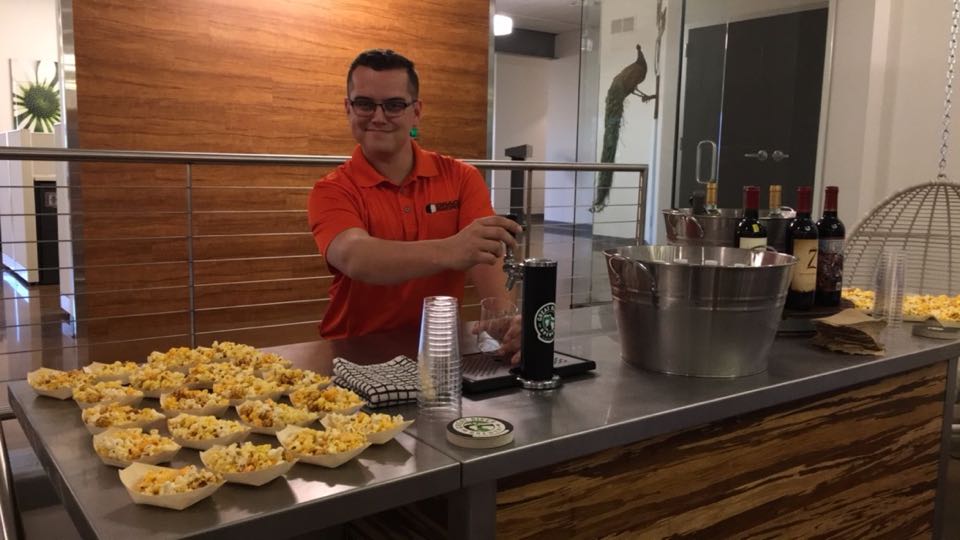 The open house and ribbon cutting ceremony were a phenomenal success and had an incredible turnout. I had the distinct honor of tending a bar with a tap but no flowing beer. We had a custom built, portable bar with a built-in kegerator specifically made for the event (and our happy hour on Fridays).
I only had one job and it was an important one; to bar tend. This is posing at its finest and false advertising. See how there is no beer coming out of the tap in the photo above? Well, turns out the CO2 lines were merely hand tightened and the entire canister had leaked out prior to the event. I wouldn't be smiling much longer. Disclaimer: I did NOT install the kegerator.
It was very crowded and everybody wanted "whatever's on tap". Tough to explain the situation or just say, "We're all out!" at the beginning of the party. We literally didn't find out about the problem until people started flooding in. So my bar turned into a makeshift self-serve wine station (nobody really complained) while I hid under it trying to figure out what was going on. It wasn't until later we learned the canister had leaked all the CO2.
About an hour and a half in, somebody came up to me and said we're almost out of beer (save for the 100+ pints we couldn't access sitting in a keg beneath the bar). Deadpanning, I was forced to abandon my post and run to the grocery store for more. Upon my return, I learned the self-serve station was working fantastically, and who would have thought people actually prefer serving themselves! Pretty sure the bartender is just there for moderation...
That being said, I have a new found respect for bartenders and I will not so quickly volunteer to man the bar ever again just because I think it'll be "fun".
---

Every three years, NFPA 70E is updated to incorporate the latest in electrical safety research, risk assessments, work practices, design considerations, and personal protective equipment (PPE) in an effort to minimize the risk of deaths and injuries caused by shock, arc flash, and arc blast. This voluntary how-to guide to assist in Occupational Safety and Health Administration (OSHA) compliance can play an invaluable role in helping plants mitigate their electrical hazards, protect workers, promote safety requirements, and keep their facilities up and running.
Click here to see what's changed and what you need to know
---
[tl;dr]
We had our open house and ribbon cutting ceremony it went great, save for the kegerator not working. All the CO2 leaked out of the canister overnight because the lines weren't tightened. But an impromput beer run saved the day.
---
Have a great week!