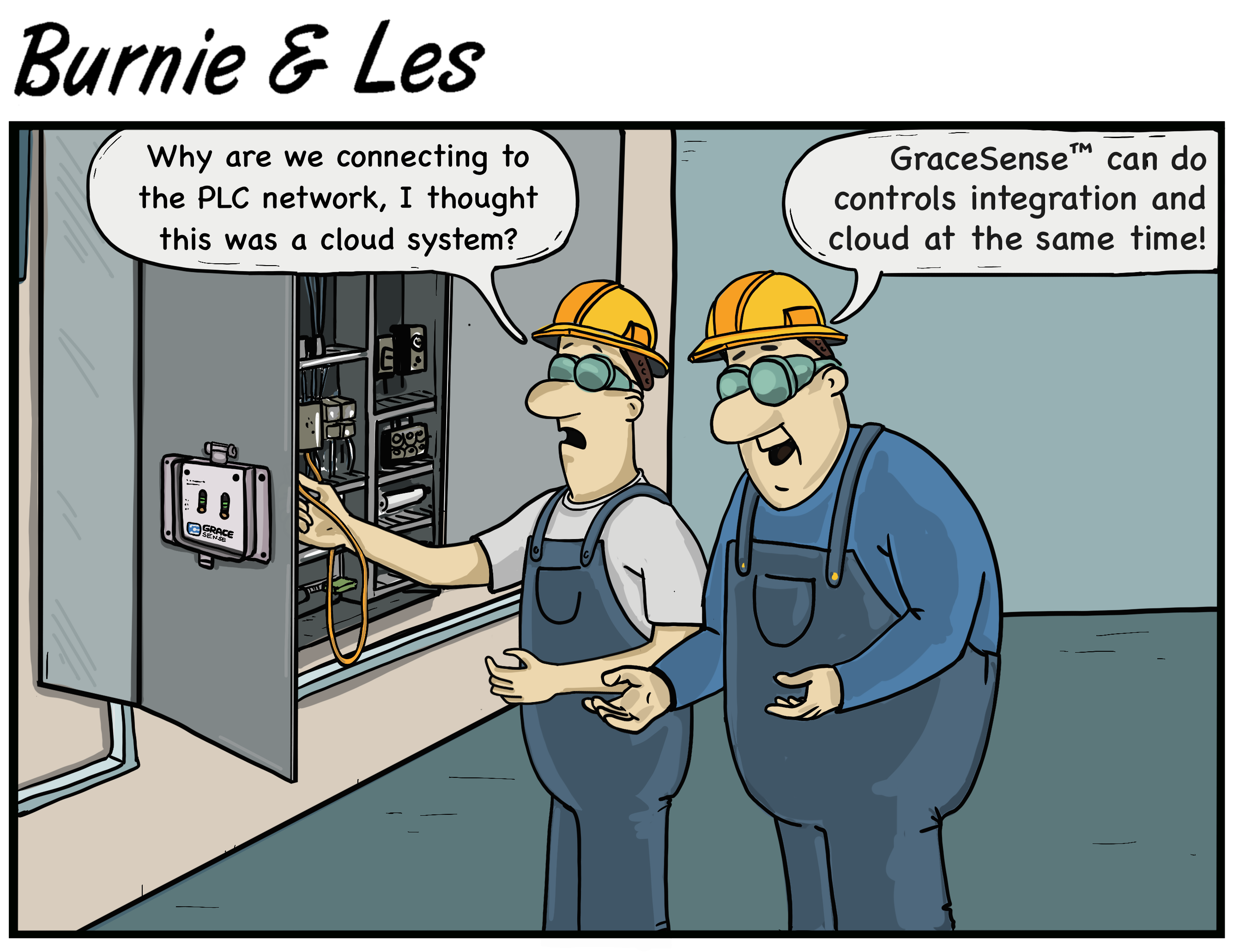 Last year, during Rockwell's Automation Fair at Home, Dr. Andy Zimmerman, CTO of Grace Technologies, presented the most attended session of the entire event. One of the massive hurdles for organizations to adopt IIoT as a viable solution within their maintenance programs is integration. Andy and the engineering team at Grace have heard this loud and clear which is why we have designed the GraceSense™ Predictive Maintenance System from the ground up with ease-of-integration in mind.
Dr. Zimmerman's session, "Integration of IIoT Devices with your Allen-Bradley PLCs over EtherNet/IP", sought to answer the question that organizations are constantly challenged with: "What should I do with my existing equipment and systems in my digital journey with smart devices?" He demonstrates how to make the best use of your existing systems with EtherNet/IP. You can watch this session on-demand below:
Around the clock, remote vibration and temperature analysis is becoming prevalent in facilities that are looking to avoid unexpected downtime by detecting degradation in their rotating assets long before they fail. Rotating machinery is vital to the success of any industrial facility.
When a critical pump, compressor, fan, generator, or similar type of equipment fails, it can easily bring down an entire production line. A failure can even cause downtime for an entire facility. While degradation in rotating equipment will eventually manifest in increased audible noise, temperature, or current draw, these indicators of damage are often preceded by an increase in vibration across a motor and its bearings.
The possibilities of IIoT digital transformation are boundless and daunting. As we mentioned above, many facility managers who wish to begin their digital journey are challenged with how their existing equipment and systems can incorporate smart devices.
We'll explore that and more in Dr. Zimmerman's next presentation, "The Four Keys to a Successful IIoT Solution for Predictive Maintenance". Register for free today by clicking below: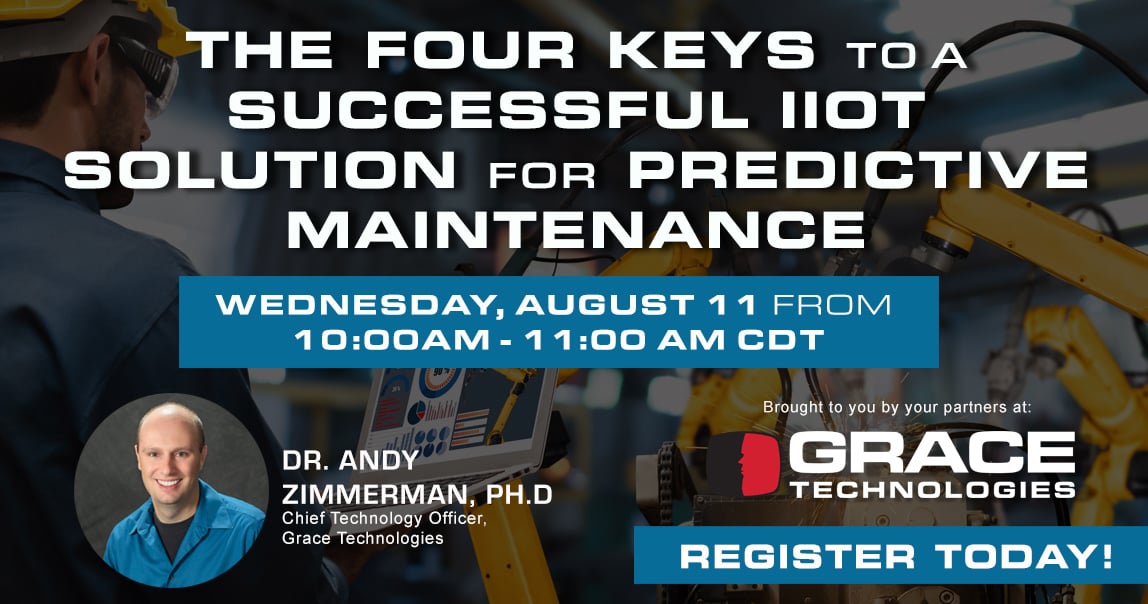 Webinar: Facilities around the globe are experiencing a major generational shift in terms of how they operate and maintain their equipment. Increased productivity pressures and high uptime demands of equipment combined with a shortage of qualified maintenance personnel are driving facilities to rely more than ever on predictive maintenance tools (PdM). But how can you ensure confidence in your integration?
This session will explore the need for the Industrial Internet of Things (IIoT) in industrial environments and will highlight the importance of predictive maintenance (PdM) tools over preventive maintenance methods. Topic discussions will include why early IIoT attempts have failed, challenges involved with IIoT, and the four key elements for successful IIoT implementation.
Presenter: Dr. Andy Zimmerman, CTO of Grace Technologies, has spent the past 15 years developing wireless sensing and cloud-based health monitoring systems for both civil infrastructure (bridges, buildings, etc.) and industrial machinery (pumps, presses, etc.). Dr. Zimmerman holds a Ph.D. in Civil Engineering and an M.S.E. in Computer Science & Engineering from the University of Michigan, and he started his own company, Civionics, in 2009 to help transition his structural health monitoring research from the lab to industry.
After building a proprietary cloud-based wireless predictive maintenance platform on the back of grants and contracts from DoD, DHS, NSF, USDOT, and other corporate clients, Dr. Zimmerman sold Civionics' IP to Grace Technologies in 2018 and took a position as the Grace CTO. Since then, he has helped shape Grace's technology strategy, managed the Grace engineering department, and served as the primary architect and technical lead for the GraceSense line of Predictive Maintenance and Industrial Internet of Things technologies.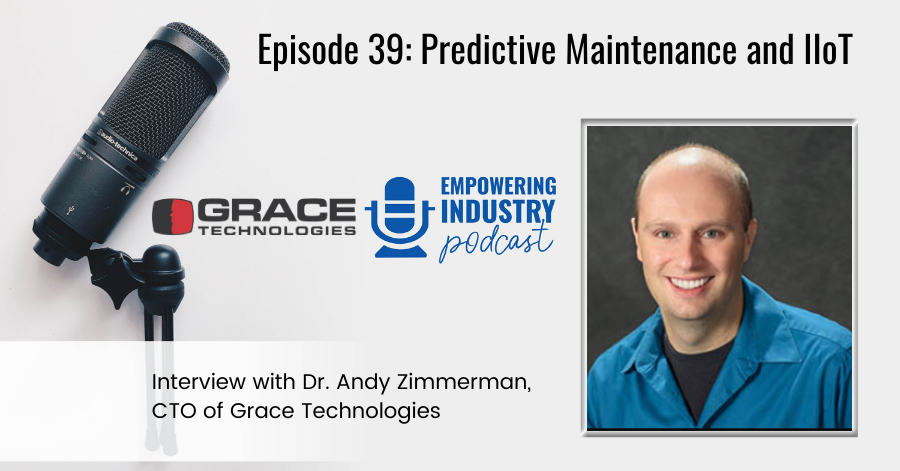 In other news, Dr. Zimmerman had a guest spot on the Empowering Pumps & Equipment podcast. He discusses the importance of predictive maintenance and the Industrial Internet of Things. Get to know what Dr. Zimmerman does on a daily basis and how his background landed him in the IIoT space at Grace Technologies (interview starts at 25:10). Check it out below:

About Empowering Industry Podcast: Empowering Pumps & Equipment is the information and connection hub for pump and related equipment industries and has been for the past 9 years. The mission is to connect, inform, and educate through a weekly podcast to complement their existing digital and print platforms.
---
Stay SAFE and have a GREAT week!