One of the most innovative product lines that Grace Technologies manufactures are Permanent Electrical Safety Devices (PESDs). These devices have been distributed in industries around the world to improve overall safety and productivity. PESDs are permanently mounted and allow electricians to validate energy presence with voltage indicators and absence of voltage test points. Here's a quick look at how PESDs can improve your interactions around voltage through safety by design.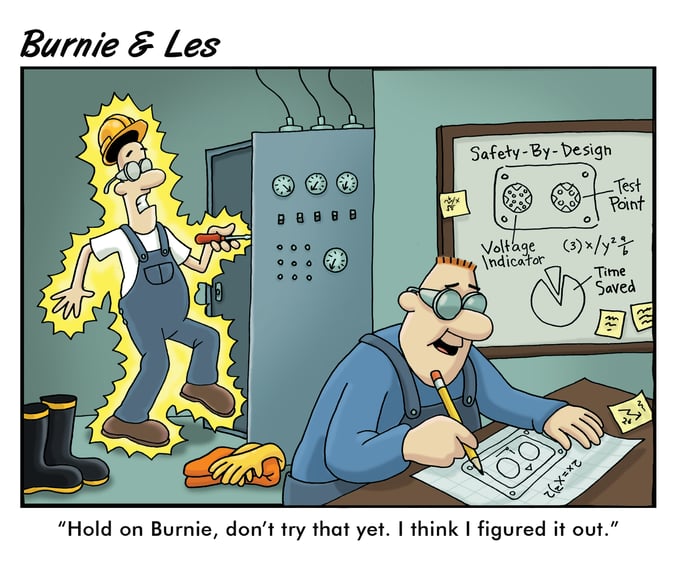 Performing Lockout/Tagout (LOTO) safely requires the answer to one question; is there voltage? NFPA 70E/CSAZ462 requires an absence of voltage test to verify an electrically safe work condition. The traditional process poses arc flash and shock hazards to comply with NFPA 70E Article 120.5: Process for Establishing and Verifying an Electrically Safe Work. PESDs enhance compliance with this frequently violated standard while improving your safety and productivity.
Voltage indicator PESDs provide a consistent reliable presence of voltage indication with their LED lights. However, when the equipment connected to the indicator is turned off, the LED lights go out as well. It should be noted that this indication is not a compliant method for verifying absence of voltage. Additional steps must be taken before an electrician or maintenance personnel opens a cabinet that has been de-energized which is where test point PESDs come into play.
The ChekVolt's test points allow users to test for absence of voltage and provide voltage presence LED indication; all without opening enclosure doors. With the enclosure closed, qualified electricians using their trusted voltmeters can insulate the meter's probes with .080" tips into any two test points and take a voltage reading.
ChekVolt users report LOTO procedure time reductions of 35-40 minutes. ChekVolt pays for itself after 6-8 LOTO procedures from time savings alone! View Product Bulletin.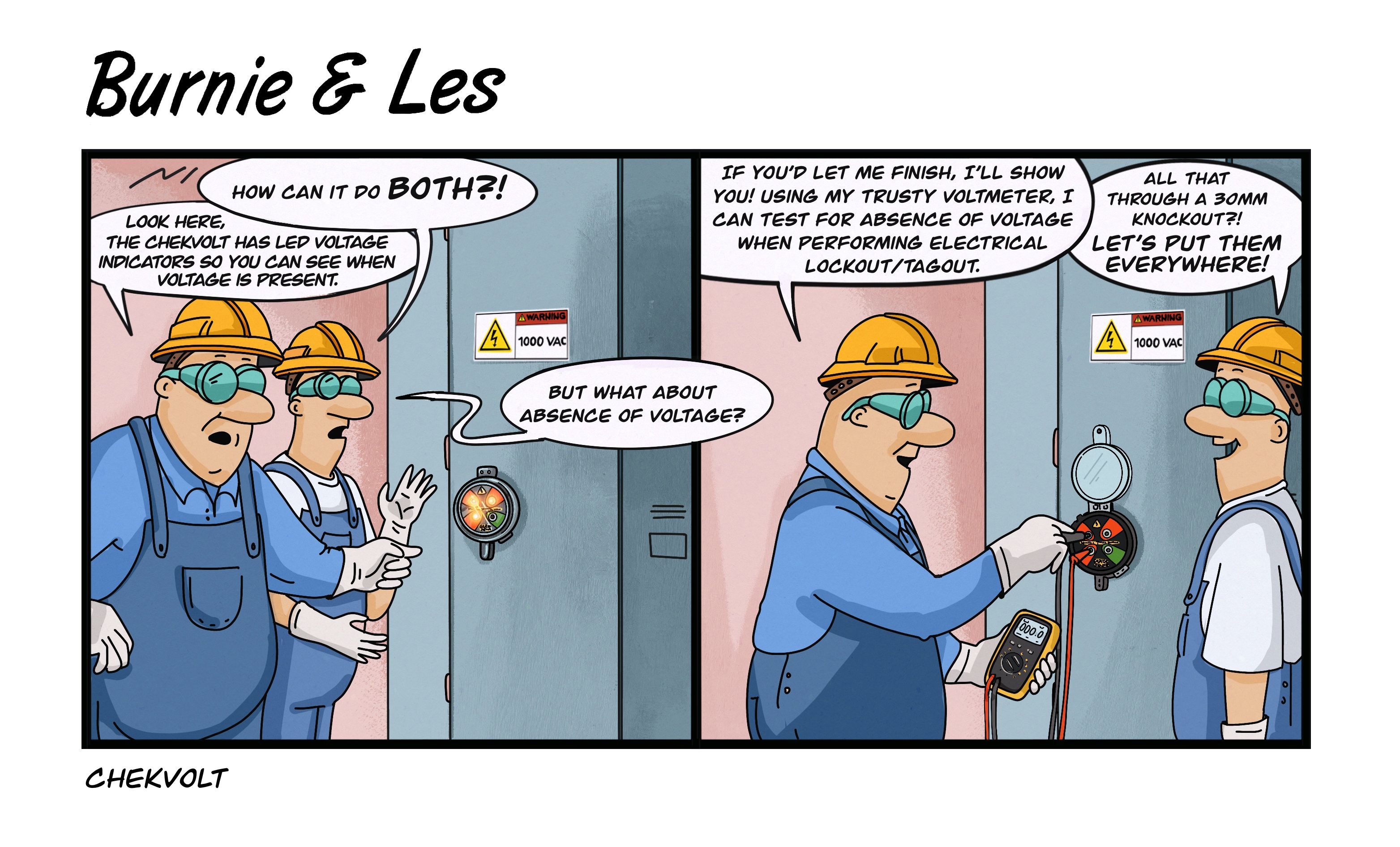 With the addition of a ChekVolt within any electrical safety program, while following the proper safety procedures outlined in NFPA 70E, the user's risk of arc flash or shock hazard is significantly reduced. This PESD has also made compliance easier by reducing the margin of human error that results in LOTO being one of OSHA's most cited violations each year.
In this video, our Business Development team explains how the ChekVolt incorporates safety by design to provide voltage presence LED indication and absence of voltage test points for portable test instruments.

Meet the Standard with No Exceptions
NFPA 70E 120.5(4)

– ChekVolt voltage indication LEDs illuminate when hazardous voltage is present until stored electrical energy is released, warning of hazardous voltage that may harm maintenance personnel believing equipment to be in a depowered state.
NFPA 70E 120.5(7)

– ChekVolt high impedance protected test points allow a qualified electrician to safely test phase-to-phase and phase-to-ground for absence of voltage using an adequately rated portable test instrument (i.e. voltmeter). Per 120.5 (7): "Before and after each test, determine that the test instrument is operating satisfactorily through verification on any known voltage source."

The ChekVolt is among three products we have nominated for Product of the Year! Check out the official Plant Engineering POY webpage for more information. Winners are chosen by popular vote which is why we're asking for your help. Please help us bring home the gold by casting your vote! Follow these simple steps to participate:
Create an account before voting.

View the complete list of nominees and cast your votes in each category

Note that you do not need to vote in every category




Click 'Submit Ballot' and you're done!