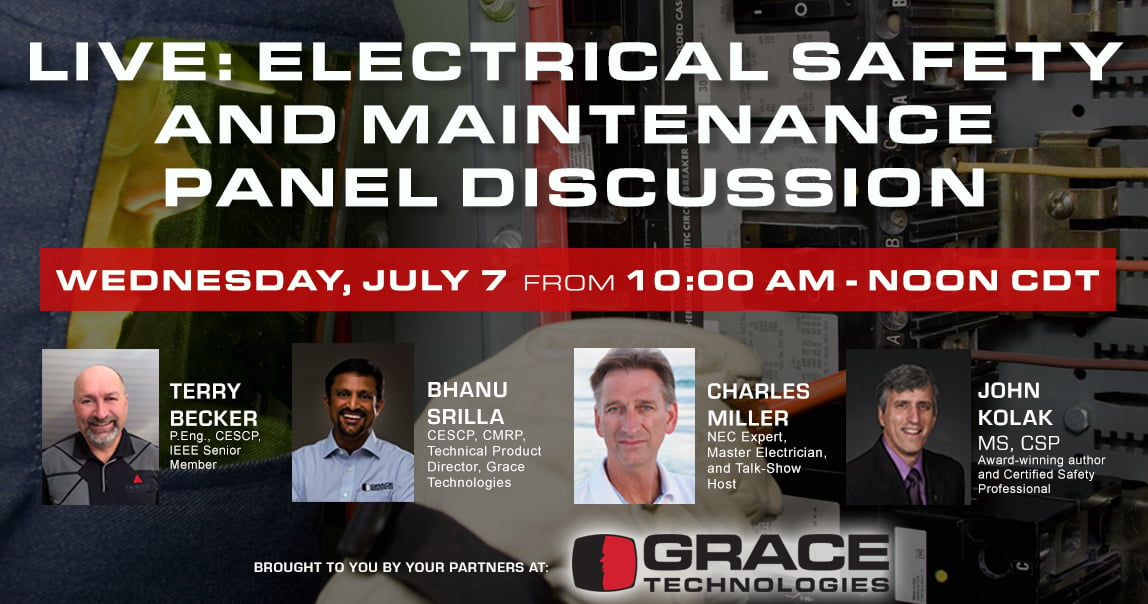 Next week, we will be hosting one of our most popular formats for our monthly webinars. The experts are coming together for another Electrical Safety and Maintenance Panel Discussion and we'll be streaming to you LIVE on Wednesday, July 7 from 10:00 AM to 12:00 PM. Submit your electrical safety and maintenance related questions to get your answers in real time (as time permits!). This is the most passionate bunch of experts we have worked with over the years to deliver best-in-class webinars on various topics related to electrical safety through our webinars.
About the Electrical Safety Panelists
Terry Becker, P.Eng., CESCP, IEEE Senior Member has over 28 years of experience as an Electrical Engineer, with 12 years specifically devoted to electrical safety. Terry is the First Past Vice-Chair of the CSA Z462 Workplace electrical safety Standard, a founding Voting Member from 2006.
Terry is also a founding member and Voting Member of the CSA Z463 Maintenance of electrical systems Standard. Terry is a Voting Member on the IEEE 1584 Guide for Performing Arc-Flash Hazard Calculations Technical Committee. Terry has provided electrical safety consulting and arc flash and shock training across Canada in all industry sectors.

connect with Terry!
Bhanu Srilla, MS, CESCP, CMRP, CRL is the Director of Technical Marketing at Grace Engineered Products, Inc. He is responsible for developing strategy for new products, overseeing new product development efforts and product applications at Grace. Bhanu has over two decades of experience in power generation and distribution industry and has led diverse programs in electrical power distribution and control system projects in various IEC and ANSI applications for low and medium voltage systems.
Bhanu is an IEEE member, and a member of Standards Technical Panel (STP) for UL 1436, UL 61010, UL 508, and 508A Standards. He is a certified electrical safety compliance professional (CESCP) by NFPA, certified maintenance and reliability professional (CMRP) by SMRP, certified reliability leader (CRL) by reliability web, and holds advanced degrees in Electrical Engineering, Manufacturing Systems, and Technology Management.

connect with Bhanu!
Charles Miller, NEC Expert, is a master electrician, business owner, author, educator, and talk-show host. Based out of Lebanon, TN, Charles spent eighteen years as a successful business owner and electrical contractor. Since then, he has focused his time and energy on writing and teaching to promote knowledge and proficiency among engineers, electricians, and tradespeople in the field.
As an author and illustrator, he has an extensive list of electrical-related publications to his credit, including some published by the National Fire Protection Association (NFPA). Miller also sits on two NFPA committees, including the committee for the NFPA 70E standard.

connect with Charles!
John J. Kolak, MS, CSP has 38 years of experience in the industry and is the president of Praxis Corporation; a company that specializes in Power Systems Engineering & Electrical Safety Training. John is an award-winning author and speaks often at national seminars on Electrical Engineering, Electrical Safety and Managerial Safety topics.
Praxis Corporation is a company that assists organizations in protecting employees from electrical hazards through the integration of Electrical Engineering and Electrical Safety Training. They specialize in customizing all their services to the precise needs of their customers. Their goal is to assist organizations to produce products with a minimum-level of risk to employees.

connect with John!
Previous Electrical Safety Panel Discussions
Research data published by NFPA in 2018 states that 9,760 workers were injured and 739 workers were killed from exposure to electricity in the five year period from 2012 to 2016. While OSHA and NFPA have strong enforcement and guidance on this specific subject, there are still many unanswered questions when it comes to electrical safety.
In this previous Electrical Safety Panel Discussion, the experts give answers and clarification to the unique electrical safety challenges that are faced at a variety of plants, facilities, applications, and other site-specific situations. Discussion areas include:
General Electrical Safety related questions

Personal Protective Equipment (PPE)

Arc flash hazards/boundary conditions

Energized work permits

Lockout/Tagout (LOTO)

NFPA 70E standards interpretations
In this discussion, our panelists explain the significant gaps in electrical safety programs and how they can be filled with preventative measures such as employer/employee training and communication.
Additionally, they share their extensive industry experience in electrical safety consulting, installation, and maintenance related areas to answer the attendees' questions in real-time. Discussion areas include:
Electrical Safety Program & Audits

Training and Retraining requirements

Using engineering controls in electrical safety

Personal Protective Equipment (PPE)

Energized work permits

Lockout/Tagout (LOTO)

NFPA 70E standards interpretations
Register for next week's webinar to participate and gain rare and insightful information from leading experts with decades of experience in the electrical safety world:
---
Stay SAFE and have a have a GREAT week!