We're very excited to share with you a brand new development at Grace Technologies and the next leap in our journey for making maintenance safer, smarter, and more productive. Today we are officially launching a brand new consulting wing at Grace; the Expert Network.
Our mission with the Expert Network is to bring clarity and instill confidence in Electrical Safety Programs. We aim to help you achieve this in the following ways:
Provide necessary tools and resources to develop and implement a compliant and fully defendable Electrical Safety Program.
Reduce regulatory risks and manage liability to instill employee confidence and safeguard your company's reputation.
Create scalable efficiencies and ensure sustainable and measurable results to enhance productivity, maximize safety, and minimize risks.
Develop and tailor an Electrical Safety Program aligned with your organization's overall Occupational Health and Safety Management System.
In order to help our customer base determine if they are in need of consulting services, we have created a Self-Assessment Survey. Depending on your score, we can help you determine the necessary steps to ensuring your program is in compliance. Click here to take the FREE Self-Assessment.
At this point, you may be asking why is this the next logical step for Grace Technologies? With our decades of experience and leadership in the electrical safety sphere, we have picked up a few things and made a few friends along the way. What we found is a huge gap between the policies, practices, and procedures implemented by our clients. A recurring theme we discovered is when it comes to the implementation of safety and maintenance management systems, the end goal is simply compliance.
However, we have also found that many companies do not have any policies in place, or when they do, they are out of date and no longer compliant. This got us talking with electrical safety experts we have known for years. There are so many people out there just flying under the radar, thinking they are in compliance with regulations when there are actually gaps in their current program. With the Expert Network, we have assembled a team of licensed electrical safety experts who will help you implement an Electrical Safety Program that you will have complete confidence in.
As part of this initial roll out, the Expert Network will offer a well-defined and licensed Electrical Safety Program that includes a robust framework, questionnaires, forms, and templates that are in alignment with occupational health and safety management systems such as OSHA, ISO 45001, ANSI Z10, NFPA 70E, CSA Z462 standards. A team of well renowned consultants with extensive industry experience will be handpicked and matched to suit your unique needs.
Our team of expert consultants will work with facility managers from the initial discovery process through program development and implementation. The team will also closely work with their EHS and electrical safety teams and walk through every step and detail in the process. Additionally, the consultants will further help to customize electrical safety programs to meet specific facility needs while still aligning with the codes and standards. But enough from me! Let's hear about it from the Electrical Safety expert consultants themselves:
About Bhanu Srilla MS, CESCP, CMRP, CRL
Bhanu Srilla is the Director of Technical Marketing at Grace Technologies. He is responsible for developing strategy for new products, overseeing new product development efforts and product applications at Grace. Bhanu has over two decades of experience in power generation and distribution industry, and has led diverse programs in electrical power distribution and control system projects in various IEC and ANSI applications for low and medium voltage systems.
Bhanu is an IEEE member, and a member of Standards Technical Panel (STP) for UL 1436, UL 61010, UL 508, and 508A Standards. Bhanu is a certified electrical safety compliance professional (CESCP) by NFPA, certified maintenance and reliability professional (CMRP) by SMRP, certified reliability leader (CRL) by reliability web, and holds advanced degrees in Electrical Engineering, Manufacturing Systems, and Technology Management.
About Terry Becker, P.Eng., CESCP, IEEE Senior Member
Terry Becker has over 28 years of experience as an Electrical Engineer, with 12 years specifically devoted to electrical safety. Terry is the First Past Vice-Chair of the CSA Z462 Workplace electrical safety Standard, a founding Voting Member from 2006. Terry is also a founding member and Voting Member of the CSA Z463 Maintenance of electrical systems Standard. Terry is a Voting Member on the IEEE 1584 Guide for Performing Arc-Flash Hazard Calculations Technical Committee. Terry has provided electrical safety consulting and arc flash and shock training across Canada in all industry sectors.
Terry delivers engaging presentations on electrical safety at industry conferences and workshops - he has been seen across Canada, in the USA, Australia, and India. Terry created ESPS Electrical Safety Program Solutions, Inc. in 2007 where he pioneered electrical safety consulting and arc flash and shock training both instructor led and e-Learning.
About Charles Miller, NEC Expert, Master Electrician
Charles R. Miller is a master electrician, business owner, author, educator, and talk-show host. Based out of Lebanon, TN, Charles spent eighteen years as a successful business owner and electrical contractor. Since then, he has focused his time and energy on writing and teaching to promote knowledge and proficiency among engineers, electricians, and tradespeople in the field. As an author and illustrator, he has an extensive list of electrical-related publications to his credit, including some published by the National Fire Protection Association (NFPA). Miller also sits on two NFPA committees, including the committee for the NFPA 70E standard.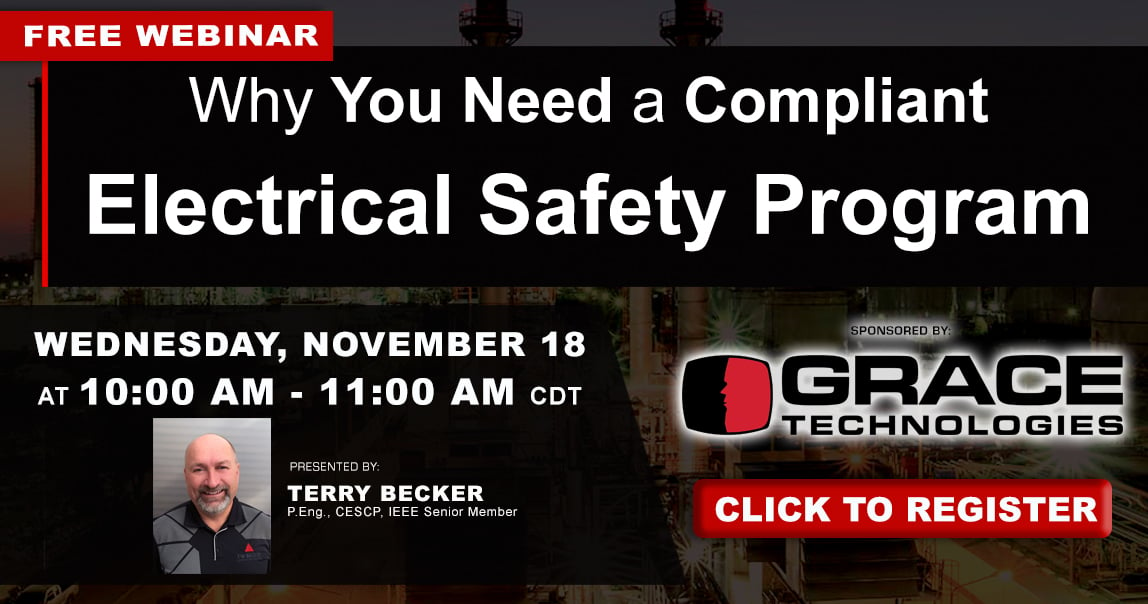 Upcoming Webinar: Registration is now open for our next FREE webinar! Join us next week as Terry Becker from our Expert Network explains "Why You Need a Compliant Electrical Safety Program". This webinar is worth 0.1 CEU for those attending the live broadcast with Terry. Click here to register!
About this Webinar: A well-defined Electrical Safety Program (ESP) plays a significant role in keeping the facility workers safe, and incident rates low. In addition, the ESP must align with the organization's safety management systems, policies, procedures, and practices. This webinar will review the OHSMS requirements, including OSHA, ANSI Z10, and align them with electrical safety standards such as NFPA 70E & CSA Z462.
Mark your calendars for next week's Automation Fair at Home, November 16-20. This year's conference has gone virtual, but did Burnie & Les get the memo? Stay tuned to our social media for their journey on the road to Automation Fair (previously set for the Anaheim Convention Center in California). They may have some interesting stops along the way!

Today, we honor all Veterans for their service and sacrifice. Thank you to all of the brave men and women who have served and are currently serving in our nation's Armed Forces. Stay safe and have a GREAT week!