How GraceSense's IIoT Technology is Revolutionizing Equipment Monitoring for Nonwoven Manufacturing
Unplanned downtime can cause problems for manufacturers, leading to production losses and safety incidents. In the nonwoven production industry, excessive heat generated during fiber processing poses a significant risk of thermal events, resulting in unplanned downtime and potential injuries to personnel. To address this challenge, a leading nonwoven manufacturer invested in an IIoT-driven equipment monitoring system to improve their maintenance insights and reduce risks during reactive maintenance scenarios.
Their Challenge
Our customer, a nonwoven manufacturer, faced the challenge of the excessive heat generated by their complex machinery during the fiber processing stage. This heat could lead to thermal events, causing unplanned downtime, material loss, and putting personnel at risk. They were searching for a predictive technology solution to monitor their equipment and detect potential issues before they turned into costly downtime.
Our Solution
Through their local distributor, they discovered Grace Technologies and our innovative GraceSense Predictive Maintenance System. This system utilizes wireless and wired sensor technology to monitor the condition of assets, providing real-time temperature feedback without the need for complicated wiring. The wireless sensor technology appealed to the client's Maintenance Manager, who was looking for a solution that would fit seamlessly into their operations.

Integration of the GraceSense Predictive Maintenance System
According to the manufacturer's Maintenance Manager, the integration and application of the GraceSense system were quick and simple, and the cloud-based capabilities were particularly useful. To ensure that the system could be integrated with their PLC network, Grace worked with Rockwell Automation to develop a solution that would allow data to be transmitted from the Predictive Maintenance System using both cloud and PLC networking.
To support this application, the manufacturer installed ComboGates to communicate with their 140 Vibration & Temperature Nodes, which are wireless sensors that monitor vibration and temperature to assess the health of rotating equipment. The GraceSense IIoT application engineer team provided node and gateway installation oversight and performed a site survey to determine the best locations for the gateways. Once the hardware was installed, the application engineers worked closely with Rockwell to provide PLC integration support.
Currently, the manufacturer has deployed 140 GraceSense Vibration & Temperature Nodes across their manufacturing plant. With their advanced edge processing and IEEE 802.15.4 ZigBee compatible communication, these nodes enable personnel to continuously monitor equipment, detect defects, and predict asset health. With multiple mounting options and replaceable batteries that provide 3-5 years of life, the nodes offer a flexible and durable solution for equipment monitoring in any industry.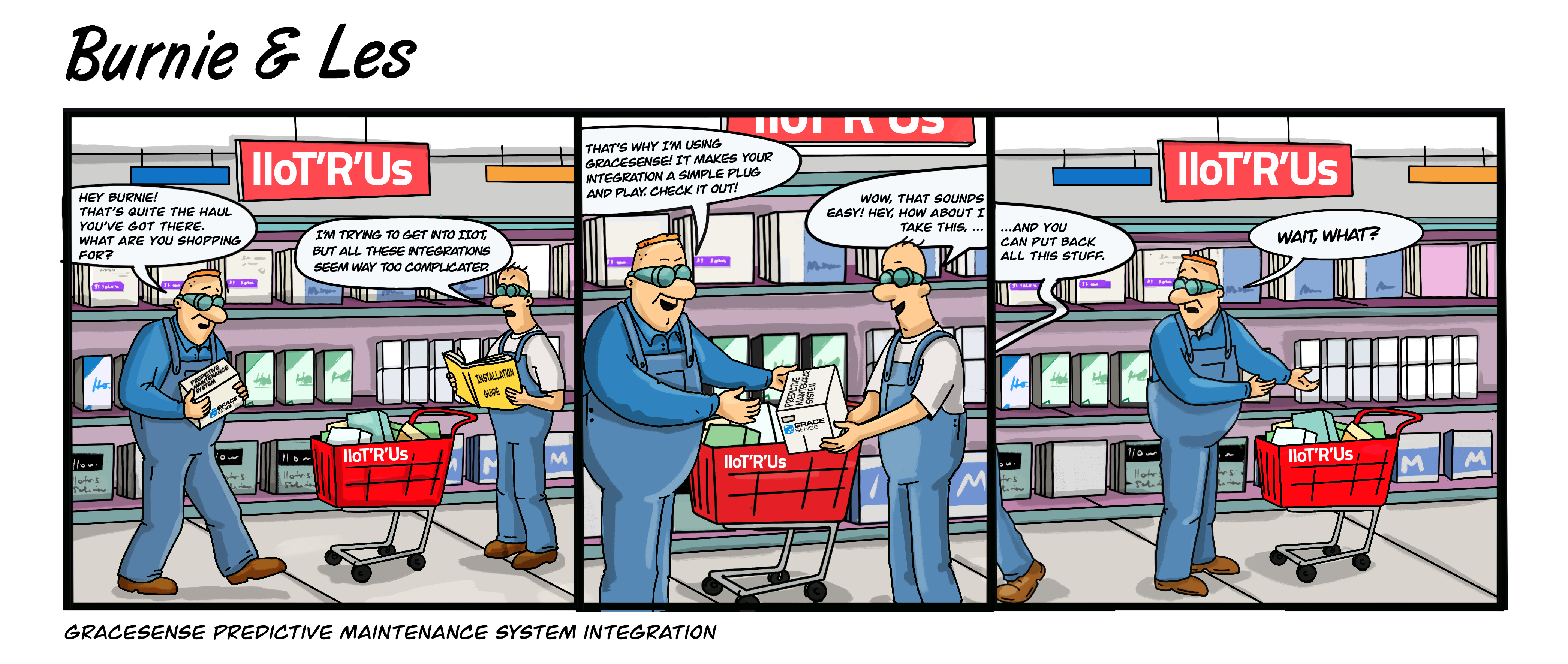 Predictive Maintenance System Prevents Thermal Events and Unplanned Downtime
The nonwovens manufacturer successfully integrated the GraceSense Predictive Maintenance System, which has provided them with advanced warnings of temperature anomalies, enabling them to prevent thermal events and unplanned downtime. The system's alarms are configured within the manufacturing plant's PLC infrastructure, and data pulled from the system is displayed on HMIs when the temperature reaches a warning level. The system has already prevented six unplanned downtime scenarios that could have resulted in contaminating their production or a thermal event. Before the deployment of GraceSense, their unplanned downtime could last for several weeks. Now, with just one hour of planned downtime, they are detecting and addressing future events.
The success of this deployment has led the parent company of the nonwoven manufacturer to consider using the GraceSense system in more of their facilities. They plan to utilize the system's vibration monitoring features on more equipment in the future, indicating their confidence in the system's predictive capabilities.
The Results
After implementing GraceSense, the nonwovens manufacturer was able to closely monitor their equipment and detect potential issues before they became a problem. This allowed them to prevent thermal events, minimize unplanned downtime, and reduce material loss. With GraceSense, they were able to revolutionize their nonwoven production, making it more efficient, reliable, and safe.
By investing in the IIoT-driven equipment monitoring system, the nonwovens manufacturer was able to gain better insights into their equipment's condition and take corrective action before a catastrophic event occurred. GraceSense's innovative solution has helped them improve their operations, minimize unplanned downtime, and increase safety for their personnel, which has led to the parent company's consideration of using the system in more of their facilities.
How GraceSense Enhances Plant Reliability, Safety, and Maintenance Metrics
The GraceSense Predictive Maintenance System offers remote asset monitoring, timely notifications, and advanced data analytics to improve overall plant reliability, safety, and maintenance metrics. When anomalous behavior is detected, plant floor personnel receive SMS or email alerts with pre-configured remediation instructions. Asset managers gain deep insights into machine health to prioritize resources and maximize maintenance spend.
The Vibration & Temperature Nodes communicate through GraceSense gateways that transfer field node information to an actionable troubleshooting platform via the Maintenance Hub Cloud and/or PLC, SCADA, and DCS systems. Customers can choose from three gateway options to fit their application needs: CloudGates, ControlGates, and ComboGates.
CloudGates provide cloud-based support to all wireless nodes within a 30m line-of-sight radius, making the architecture massively scalable. ControlGates offer quick integration into control networks via PLC/SCADA and EtherNet/IP™ or Modbus TCP/IP communication options. ComboGates offer a hybrid solution that combines the cloud-based capabilities of CloudGates with the control network integration features of ControlGates.
Upgrade Your Plant's Reliability and Maintenance with GraceSense Predictive Maintenance System
Looking to improve your plant's reliability and maintenance metrics while preventing costly downtime and equipment failures? Consider the GraceSense Predictive Maintenance System, which uses advanced data analytics and wireless sensors to monitor equipment health in real-time, detect anomalies, and provide timely notifications with remediation instructions. With cloud-based capabilities and flexible mounting options, the system is scalable and adaptable to any industry. Contact Grace Technologies today to learn how their system can benefit your operation.

---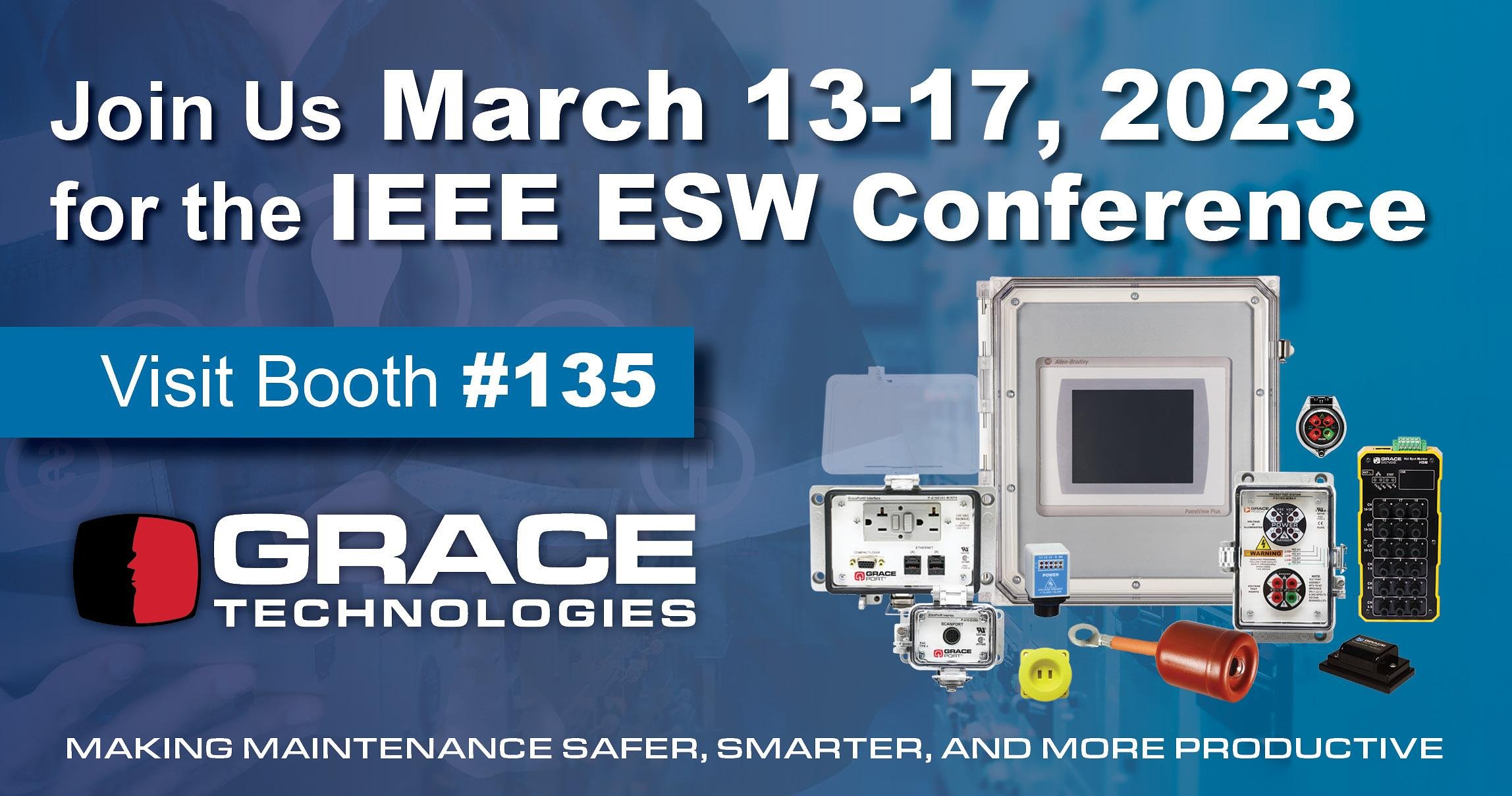 Attending IEEE ESW in Reno, NV this week? Stop by Booth #135 to see our latest and greatest electrical safety and condition monitoring solutions!
The ESW is sponsored by the IEEE IAS Electrical Safety Committee (ESafeC). The scope of the ESafeC is the treatment for all matters within the scope of the IAS in which the emphasis or dominant factor specifically relates to occupational hazards of electrical energy. Topics include, but are not limited to hazard phenomena, inherently safer design, work practices, hazard mitigation, and electrical safety management. The ESafeC has created subcommittees to help fulfill its mission.

Three of our newest products have been nominated for Product of the Year! Check out the official Plant Engineering POY webpage for more information. Winners are chosen by popular vote which is why we're asking for your help. Please help us bring home the gold by casting your vote! Follow these simple steps to participate:
Create an account before voting.

View the complete list of nominees and cast your votes in each category

Note that you do not need to vote in every category




Click 'Submit Ballot' and you're done!