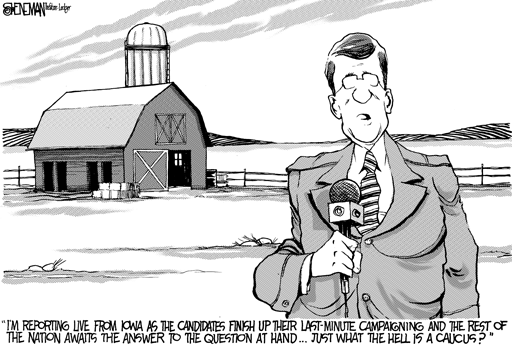 Unless you're buying corn at your local supermarket (Not potatoes! That's Idaho, and yes, that mistake is made quite often), you probably don't give Iowa much thought on an regular basis. But the fact is, since 1972, our state is one of the most important ones to watch... once every four years.
According to my favorite source in college, Wikipedia, "The Iowa Caucus is an electoral event in which residents of the U.S. state of Iowa meet in precinct caucuses in all of Iowa's 1,681 precincts and elect delegates to the corresponding county conventions." Confused yet? Here are some Legos demonstrating how the Iowa Caucus works:
Ted Cruz took home the Republican Caucus win by a slim margin over Trump, followed by Marco Rubio trailing closely behind. Hillary Clinton had a razor-thin victory over Bernie Sanders in the Democratic Iowa Caucuses and sealed the deal by way of multiple coin tosses. What?
The Des Moines Register accounts, "In a handful of Democratic caucus precincts Monday, a delegate was awarded with a coin toss...Similar situations were reported elsewhere, including at a precinct in Des Moines, at another precinct in Des Moines, in Newton, in West Branch and in Davenport. In all five situations, Clinton won the toss."
I imagine the coin tosses went something like this one at the Packers & Cardinals game a couple weeks ago; an impressive feat, no doubt:
Speaking of football; what the L? The NFL ditched their traditional Roman Numerals this year in favor of Super Bowl 50. Guess that looks better in promotions than Super Bowl L, which they were concerned would be too closely associated with the word "Losing".
I'm looking forward to the big game, mainly for the commercials! Who are you rooting for this year?
---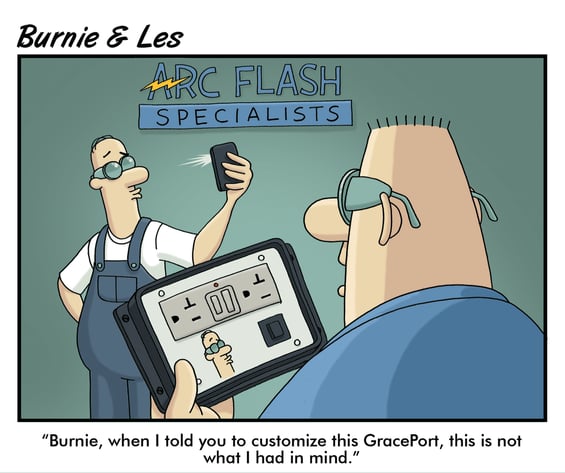 I think Burnie sent us the wrong .JPEG. We'll print whatever you want on your own, fully customizable GracePort®. Although, most people simply request their logos, we'll make an exception for selfies*
Thru-door access to your communication ports
Any port, any power and any combination (you name it, we have it!)
UL recognized in over 14,000 combinations
Option to display your own logo on the product
Send us a selfie with a GracePort® or SafeSide® product. The best ones will win big prizes!
*
Author's note: Engineering wanted me to clarify that this is just a joke! Please don't send us selfies to display on your GracePorts®; it would be a logistics nightmare
:)
What's a Caucus? Legos can explain in the 2 min. video above. In Iowa this week, Republican Ted Cruz and Democrat Hilary Clinton took the lead in their respective caucuses. Clinton edged over Sanders via coin toss. Super Bowl L is now Super Bowl 50. And never forget; GracePorts® have fully customizable options, from thousands of different combinations, all the way down to what's printed on them. Though, most people just get their logos printed...
---