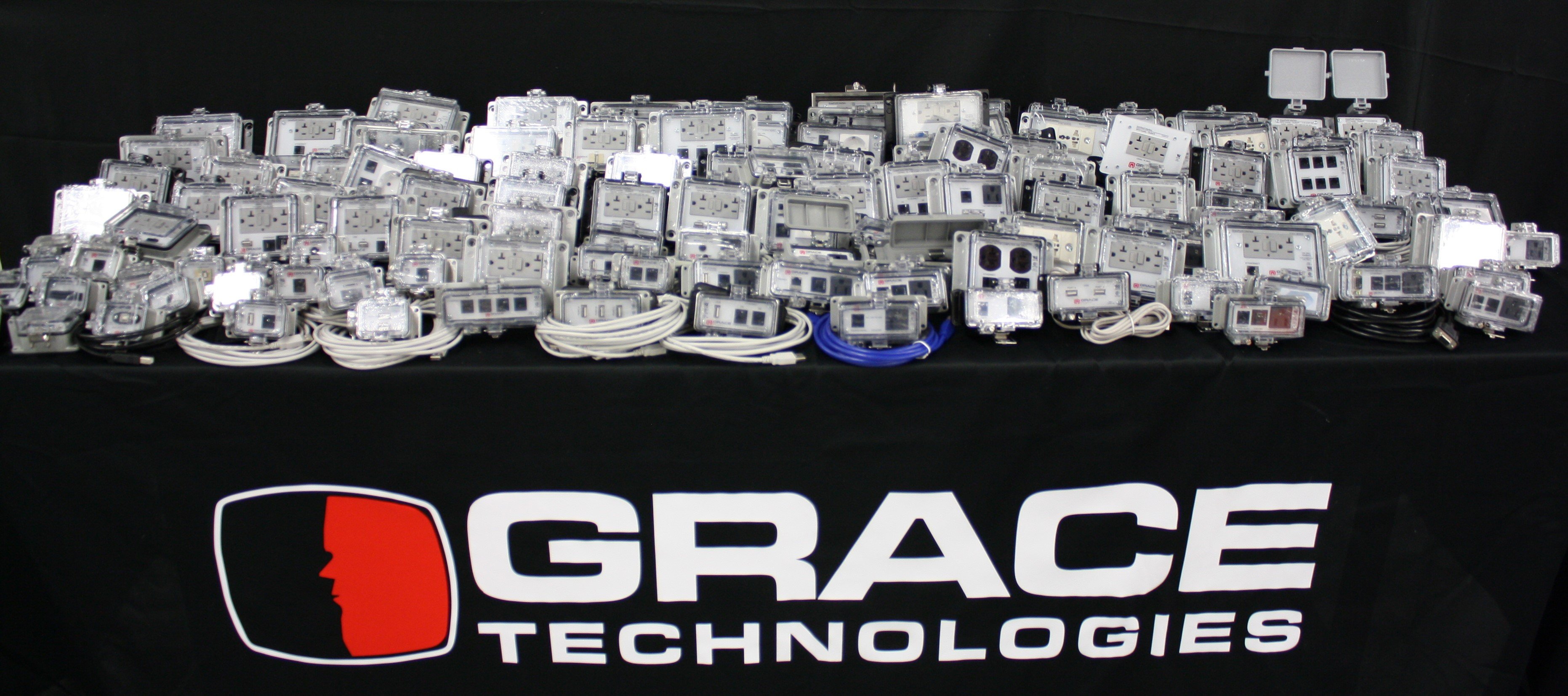 No more, no less than what you need. We've got your panel interface connector needs covered! And when you need a massive variety, we've got that covered too. Have you ever seen so many GracePorts in one place? Neither have we! Until our largest GracePort order to date recently came through; a 163-part order of custom GracePorts, all assembled right here at our facility in Davenport, IA. Obviously, a photo op was necessary to commemorate the occasion!
While we cannot disclose customer information or the precise applications for all of these GracePorts without a proper case study being conducted; we can share this artist's rendition of how we believe that order was originally placed with Burnie & Les reenacting how easy it is to order a custom GracePort: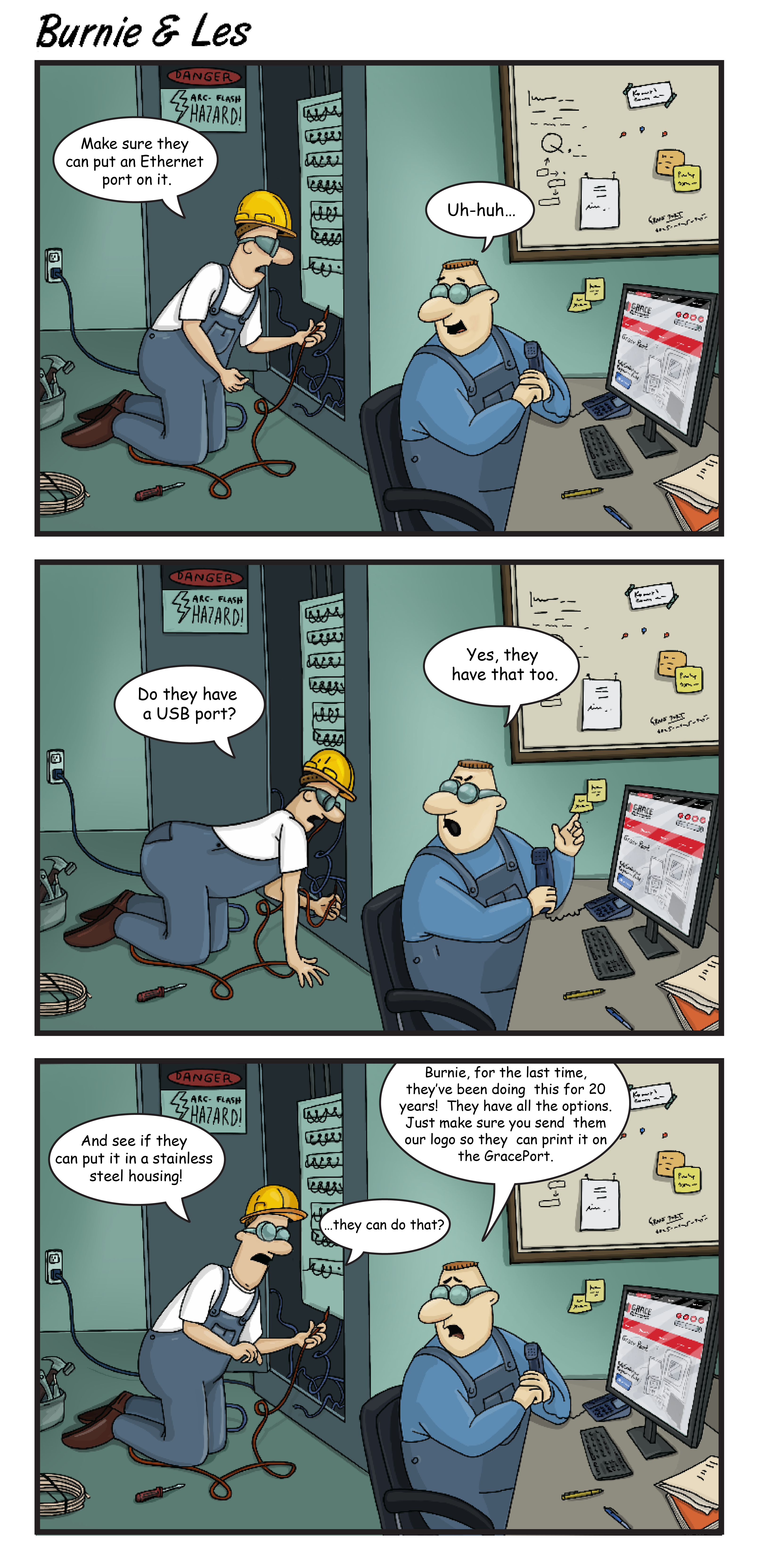 Did you know that we offer quick assembly and delivery and ship each GracePort within 2-3 business days? This is what sets a GracePort apart from other communication ports. We can create a custom-built GracePort, including any components, power option, housing, and even special text, cut-outs, cable lengths, and the option of adding your own company logo. Assembled in the USA and created just the way you want it, all in just a few days.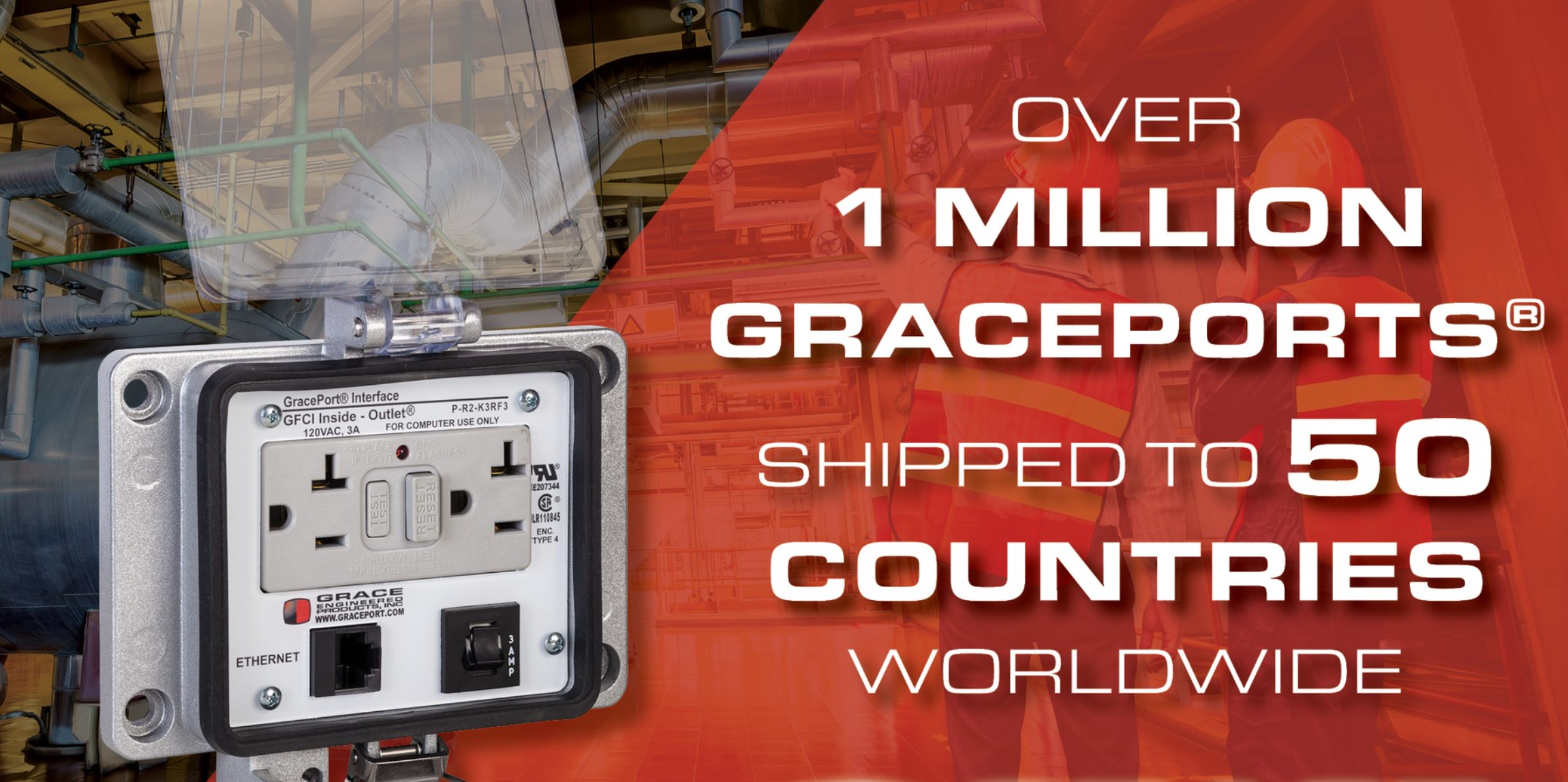 Components: Countless varieties of components are available and can also be paired together in your fully customizable GracePort for any application. Whether you need something as common as an RJ45 connector or as unique as a DVI female-to-female feed-thru bulkhead, we can design and create a GracePort that fits your precise needs.
Power Options: In over 20 years of production, we've created thousands of unique variants of the GracePort with each week presenting a new opportunity and a new GracePort configuration. Thanks to our international power options, we've shipped GracePorts all around the world.
Housings: Several housing types are available and the size of your housing depends on several variables including the kinds of components you choose, the power option you want and, in some cases, the UL rating you need. Housings options include UL Type 1, 3R, 4, 4X, 12, stainless steel options, large housings and hazardous location housings.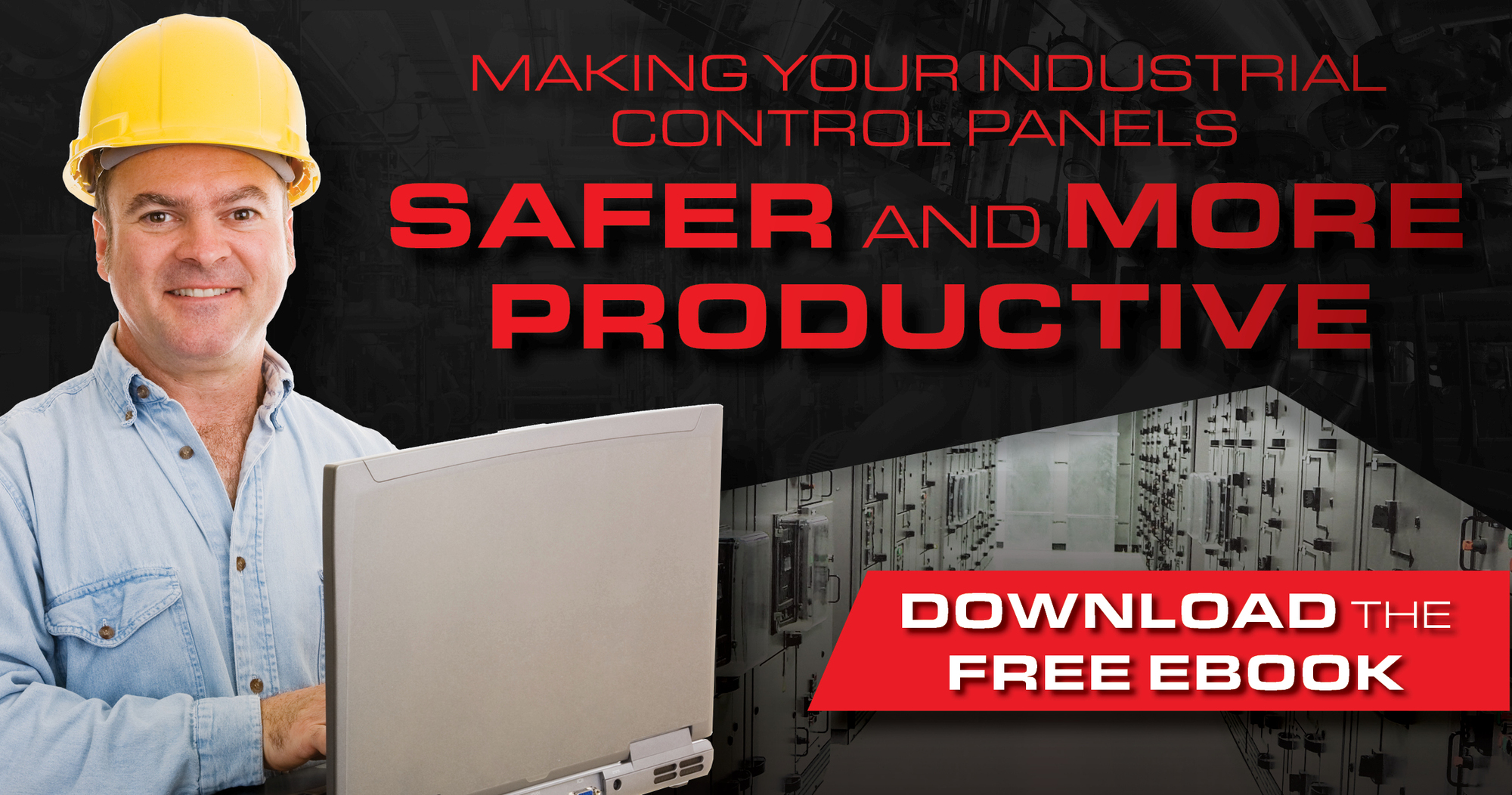 Want to learn how these 163 GracePorts will affect safety and productivity where they're getting installed? Check out our new GracePort eBook! In this comprehensive Industrial Control Panel analysis, we look back at the problem our GracePort panel interface connector was initially created to solve. Starting with historical data of ICP safety incidents, we analyze how panel interface connectors improve ICP task productivity by 90% and mitigate safety risks.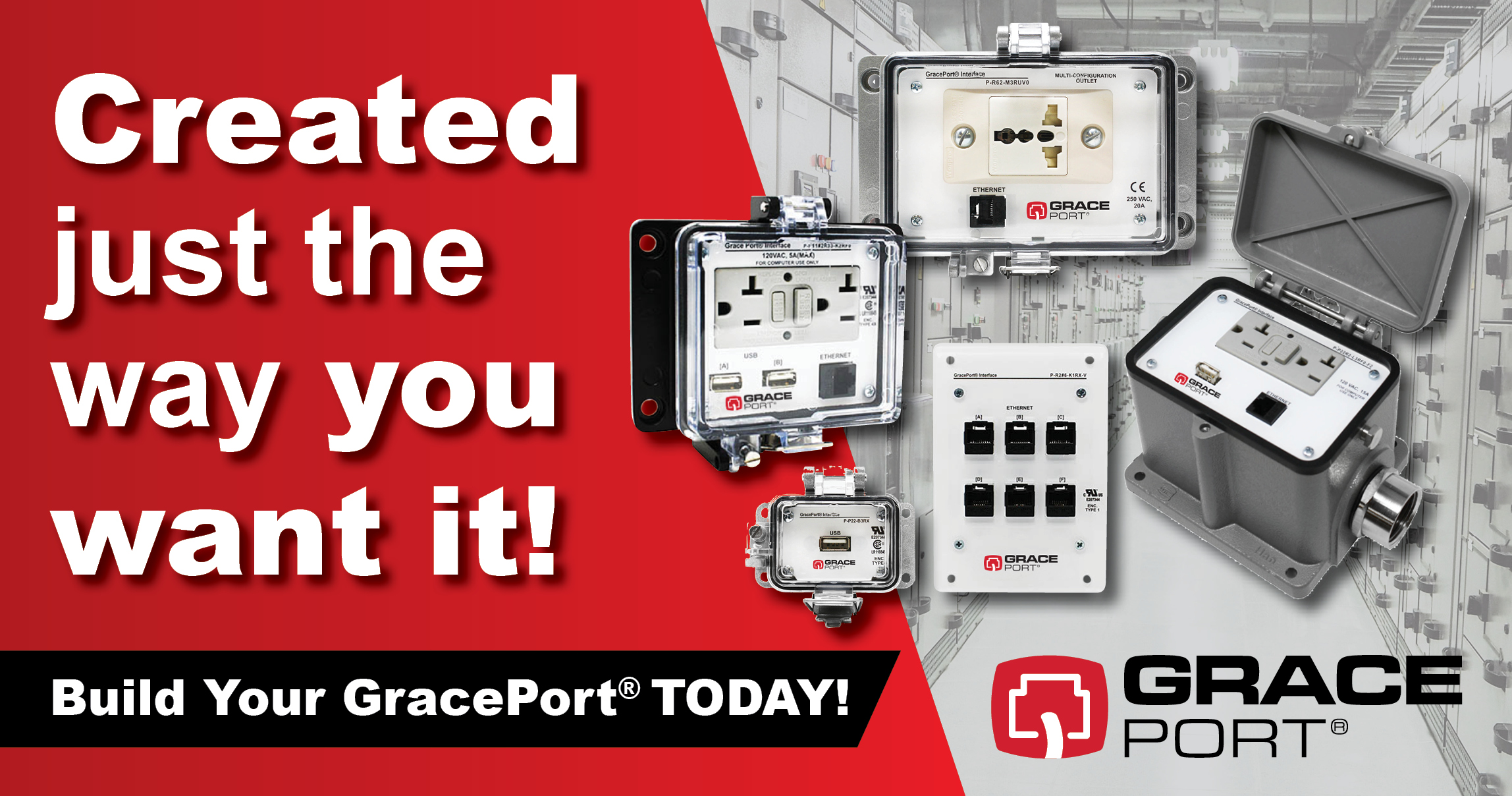 For more on GracePort, check out this video of our Director of Product Marketing, Bhanu Srilla, addressing a GracePort FAQ and how they make Industrial Control Panels safer and more productive: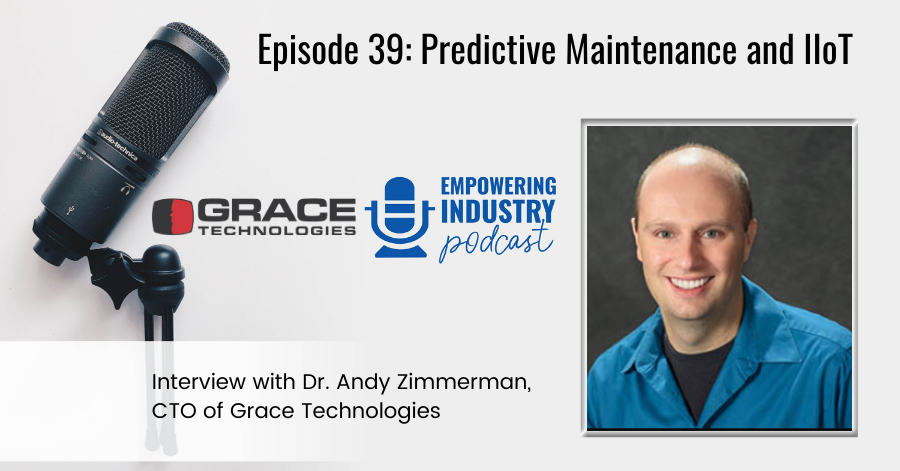 In other news, our Chief Technology Officer, Andy Zimmerman, was recently a guest on the Empowering Pumps & Equipment podcast. Andy discusses the importance of predictive maintenance and the Industrial Internet of Things. Get to know what Andy does on a daily basis and how his background landed him in the IIoT space at Grace Technologies (interview starts at 25:10). Check it out below!

About Empowering Industry Podcast: Empowering Pumps & Equipment is the information and connection hub for pump and related equipment industries and has been for the past 9 years. Their mission is to connect, inform and educate, and we are launching a weekly podcast to compliment their existing digital and print platforms.
---
Stay SAFE and have a have a GREAT week!