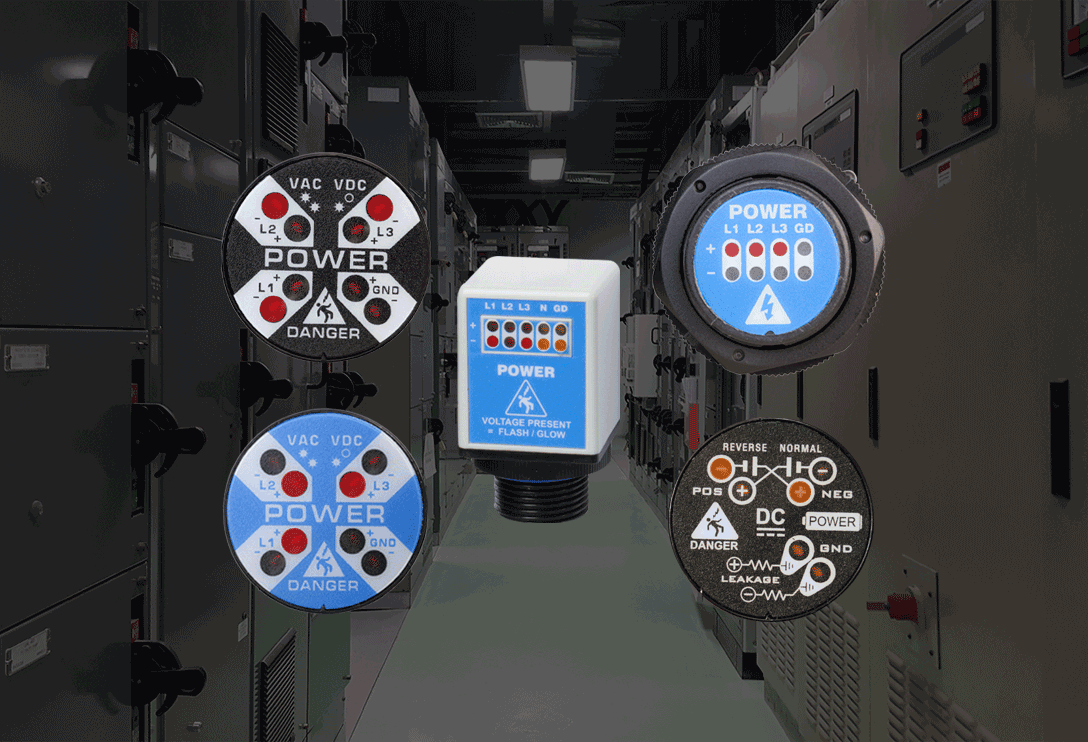 Voltage indicators greatly assist task-qualified personnel with improved productivity and reduced risk while performing mechanical and electrical Lockout/Tagout (LOTO) tasks. When it comes to thru-door electrical safety, the R-3F2 voltage indicator, featuring an optical cable, is a Permanent Electrical Safety Device (PESD) designed to keep personnel on the safe side of electrical panels by providing them with a clear LED voltage presence indication. International and domestic electrical standards require low voltage panel-mount devices; the R-3F2 meets those requirements with zero voltage on the outside of the panel.
The R-3F2 Specs
The R-3F2 uses an optical light cable to transmit LED voltage indication up to a thru-panel adaptor on the outside of electrical enclosures, which allows users to see the voltage status of L1, L2, L3, and GRD while the energized conductors are kept inside the enclosure. This voltage indicator illuminates for voltages between 20VAC/VDC and 600VAC/1000VDC (non-UL Max 750VAC) its CAT IV/III rating makes it suitable for use in any location in your low voltage power system.
The R-3F2 uses the same field-proven and time-tested circuitry as other GracePESDs voltage indicators (R-3W, R-3W2, & R-3W-SR). The potted construction, redundant circuit design, UL /IEC/AS 61010-01 certification, CAT IV/III rating, integral lead wires, and flexible mounting options allow users to reliably locate it close to 3-phase voltage sources. The available cable lengths (24", 36", 48", and 72") enable users to mount the panel adaptor at the best location on the enclosure.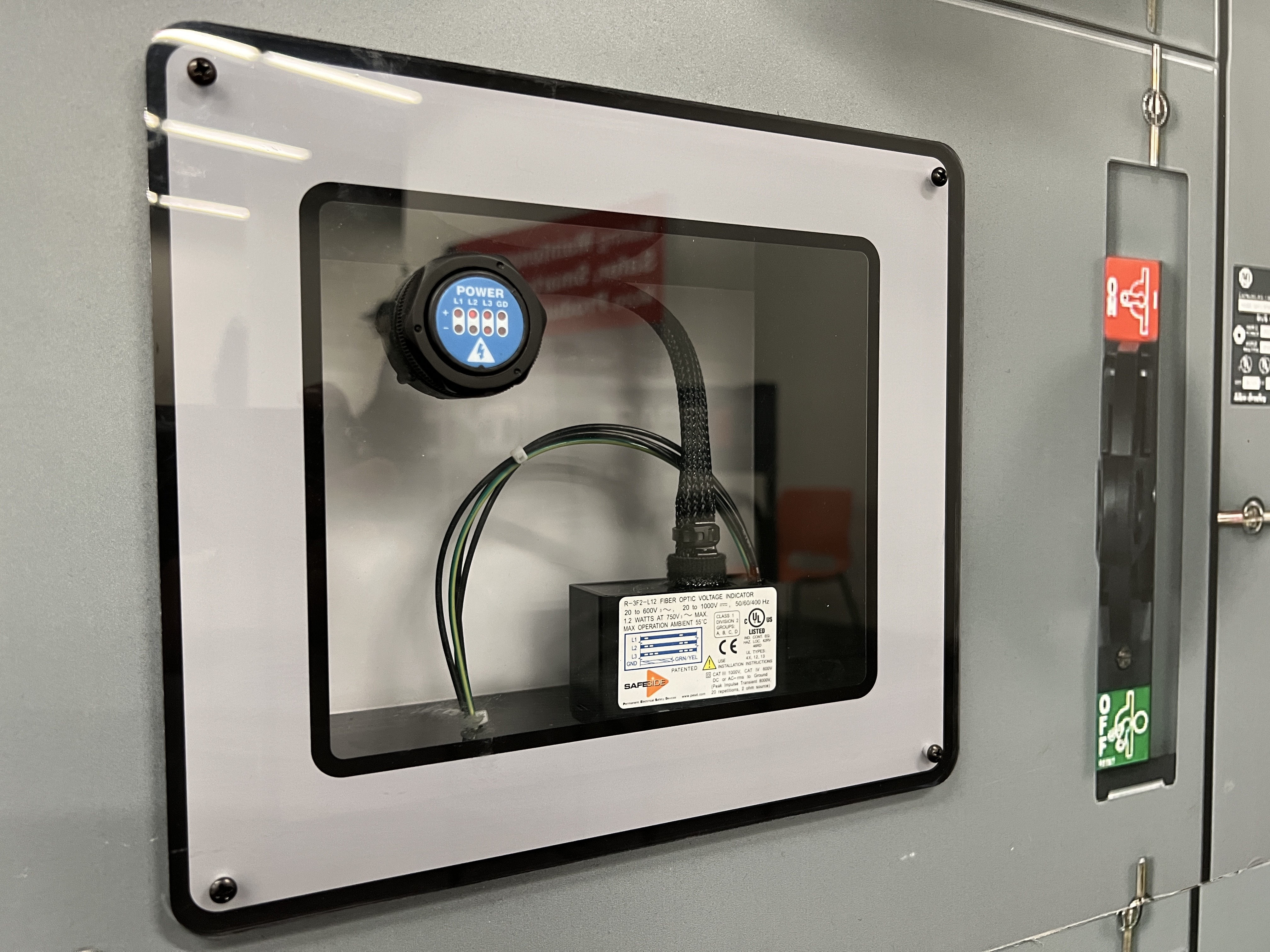 The R-3F2 Assembly
This 3-phase device reduces the risk of electrical arc flash into a HazLoc area by pre-verifying the electrical isolation from outside of a control panel. Engineered with redundant circuitry, the R-3F2 voltage indicator is powered by the same voltage that it indicates.
The electronics housing is hardwired to the circuit breaker or main disconnect. A sleeved all-plastic, non-conductive fiber-optic cable passes light from the electronics housing to the separately mounted 30mm diameter display. Whenever AC or DC voltage is above detection thresholds the display indicators will flash or glow.
Because the R-3F2 is a zero-voltage panel mount device, it meets ANSI C37.20.1 (7.1.3.7) for use in low voltage switchgear. The ability to install the R-3F2 into new or existing switchgear can be accommodated by selecting the correct optical cable length and taking advantage of the standard 6' lead wires.

The R-3F2 FAQ
One of the most frequently asked questions about the R-3F2 voltage indicator is, "Does the R-3F2 have an optics connector, or does a separate component need to be ordered to install this device?" The answer is yes; the R-3F2 ships with a preassembled optics connector with wire leads.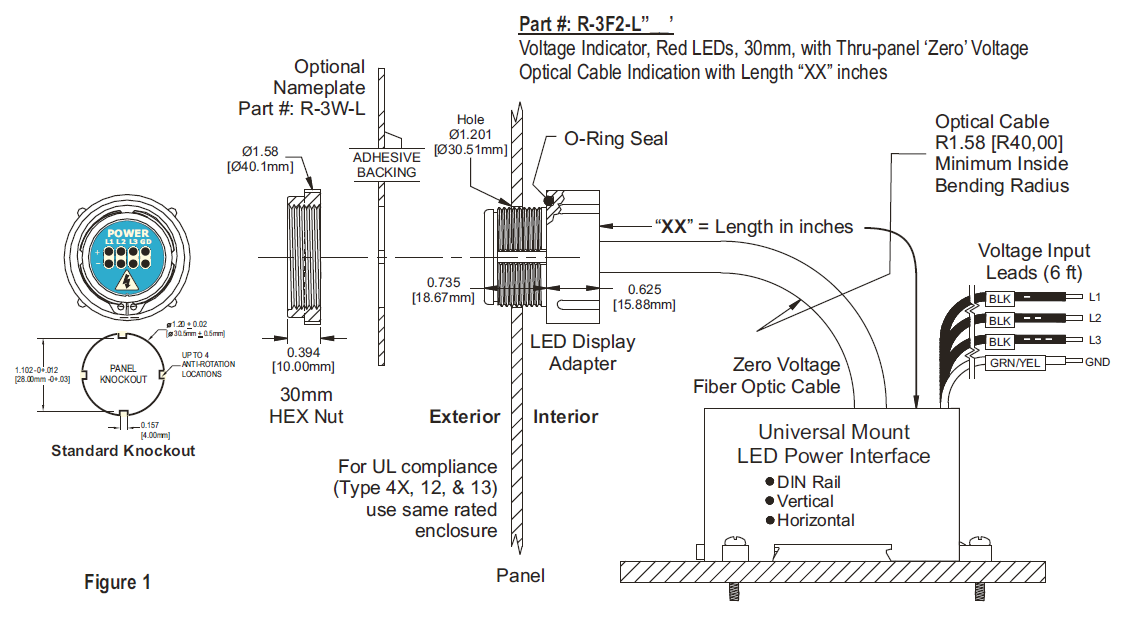 R-3F2 Applications
Verification of breaker operation.
Line side and load side buss voltage status
Front or rear mounting
Primary or secondary indication on transformers
R-3F2 Features
20-600VAC / 20-1000VDC (non-UL Max 750VAC)
UL Hazardous Location
(Class 1 Division 2 Group A,B,C & D)
CAT III/IV Electrical Rating
UL Type 4X, 12, 13
R-3F2 Benefits
Stored Energy Detector
Visible Blades Disconnect
Voltage Source Labels
View and download the GracePESDs Voltage Indicator datasheet.
For more information, please contact Sales@GraceTechnologies.com
Learn more about the benefits of Permanent Electrical Safety Devices for mechanical and electrical LOTO and enhance your compliance with electrical safety standards with safety-by-design. Download the FREE eBook today!
---
Stay safe and have a great week!