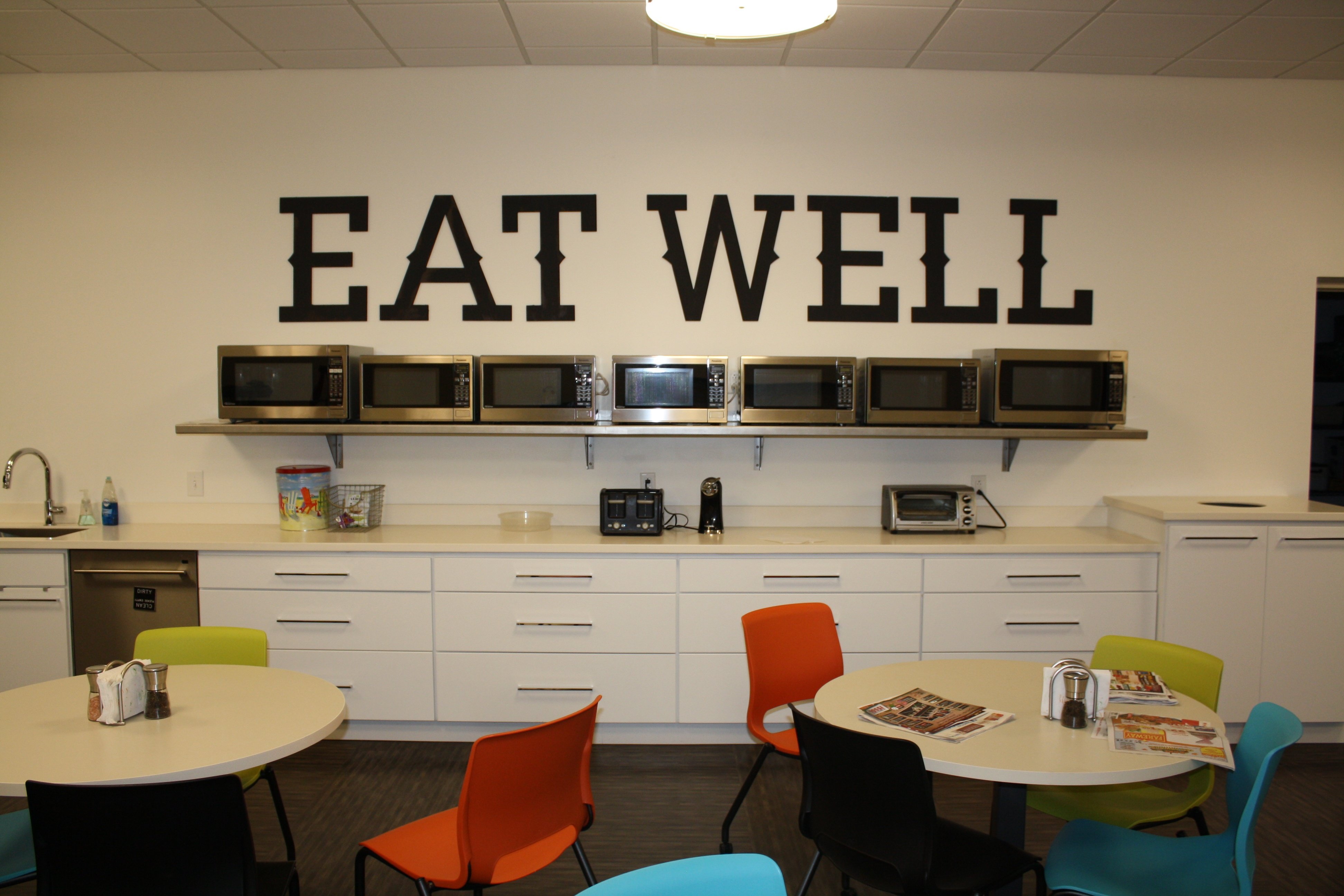 After Turf & Turf happened, this propaganda showed up in the break room along with a variety of healthy snacks. I'll admit, I feel guilty eating my Capriotti's cheesesteak underneath this glaring image of positive reinforcement and the subliminal "Oh YUM" messaging next to pictures of fruits and vegetables. Nice try… However, I do have respect for Grace's humble social responsibility to encourage and inspire a healthy lifestyle for myself and my fellow coworkers. Especially when our building is parked right between a McDonald's and an Outback Steakhouse.
More words of encouragement and inspiration can be seen scaling the walls of Grace's interior. These, of course, are provided by our sister company, Letter2Word, operating within the same confines. The growing company was built upon a powerful foundation of faith, perseverance, collaboration and inspiration. That same foundation of faith applies to Phil's entrepreneurial spirit, which led he and his wife, Jane, to found Letter2Word after she overcame cancer. As he recently put it at a Chamber of Commerce event on startup stories held here at Grace, "Challenges that others see as insurmountable, I see as only a bump in the road because of my faith."
Working in close proximity to the Word girls has cemented a bond between them and I. They kindly gave me over a dozen laser cut and hand painted American Made Letter2Word creations including the USA Chalkboard, Infinite Love, xoxoxo, Let It Be, blessed, and much more. While ecstatic, I came to the sad realization that there is no way my home could accommodate all these Words. Searching deep down for my selflessness, I found a solution; to regift and incorporate these creations into the HumpDay Giveaway to my favorite readers (that's you!). Here and there I will be dropping these in the mail to a lucky winner. I need to keep some level of suspense, so we'll continue to filter in some surprise giveaways as well.
tl;dr – Eat well, both spiritually and physically. This week we're introducing Letter2Word Giveaways. Stay inspired, my friends!
This HumpDay we will be giving away the USA Chalkboard. Hit the button below to qualify and have a great week!
The Grace Marketing Team