Add components, power options, and PESDs within this HMI Protective Housing to keep your people and assets safer
Many facilities across the globe are capitalizing on the world of interconnectivity brought forth by the Industrial Internet of Things (IIoT). With so many industrial products being connected to the internet, Human Machine Interfaces (HMIs) are becoming more and more sophisticated to keep up with the dominating trend of IIoT. These HMIs allow maintenance personnel to talk to their machines, much like the GracePort allows for connectivity between people and PLCs through closed doors.
According to Rockwell Automation commercial program leader for HMI Software, Chiraya Shah, "HMI is considered an interface that allows humans to interact with the machine. Examples of HMI physical aspects could be a machine with touch display, a push button, a mobile device, or a computer with a keypad."
Given the harsh industrial environments where these exposed HMIs are being installed, Grace found a solution to improve their longevity of life by offering a protective housing for these expensive communication devices. Like the GracePort housings, these cover kits are designed to safeguard HMIs and provide protection for valuable components from dust, dirt, oil, water, and other environmental contaminants found in the industrial setting.
Furthermore, the minds behind our GracePort saw an opportunity to include more components within the HMI housing, such as our wide variety of components, power options, and Permanent Electrical Safety Devices (PESDs). With this concept in mind, we began work on the GracePort+ (Plus).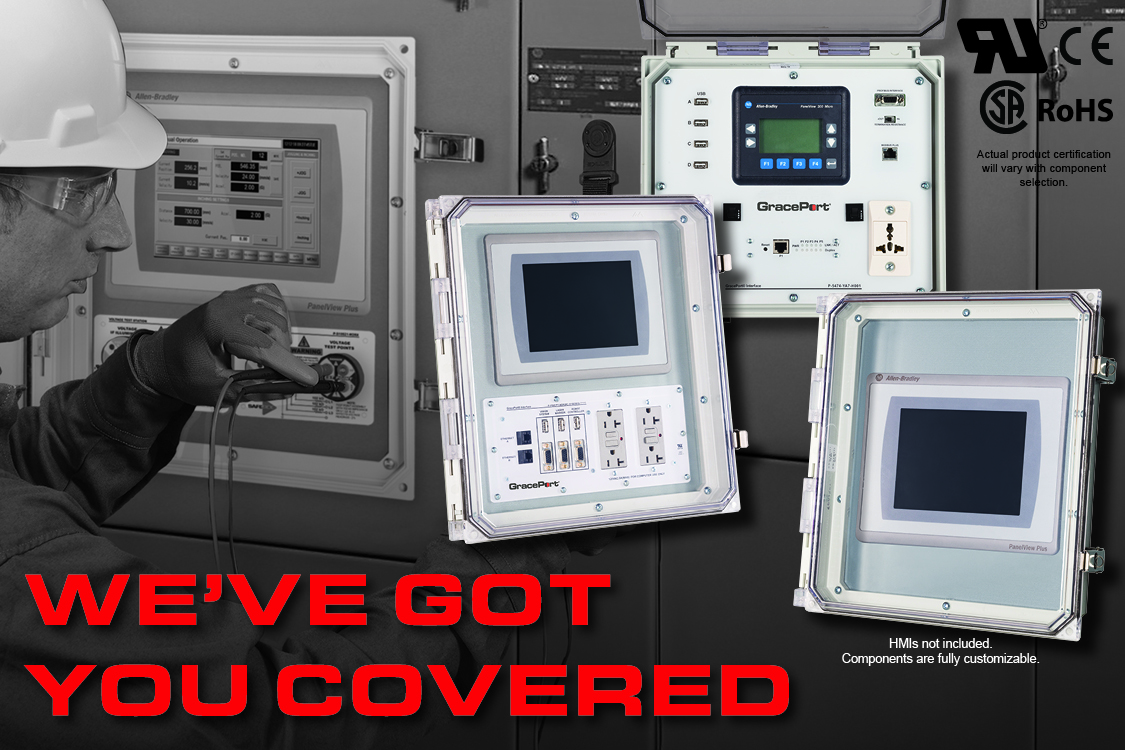 The GracePort+ compliments our existing line of GracePort components and PESDs by conveniently placing them within a large protected housing. The cover kit features a strong and rigid design, mounting securely to the outside of an enclosure and makes accessibility to electronic components easy. The standard GracePort+ HMI cover is UL Recognized with a polyurethane gasket for protection in harsh industrial environments and outdoor applications. The clear cover is made with polycarbonate thermoplastic and is UV rated.
Customization of the GracePort+ provides the ability to select specific configurations to meet precise needs with Grace's full line of PESDs and GracePort components. Customers can also request special text and company logos to be printed on the faceplate. GracePort+ also allows for flexible mounting with hinges on the top, bottom, left, or right along with the ability to padlock the housing.
Learn all about the GracePort+ in the video below: