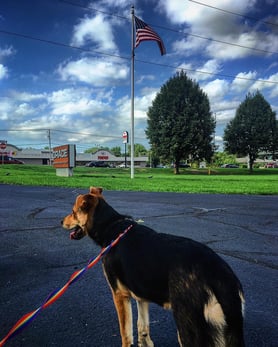 Just as I was getting used to encountering virtual creatures in the wild, a real one appeared in our parking lot a couple days ago. I was leaving around 5 PM just as Monday Night Yoga was about to start (forgot my Yoga pants). Suddenly, a six month old German Shepherd/Labrador looking mutt named Harley very timidly approached a few of us in the lot.
She seemed exhausted and as I bent down to check her tag, she put her paws on my shoulders and then my heart melted a little so I just picked her up as a coworker exclaimed, "Yeah, if she's got fleas, you're kind of screwed now..." True, but at the time nothing else mattered! We got her a bowl of water and before she went to drink it, she sat and lifted her paw to shake. What a sweetheart; just come home with me already! A small part of me was starting to hope nobody would answer my call.
Alas, a man answered the phone and I explained the situation. He sounded more annoyed by my phone call than pleased to hear that Harley was alive and well. This must happen often and he said he would send his wife to get her and his wife proceeded to send their daughter who ended up being the most appreciative of the bunch. Apparently, Harley had hopped their fence "again", but she made it home safe and sound even though I kind of wanted to keep her. Got tall fences. Just saying...
---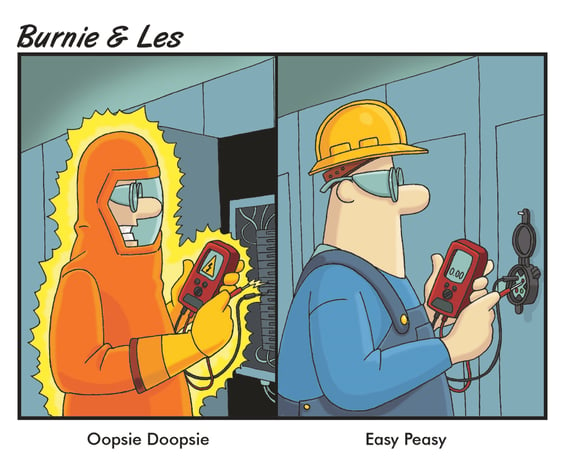 Quickly and safely verify the voltage presence or absence from outside the electrical cabinet
Provides a safer and more productive method of performing Lockout/Tagout (LOTO)
Supports compliance with NFPA 70E & CSA Z-462 and meets the OSHA energy isolation principle
Comes complete with tool-entry dust cap and label
---