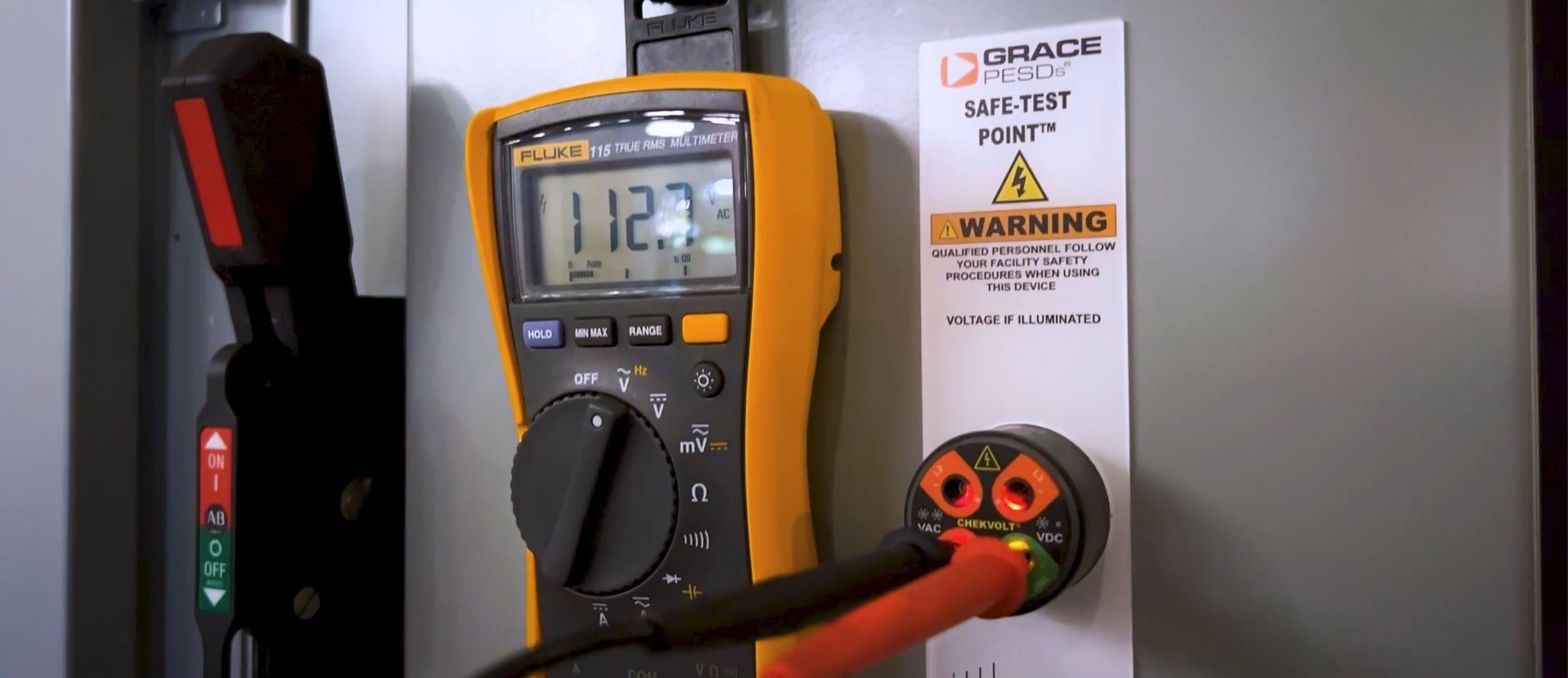 Christmas is right around the corner and now's your chance to get some stocking stuffers. Right now we're offering FREE product samples of our new ChekVolt Permanent Electrical Safety Device (PESD). We've also put together Starter Kits for our GraceSense Predictive Maintenance System. Now is the best time of the year to evaluate your end-of-year budget and plan for a safer, smarter, and more productive new year. Get started today with these special offers! Once you try them for yourself, you won't be able to imagine life without them.

Speed up your Lockout/Tagout (LOTO) procedures and enhance compliance with NFPA 70E! PESD users report LOTO procedure time reductions of 35-40 minutes. ChekVolt pays for itself after 2-3 LOTO procedures from time savings alone. This PESD allows you to test absence of voltage and provides voltage presence indication; all without opening the enclosure door.
The ChekVolt is a compact and touch-safe PESD that features voltmeter-compatible test points and redundant LED voltage presence indication rated up to 1000 VAC/VDC. The ChekVolt is quickly installed through a single 30mm knockout and includes four lead wires potted in the construction–making LOTO in even the harshest environments safer, smarter, and more productive.

Analog maintenance programs are losing 323 production hours per year and over one entire production day per month. Each hour of unplanned downtime is costing companies $532,000 on average leading to an 8% loss in annual revenue. In a study conducted by Siemens, they found that Fortune Global 500 manufacturing and industrial firms collectively lose 3.3 million hours of production time annually due to unforeseen machine failure.
Get your maintenance program's digital journey started with one of our Starter Kits for less than $5k to make proactive maintenance decisions for your most critical equipment today. The GraceSense Predictive Maintenance System is an IIoT asset condition monitoring system that integrates wireless sensor technology and wired sensors. Advanced data analytics provide asset managers with deep insights into machine health to effectively prioritize resources and maximize the value of their maintenance spending.
GraceSense technology improves overall plant reliability, safety, and maintenance metrics by remotely monitoring asset health and sending timely notifications to plant floor personnel through SMS or email alerts with pre-configured, step-by-step remediation instructions when anomalous behavior is detected.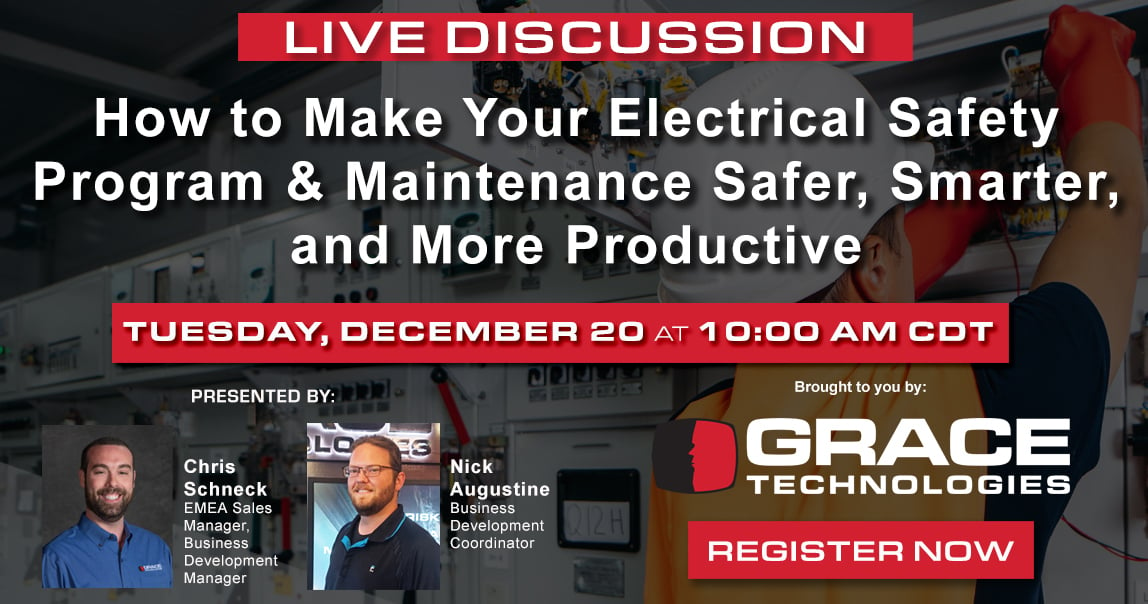 We're excited to end the year by introducing you to the electrical safety and maintenance solutions that you can implement in 2023. Performing Lockout/Tagout (LOTO) safely requires the answer to one question; is there voltage? NFPA 70E/CSAZ462 requires an absence of voltage test to verify an electrically safe work condition. The traditional process poses arc flash and shock hazards to comply with NFPA 70E Article 120.5: Process for Establishing and Verifying an Electrically Safe Work Condition.
This webinar will present Grace's new innovations that are mitigating these risks in Electrical Safety Programs, as well as cover our new technologies for maintenance programs seeking to implement a predictive approach with IIoT technology. Learn how GracePorts, GracePESDs, and GraceSense can help you make the following improvements:
How GracePESDs ease compliance with NFPA 70E 120.5 when testing for absence of voltage and improve productivity by reducing LOTO procedure times by 35-40 minutes
How using GraceSense predictive maintenance IIoT insights will improve maintenance planning, spending, productivity, and safety
New GracePort panel interface connectors for thru-door access to PLCs, industrial computers, and VFDs for routine maintenance or programming
This webinar will be presented by our Business Development team, Chris Schneck and Nick Augustine. Register today!