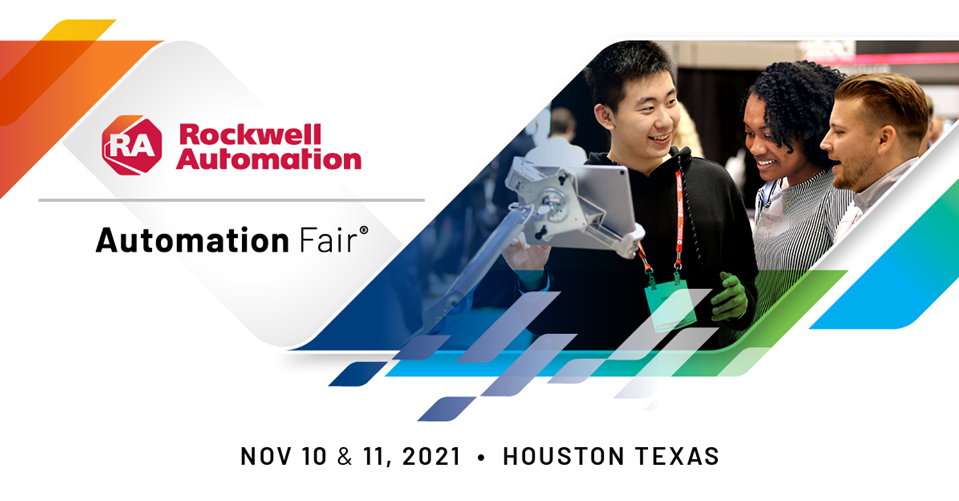 Rockwell Automation recently sent out a new invitation to this year's Automation Fair in Houston, with a Top 10 list of reasons to attend. This inspired us to make our own list. Here are the Top 10 Reasons to stop by the Grace Technologies Booth #2206:
Face-to-Face: Last year, the event went virtual and just didn't feel the same as what we have been used to in our 20+ years of exhibiting. We are looking forward to seeing old faces and new ones once again at our most anticipated event of the year.
New Ports: Speaking of old and new, not only do we have new products to unveil, but we are excited to showcase upgrades to existing products, including a first in-person look at our latest innovative GracePort® housing.
New PESDs: Our Lockout/Tagout (LOTO) safety specialty are GracePESDs® absence of voltage Safe-Test Points

™

and voltage presence LED indicators. As we mentioned last week, we have a newly designed Voltage Test Station to make your electrical safety program even safer and easier to upgrade.
New IIoT: For the first time at Automation Fair, we will be introducing the latest gateway configurations from our GraceSense™ line of IIoT smart devices. Witness the entire Predictive Maintenance System in action
New Booth: All I will say is that we may be hard to miss this year. For the first time in over five years, we have completely redesigned our trade show booth and are excited to unveil the new look in just a few short weeks!
Upgraded Demos: Not only have we been working hard behind the scenes on new innovations, but we've also been hard at work on adding them to our fully functional demo towers so you can see exactly how our technology functions in real-time.
The Power of Collaboration: This year, we are excited to unveil a partnership streamlining our predictive maintenance capabilities with another company's technology that will also be exhibiting in a neighboring booth. More on that coming soon!
Giveaways: You may know us for our infamous bungee rockets that may or may not end up in all corners of the exhibit room floor by the end of each event, but this year, they went through a little update to accommodate a new name that went into effect last year. But there will be plenty of other Grace goodies and surprises in store at Booth #2206 (in case you forgot where the best promo items in town are!).
Technical Sessions: Speaking of which, attendees going to our technical session presented by Grace Technologies CTO, Andy Zimmerman, will be enrolled to receive a grand prize. Check out 24x7 Vibration Monitoring of Non-Critical Assets Using IIoT Devices and Allen-Bradley® PLCs LIVE on November 10 & 11 from 10am-11am in Room 310C.
Meet our NEW CEO: Earlier this year, we announced Drew Allen as our new President & CEO. Drew is a familiar face for regular attendees of Automation Fair and friends of Grace Technologies, however, this will be his first attendance as the new leader of Grace and we're excited for everyone to meet with him.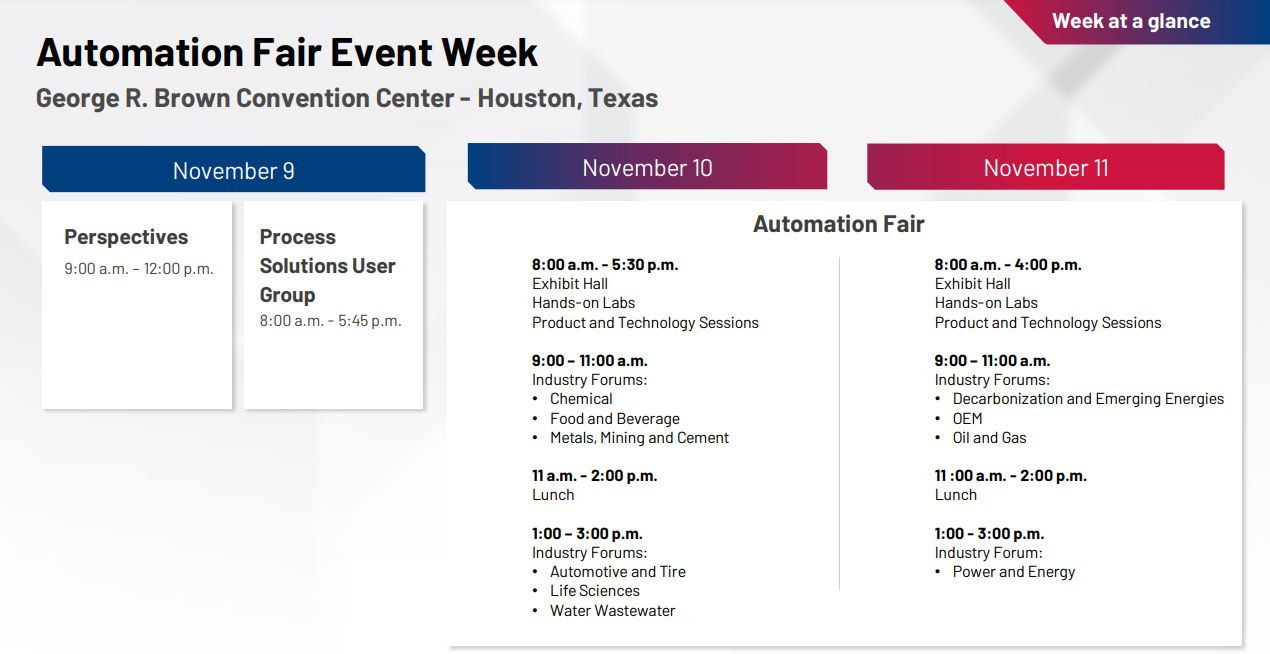 From Rockwell Automation, here are their "Top 10 reasons why you can't miss Automation Fair 2021!" Click here to register and view their list below if you needed even more convincing:
It's more than Rockwell Automation – it's Rockwell Automation and members of our PartnerNetwork™ community. Automation Fair is many things Rockwell Automation, but more than 100 of our system integrator, OEM, complementary product, and strategic alliance partners are attending, exhibiting, and presenting sessions.
Over 100 new innovations will be featured at the event. You'll see these new solutions in action on the show floor and learn how to apply them in the sessions and labs.
Visit the Industry Pavilion. Experience live demos from Rockwell Automation and our partners, including Emulate3D, iTRACK and so much more.
Speaking of industry… engage with leading industry leaders in the Forums! Ten industry-centric forums will feature panel discussions on the newest topics and challenges.
Earn PDH credits by attending the Product and Technology sessions. Choose from over 100 training sessions, discussions and labs available over the two days of Automation Fair! When you get back to work, you'll be able to apply your new expertise and skillset to your job! Plus, you'll get your Professionals Development Hour credits by attending sessions presented by Rockwell Automation.
The networking is epic. Yes, you will learn a lot in the technical sessions and labs – but the connections will make with industry peers will be equally valuable.
Lunch is free. On top of all the valuable knowledge and networking, we'll provide lunch!
Get real life insight! The exhibit hall will bring all the new innovations and solutions to life in expert-led demos. For example, a visit to the LifecycleIQ™ Services booth will let you test if your cybersecurity strategy is prepared for a security breach.
Preview the DX Value Workshop. Discover how you can create the greatest value through successful digital transformation program execution and customized solutions. Our exclusive program is designed to help qualified organizations map digital transformation opportunities to business outcomes - visit the Digital Transformation Solutions exhibit to learn more!
It's happening IN PERSON! We are so excited to welcome you back to Automation Fair! And don't worry if you can't make it. We put together a virtual program to make sure you don't miss the event.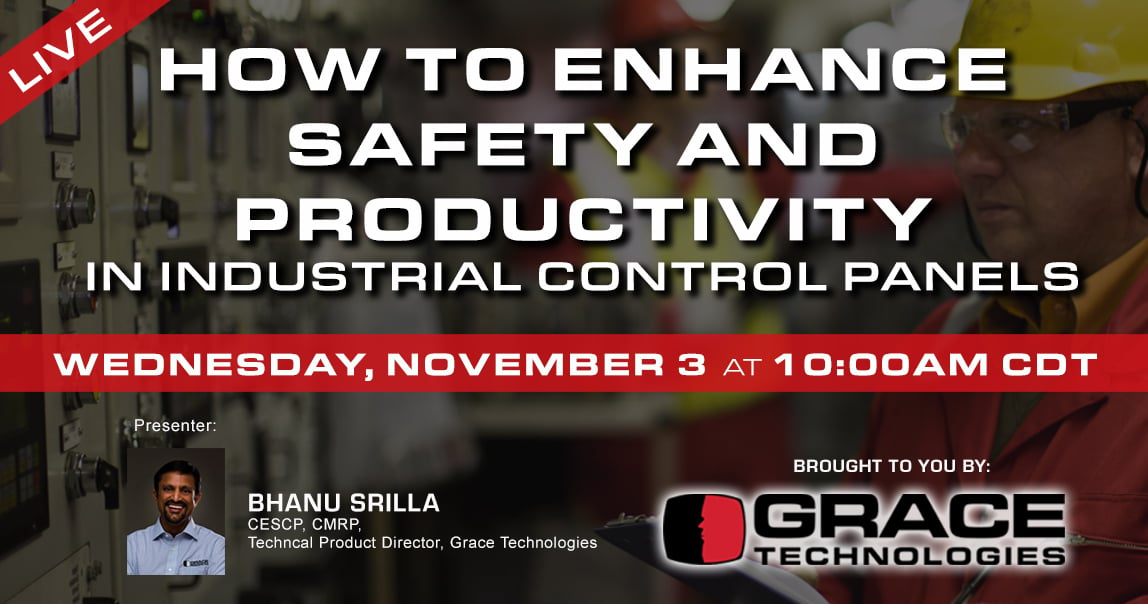 Registration is now open for our next FREE webinar and you're invited! Every industrial facility is touched by two entities; electricity and the equipment powered by it. With the increased use of both electricity and its associated equipment, comes the greater risk for people working around them, both directly and indirectly.
This webinar will address why industrial control panels pose a higher risk, and various methods to mitigate these risks by using safety-by-design concepts and other design considerations, followed by Q&A.
Learning objectives:
Why industrial control panels pose a higher risk
Worker qualification as it applies to tasks associated with ICPs
Importance of GFCIs in ICP design & regulatory requirements
Mitigating safety risks using upfront planning and design considerations
Top 10 considerations for a safer ICP
---
Stay Safe & Have a Great Week!