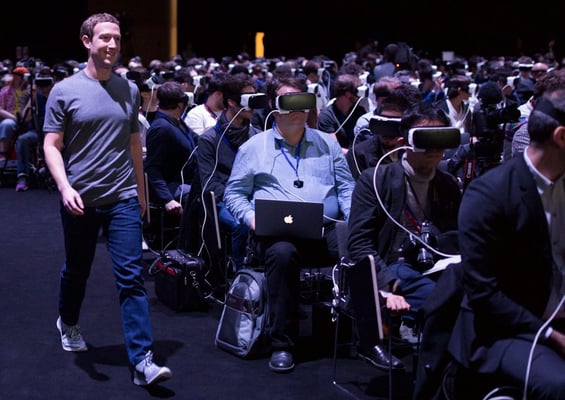 Can we just take a moment to appreciate the gentleman in the center of this photograph displaying the most impressive frown I've ever seen? Never mind the fact that Mark Zuckerberg is giving off a totally creepy vibe as he takes his next step towards global domination... this guy just looks like he's having a terrible time in virtual reality land.
On Monday, while Samsung hosted their Galaxy S7 launch event, Zuckerberg took the stage for an unsuspecting audience, currently watching a 360-degree video of people playing freestyle soccer on the streets of Barcelona. According to Forbes, once everyone removed their headsets, they were surprised to see Facebook CEO Mark Zuckerberg grinning up on stage in his grey t-shirt. He wasn't there to talk about the S7, but the promise of virtual reality.
"It's going to change the way we live and work and communicate," said Zuckerberg, echoing the likeness of Steve Jobs unveiling the first iPhone nearly a decade ago. You may be wondering why the Facebook guy is all giddy over VR. Zuckerberg has a stake in the Oculus Rift (and by stake, I mean Facebook flat out owns it), which is pioneering the way to virtual reality much like Apple did with Smartphones.
Virtual reality sounds like a total game changer, but is it too good to be true? Maybe it won't be for everyone like ol' frowny face up there; but I'm pretty sure the majority of us will be happy to look like this guy below in the near future with little to no shame! Although, the smart ones of us will probably be sporting tinfoil hats instead in order to prevent the inevitable brainwashing by the social media behemoth and/or the Matrix...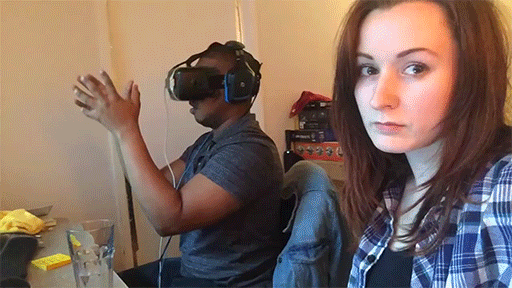 ---

National Fire Protection Association (NFPA) statistics indicate the majority of hospital admissions for on-the-job electrical accidents result from arc flash burns — not electrical shock. Burn centers in the United States receive more than 2,000 cases of severe arc-flash burns annually. Causes of arc flashes include human factors, such as accidental contact with a live conductor or improper installation practices, and mechanical factors, such as loose connections or misplacing a part. The facility's environment also can be a factor, because dust, impurities and moisture can infiltrate and corrode contact and protection surfaces.
---
[tl;dr]
The future will be like the Pixar movie, WALL-E.
---