Hey guys, thoughts and prayers would be very much appreciated for the birth of Tacito & Meagen's baby to commence. It's getting to be about that time, and the kid "is being stubborn like his mother!" His quote, not mine... Somebody get this couple some Doritos!
Don't understand that reference? Then it sounds like you need a refresher of the best ads from Super Bowl 50 (L). Amidst all the chaos of most Super Bowl parties, I, myself, missed many commercials I later thought were great. Thanks, YouTube! Here are the "top" commercials from the game:
I'm currently writing to you from Madison, WI. Grace sent me up here for a training seminar in our industry's bible, the NFPA 70E. According to the seminar's overview, "
Overall, this program is designed to reduce liability concerns for the employer while establishing a culture of safe work practices among employees." This sounds

suspiciously

similar to what we strive to do every day at Grace!
Meanwhile, my puppy, Bucky, is getting his nails done at an all-inclusive spa for dogs. And by that, I mean he's being boarded at my vet's office which sounds dreadful but he LOVES it because it has his two favorite things in the world: lots of people and lots of animals.
I wanted to have a moment, you know, like in the movies, where we would hug and say our goodbyes
—
No. He was so excited he didn't even look back at me when they took him in. I don't understand this, because the last time I left him there, he came home missing a couple of his... assets.
Okay, I'm short a monkey reference for my title to make sense. When I was trying to come up with the title today, the only thing that kept playing on a loop in my head in that creepy voice was, "Puppy-Monkey-Baby." Honestly, it was the most cringeworthy 30 seconds of the Super Bowl that I had to sit through. Now you can share my dread. Behold the nightmare: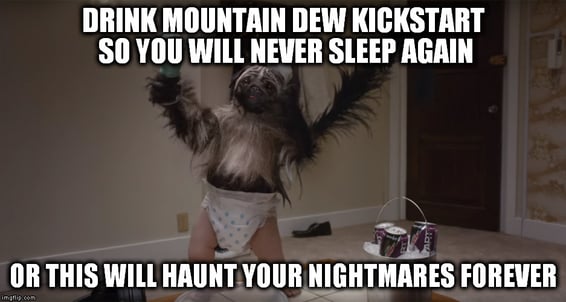 ---

Lastly, I wanted to give an honorable HUMPDAY sendoff to our Marketing Manager and Graphic Design Guru, Adam Gallota. For the past two years, Adam has been instrumental to our marketing department with notable contributions in (but certainly not limited to) our website's design and maintenance, the new trade show booth, redesigning marketing collateral, and most importantly [to me], the HUMPDAY makeover!
From the desk of Adam Gallotta, "Beginning in March, I will be moving on to my next adventure in Munich, Germany. Most importantly, I wanted to take this opportunity to let you know what a great and distinct pleasure it has been to work with everyone here at Grace. I will miss all that this place represents and the people who make it great."
We'll miss you, too! Best of luck to you on your new adventure, or as they say in German, "Herzliche Glückwünsche mit Geburtstag!"
---