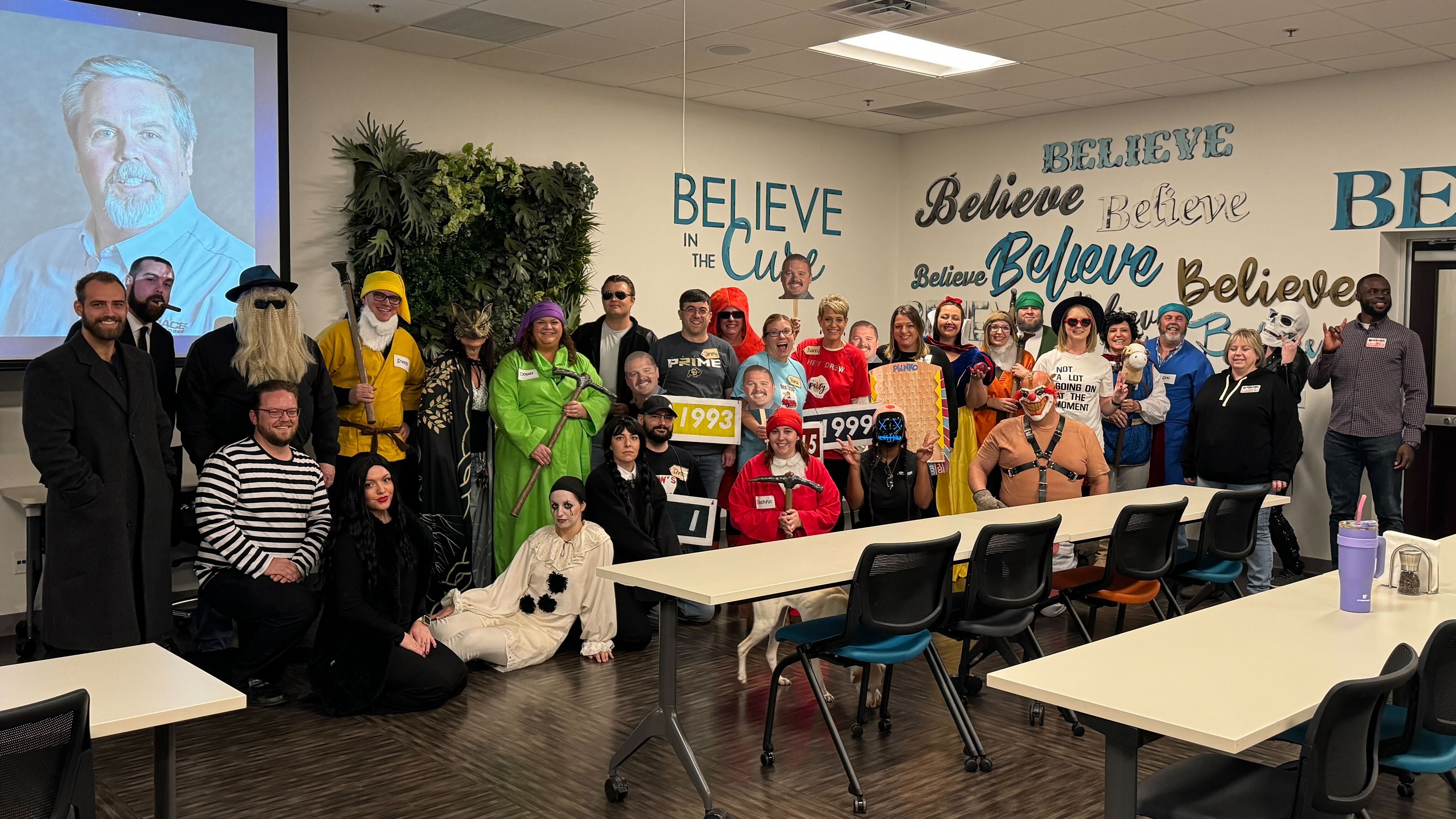 Halloween at Grace Technologies was not just another day, but a creative spectacle! Our teams outdid themselves with costumes that were a vibrant blend of whimsy, nostalgia, and tech-savvy flair. Let's dive into the fun and festivity of our 2023 Halloween celebration, showcasing the imaginative spirit of our amazing staff. Leave a comment with your favorite costume below!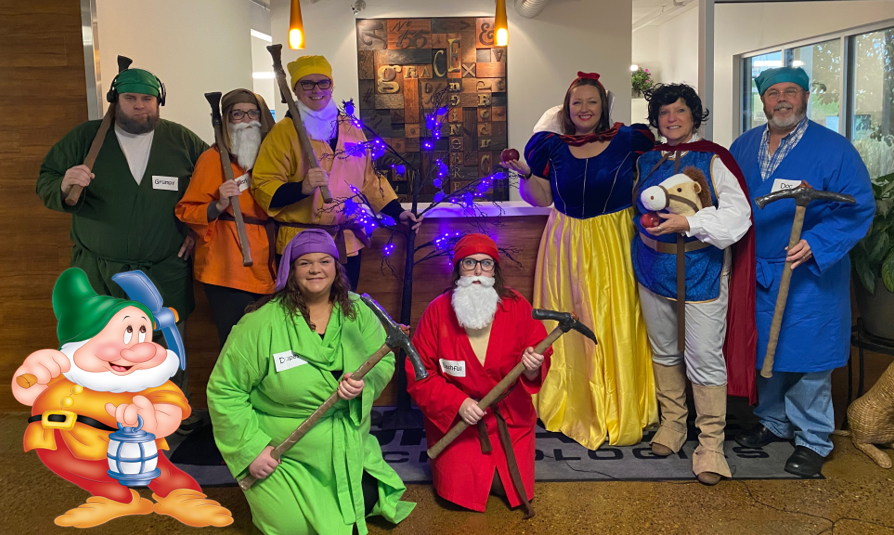 Inside Sales and Marketing Teams as Snow White and the Seven Dwarves

Bringing a fairy tale to life, our Inside Sales and Marketing teams donned the colorful garb of Snow White and the Seven Dwarves. Although our 'Happy' was absent (get well soon, Lynn!) we were able to get a cartoon cameo in the photo to the magic alive!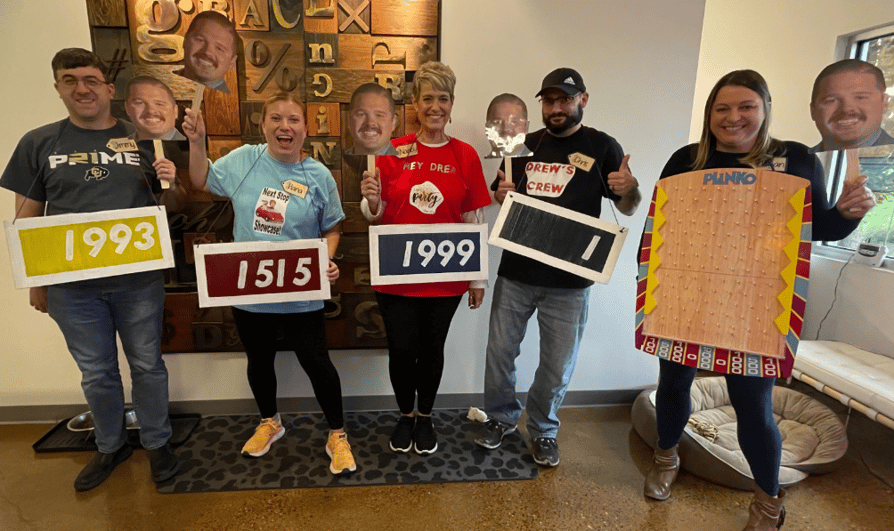 Accounting & IT Teams as the Price is Right

The Accounting and IT teams showcased their game show enthusiasm by transforming into contestants of 'The Price is Right'. Drew Carrey had to cancel his appearance last minute, so we had Drew Allen play the role as host. We're still checking if they approved budgets based on the highest bidder!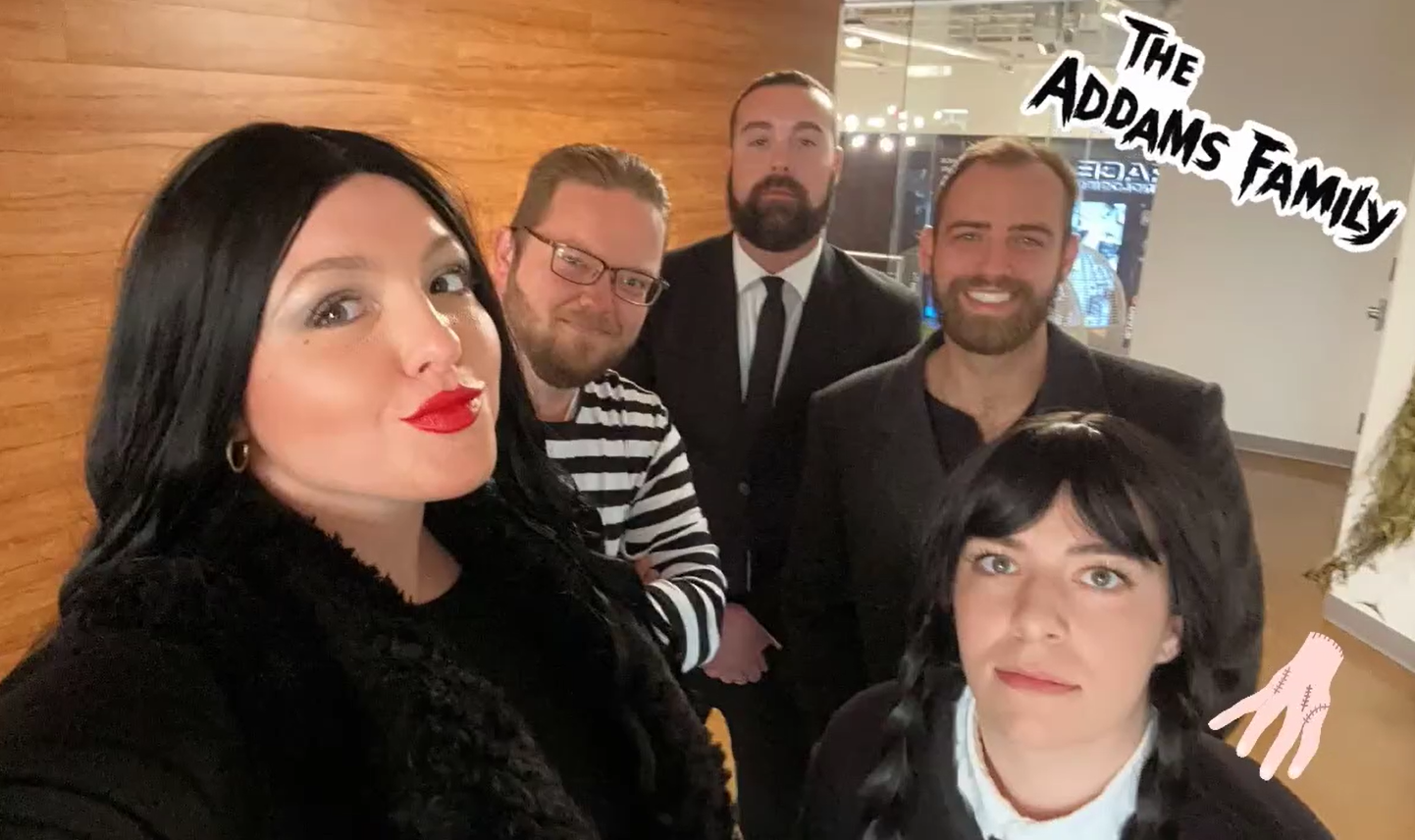 Business Development Team as the Addams Family

Creepy, kooky, and all together spooky, our Business Development team embraced their inner Addams Family, making us wonder if they've been moonlighting at a haunted mansion!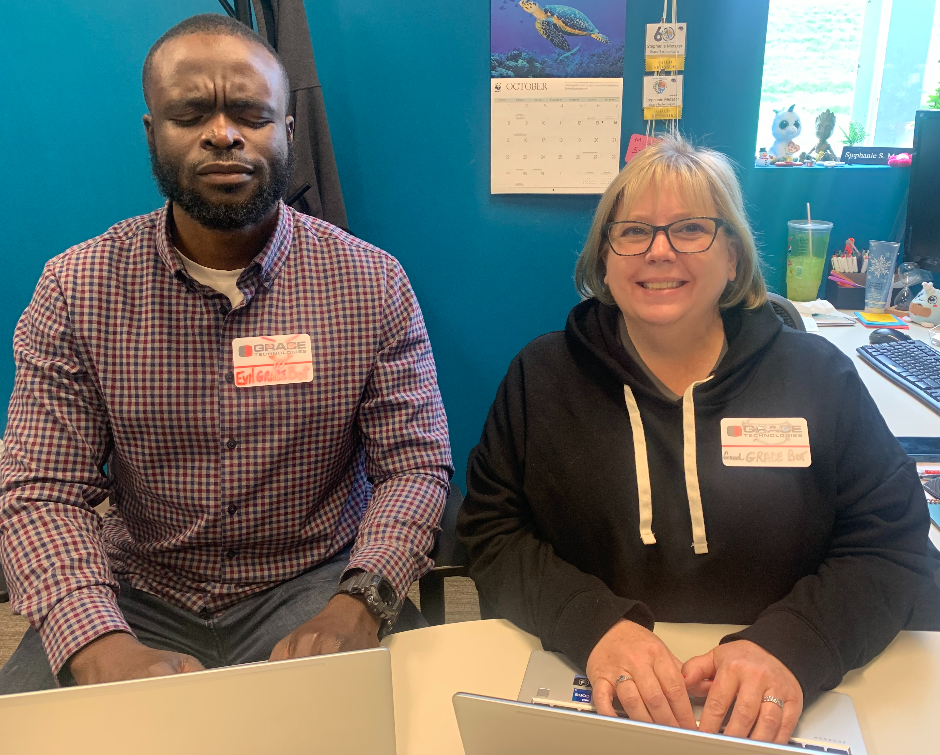 Software Engineers Awal Amadou & Stephanie Metzger as Good & Evil GraceBots

A special shoutout to our Software Engineers, Awal and Stephanie, who brilliantly embodied the Good & Evil GraceBots. These characters, born from our GraceSense AI initiative, started as playful digital team members on Slack, evolving from helpful to hilariously contentious.
For a more detailed backstory, I reached out to our CTO, Andy Zimmerman, about these bots. Here's what he had to say:
In Spring 2023, as Grace began to look towards using generative Artificial Intelligence to augment our GraceSense Predictive Maintenance platform, our engineering team built an AI software program called "GraceBot." This bot impersonated a nerdy member of the team and would interact on Slack by answering questions, providing interesting engineering anecdotes, and expressing an insatiable desire for both cookies and Diet Coke. This summer, when the most recent cohort of Grace interns arrived, a second "Evil GraceBot" mysteriously emerged in Slack to exert its technical superiority and to basically question everything that GraceBot said. While the bot interactions were hilarious for a couple of weeks, the team quickly tired of the automated banter and both bots were shut down. However, it was exciting to see each bot made reincarnate through Awal and Stephanie's excellent contributions to this year's costume contest.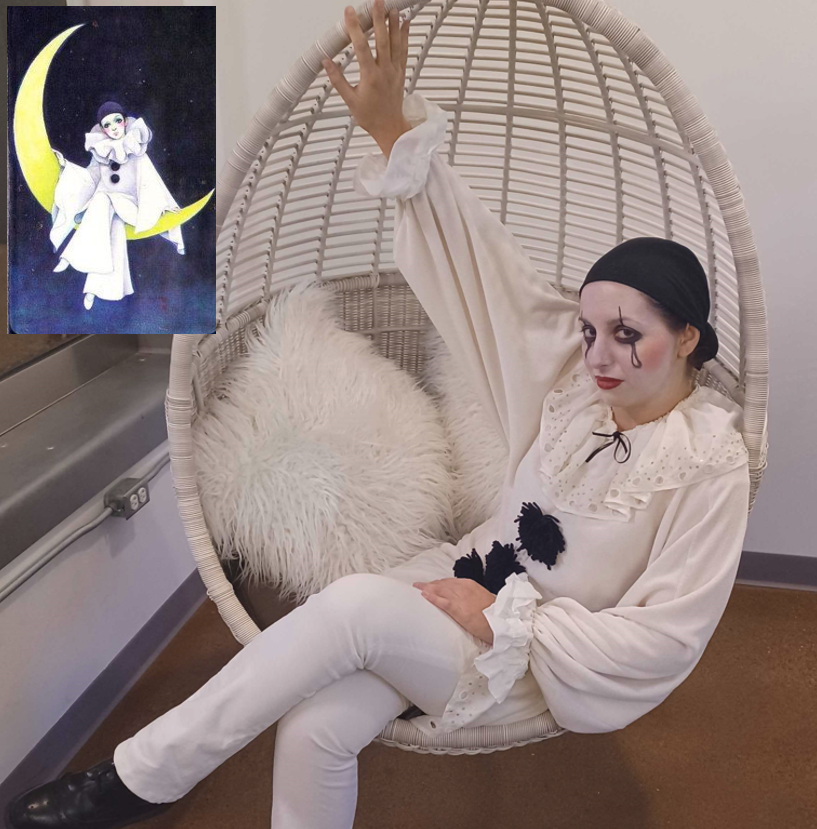 Isabelle Guitard as Pierrot the Sad Clown

Senior Firmware Engineer, Isabelle Guitard, took a nostalgic route dressing up as Pierrot the Sad Clown, a classic character with countless interpretations, even inspiring icons like David Bowie.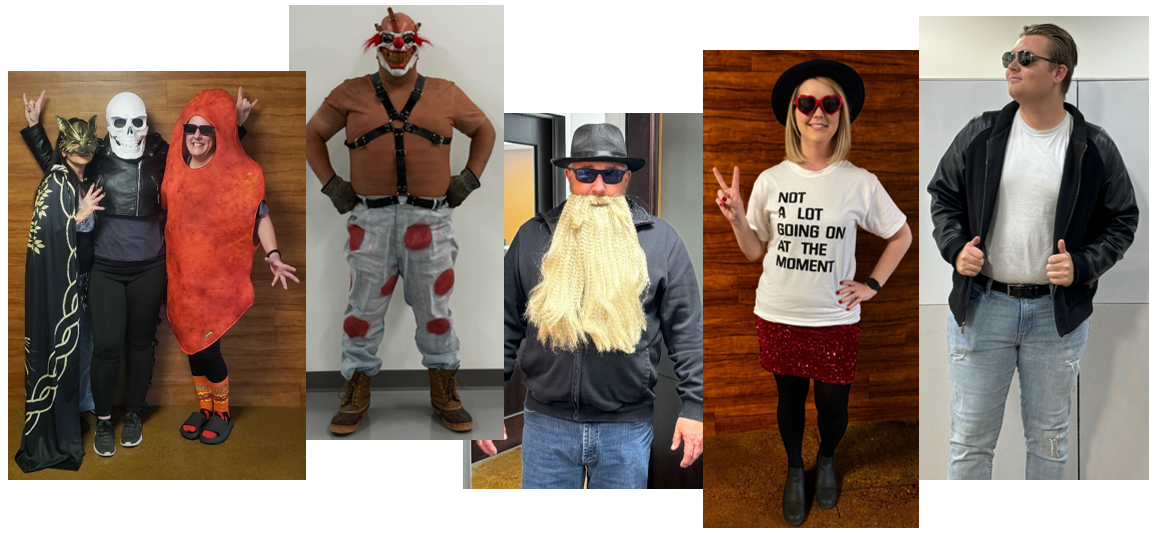 Pictured from left to right:
Production Technicians in Various Costumes

From Tammy Cash's elegant masquerade look to Roxi Townsend's fiery Ghost Rider and Megan VanWychen's Flaming Hot Cheeto, our Production Technicians proved that when it comes to costumes, they've got game! Fun fact: Roxi's skull mask was 3D printed by her husband!

Aaron Tuttle as Sweet Tooth from Twisted Metal

Aaron Tuttle, our Product Engineer, might just take the crown in our costume contest with his wicked portrayal of Sweet Tooth from Twisted Metal.

Jerry Goeke as a ZZ Top Guitarist

Every engineer is crazy about this sharp dressed man... Jerry Goeke, our Director of Engineering & Quality, channeled his inner ZZ Top guitarist, complete with the iconic beard and shades.

Emma Wentzel (Taylor's Version)

Our Coordinator of People & Culture, Emma Wentzel, took a break from her 'Eras' tour and attending Kansas City Chiefs games to grace our halls with her star power.

Alex Ford as a T-Bird from Grease

Alex Ford, our Manufacturing Engineer, rolled back the years, stepping right out of 1978 as a slick T-Bird from Grease.
Leave a comment below of your favorite costume! This year's costume contest at Grace was a testament to the imaginative spirit of our team. Each costume not only brought smiles but also showcased the diverse personalities that make our company so unique. As the pumpkins and decorations get put away and we return to our usual workwear, these memories remind us that at Grace, innovation isn't just what we do; it's who we are. Here's to another year of creativity, teamwork, and of course, a little bit of fun - the Grace way!
---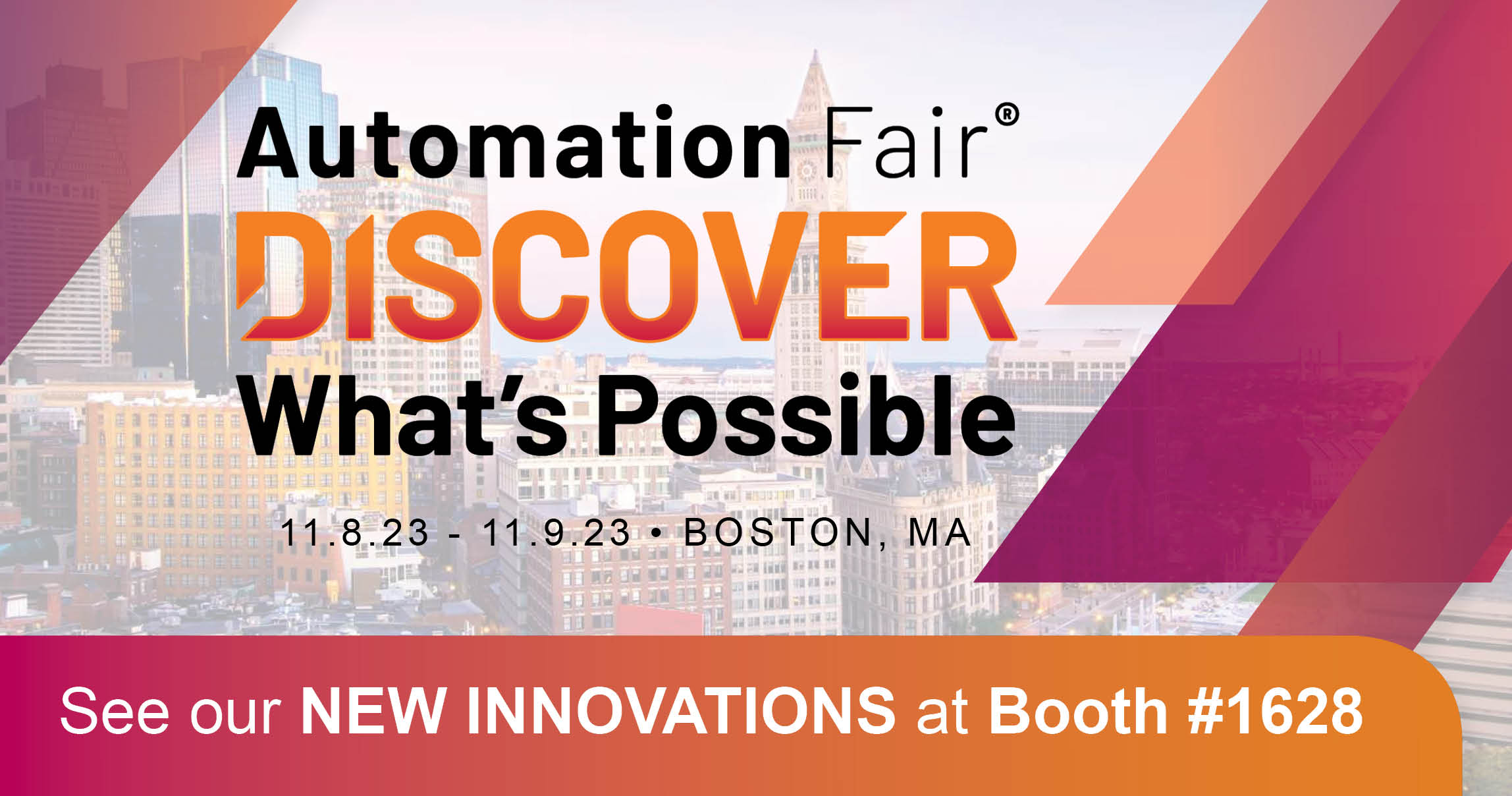 Ready for an exclusive glimpse into the future of technology? Click our 'Sneak Peek' button above for an early look at the exciting new innovations from Grace Technologies! And that's not all - we're also thrilled to be part of this year's Automation Fair. Come find us at Booth #1628, where we'll be proudly showcasing these groundbreaking solutions.
Experience our latest advancements up close, and discover how they can enhance efficiency and safety in your operations. Engage with our experts, get your questions answered, and explore the potential of our newest offerings. Join us at the forefront of innovation – we look forward to seeing you there!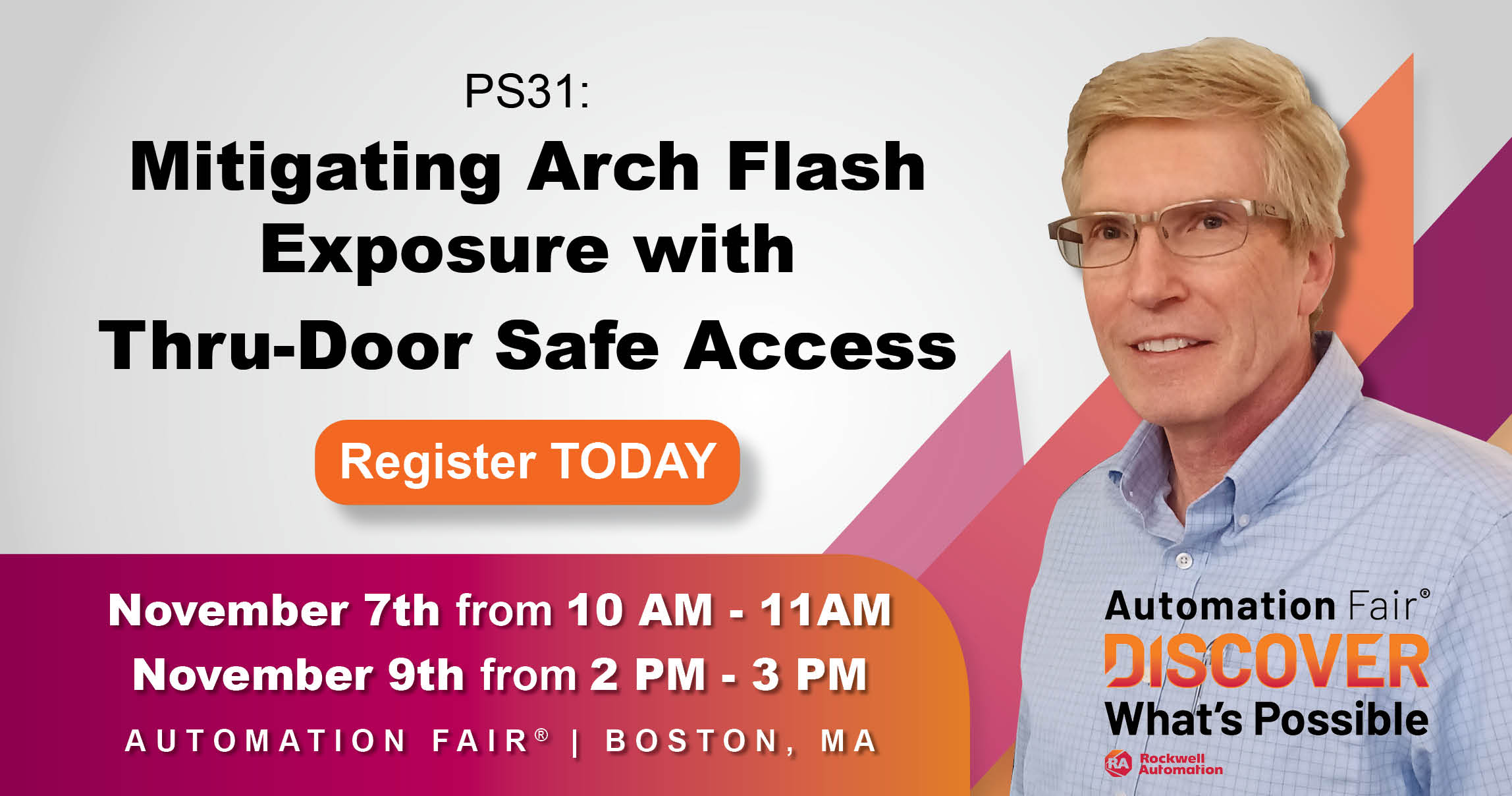 If you're heading to Automation Fair, don't miss the opportunity to join Kevin Zamzow, our esteemed Director of Product, for an enlightening session that's bound to be a highlight of the event. Kevin will be presenting "Mitigating Arc Flash Exposure with Thru-Door Safe Access," a critical exploration into enhancing workplace safety. This session delves into the intricacies of Lockout/Tagout (LOTO) procedures and introduces the ChekVolt, our innovative solution that allows for voltage testing without the need to open enclosure doors.
This not only boosts safety but significantly reduces LOTO times, streamlining processes and saving valuable minutes. If you're passionate about advancing safety and efficiency in your workspace, this is a session you can't afford to miss. Be sure to sign up and gain invaluable insights from one of the leading voices in the industry. See you there!