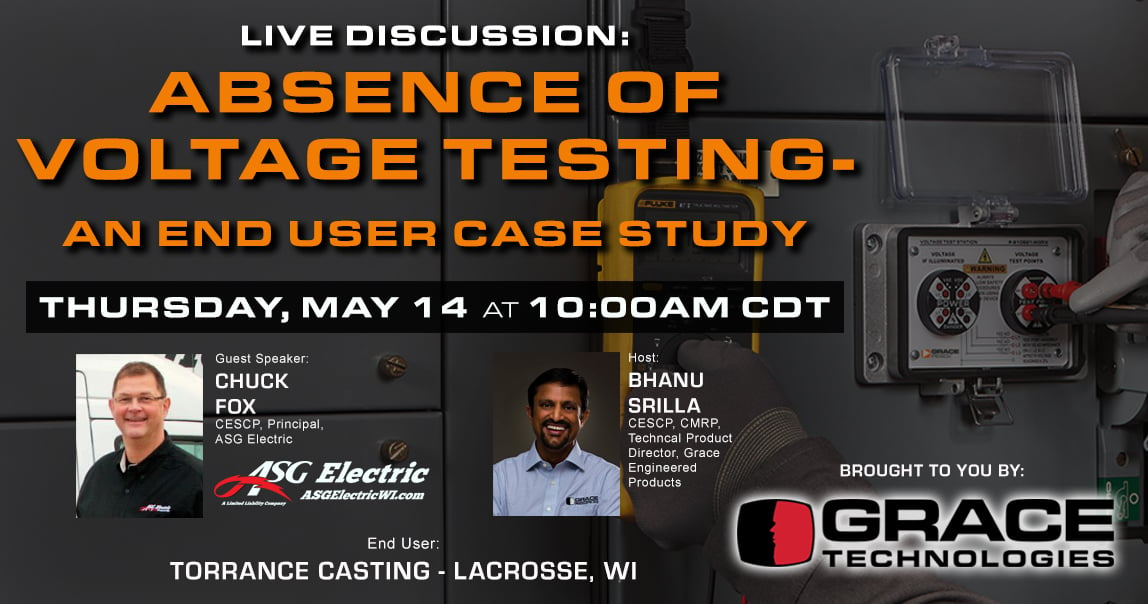 May is our favorite month of the year for two reasons: First and foremost, please join us in wishing Jane Allen a very HAPPY BIRTHDAY! It's not every year her birthday lands on a Humpday and we'd love to pass along all your birthday wishes. Secondly, May is National Electrical Safety Month and this year we're coming to a smartphone or computer monitor near you!
We've been working hard to deliver top tier content on topics of electrical safety and reliability. To deliver the most useful information to you all, we're partnering with experts across the country from all different backgrounds. See what's in store for the month of May!
Tomorrow's live stream, Absence of Voltage Testing, will address an end-to-end case study of the implementation of the Grace Absence of Voltage Testing solution at Torrance Casting, Inc. in LaCrosse, WI. The case study will review how Torrance Castings worked through the NFPA 70E standards and guidelines to recognize this need and commit to enhance safety and compliance at their facility. Discussions will include the process involved in hazard identification, use of risk control hierarchy elements, and evaluation of various control methods in acquiring a safer solution for Absence of Voltage Testing.
Guest speaker Chuck Fox, CESCP is the Principal/Owner of ASG Electric. His company works with plant and facility directors to manage all aspects of the electrical system, which includes managing change, such as new electrical projects, electrical system testing, and reliability with their TEGG Services program. ASG Electric manages electrical safety programs using the standards and practices of NFPA 70E Electrical Safety in the Workplace. Join our live stream tomorrow on LinkedIn, Facebook, or YouTube!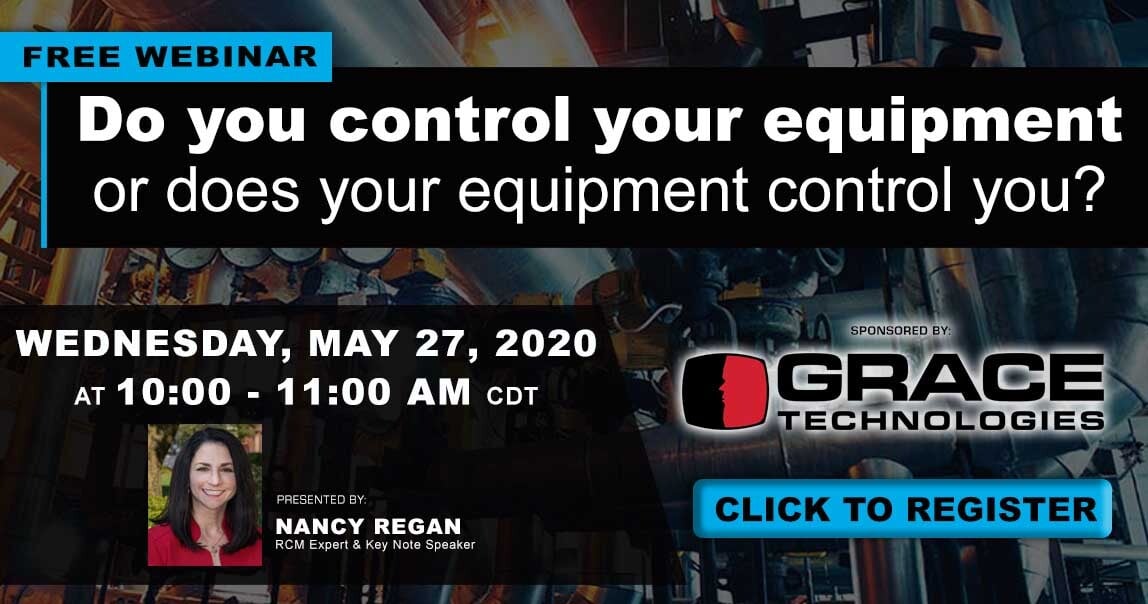 Later this month, we'll be hosting a reliability webinar with Nancy Regan, Maintenance and Reliability (M&R) international speaker and trainer. She asks, "Do you control your equipment or does your equipment control you?" Nancy will answer this important question in great detail on Wednesday, May 27, 2020 at 10:00-11:00 am (CDT). Click here to register!
Abstract: Reliability is designed – literally and figuratively. Literally speaking, the inherent reliability of our equipment is governed by its design. But as equipment custodians, what we do (or don't do) affects a machine's Reliability more than we may think. This presentation details the winning Reliability philosophy that empowers equipment custodians to achieve their Reliability goals. (And it may be more simple than you think!)

Speaker Bio: Nancy Regan has over 20 years of hands-on experience facilitating Reliability Centered Maintenance (RCM) analyses, conducting RCM training, and implementing RCM programs. Among the many projects she has facilitated is the CH-47 Chinook Helicopter, the U.S. Army's heavy-lift helicopter. She is founder of RCMTrainingOnline.com, an online learning place dedicated to bringing accessible and affordable training to the Maintenance and Reliability community.
Nancy is President of and an Examiner for the International Reliability Centered Maintenance Certification Committee (IRCC). She is a graduate of Embry-Riddle Aeronautical University and holds a B.S. degree in Aerospace Engineering. Nancy holds U.S. and foreign patents on a process for marking parts that she developed using her RCM experience. She is the author of The RCM Solution, A Practical Guide to Starting and Maintaining a Successful RCM Program.
We hope to see you at these special events! Please join and celebrate National Electrical Safety Month with us by staying connected through our social media:
---
Factory Futurist Podcast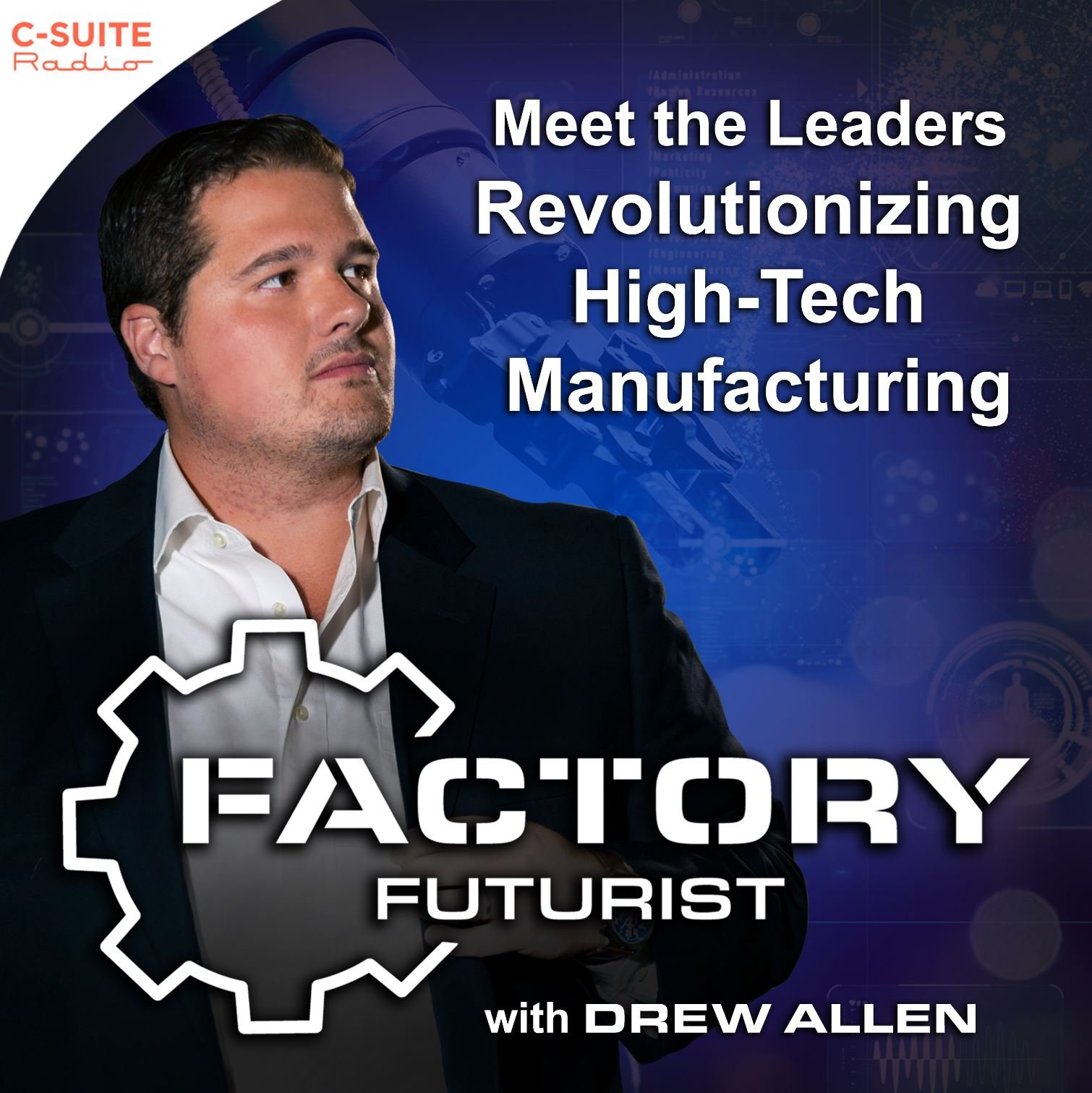 Don't miss the incredible connections and conversations being made on the Factory Futurist podcast with Drew Allen. Be sure to check out our latest episode. New episodes coming soon!
Episode 005: In this groundbreaking episode, Drew meets with serial-entrepreneur Steve Grubbs as they discuss the future impact of Augmented Reality and Virtual Reality in the corporate training structure. They dive in on what it takes to become a successful entrepreneur, leading and managing multiple businesses, and time-management. These topics barely scratch the surface of this episode, as they talk more about the future of AR & VR. Learn from a leading innovator in this space about what advancements are emerging for everyday consumers.
"Don't be afraid to embrace new technology. New technology is always hard and there's going to be mistakes and challenges. But if you choose to be the laggard...you are choosing to give up a big, new green field of either efficiency, customer acquisition, or marketing." -Steve Grubbs
Steve Grubbs is the founder of VictoryXR, VictoryStore.com, ChalkBites, and Victory Enterprises. Early in life, Steve served as Chairman of the House Education Committee in the Iowa House of Representatives and passed the largest technology funding bill in state history. More recently, he chaired the YPO Technology Network for two years. Today, Steve is working to create a place for virtual reality curriculum in schools. He has degrees in business and law from the University of Iowa.
Subscribe to the Factory Futurist podcast:
Google Play
iTunes Podcasts
Stitcher
TuneIn
iHeartRadio
---
We are social distancing! HUMPDAY Giveaways will be temporarily suspended. But in the meantime, please feel free to comment below and let us know how you're doing
&
Have a SAFE week!