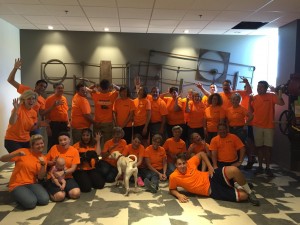 We made it! I'd like to start by thanking everyone (mom) who subscribed to my first HumpDay last week and to those that read it as well. I'm excited to be behind the wheel to deliver you all the latest and greatest of Grace News on electrical safety and products, fun facts, our future and our people. We're over the first hump at our new location and construction is still underway as you may see in the photos below.
The latter is the marketing department. See the monitors? That is where yours truly sits all by his lonesome. Fortunately, the office dogs come visit me often (I bribe them with treats). You may be wondering why there are so many empty spaces here. Unfortunately, this is not my entire office space as I originally anticipated. Apparently growing the company is more important than the amount of physical space I require to be creative. On a positive note, we plan to populate several spaces such as these with new employees as we continue to rapidly expand.
Let's talk about the elephant in the room. Last HumpDay I promised you all that we would double down on the giveaway this week. Some people had some great ideas and the powers that be granted me permission for two giveaways this week for the first time in HumpDay history! Is it? I don't know. I just started here and made that up. Hit the jump below for your chance to win a $50.00 Visa Gift Card or an extra extra-large (XL) "Grace Moving Forward" t-shirt, never been worn! Be thankful; we moved a lot of heavy things and it was hot outside.
Speaking of elephants, here's a cute video of a baby elephant chasing birds. Why is this relevant? Because a) it is adorable and b) today is World Elephant Day. Follow that link to learn more.
I'll try to keep these short and sweet in the future. There's just so much going on and I have nobody to talk to back here. The dogs stopped listening when I ran out of treats…
Hope you all have a great week!
The Grace Marketing Team