Happy HumpDay! It's a big one for the team here at Grace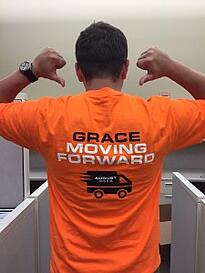 . For those of you who have been diligently following along, we are making our move this Friday, August 7, to our new building on 1515 East Kimberly Road in Davenport, Iowa. We have provided some photos below of the progress, but mind you, this is not its final form! While construction is wrapping up on the 45,000 sq. ft. space, we are excited to populate this place with the one thing that makes us Grace; the people!
I am going to take this moment to break the fourth wall and let you all know that I am the new kid on the block. My name is Nick (that's the back of my head in the photo) and I believe I was strategically hired just in time to help with the move. It was a bit of a shock when I started this week and they were already telling me to pack up my things by my third day! Honestly, though, the team has been so positive and efficient during this transition, I'm just grateful to be a small cog on this well-oiled machine.
But enough about me; it's about the people! This is an amazing time for us and we all want to thank you for your support over the many years. This Friday we will be going radio silent at 11:00am (CST) during our move and we apologize for any inconvenience this might incur! Trust me, it's not a vacation. We'll be working hard this weekend to be back up and running Monday, August 10 through infinity and beyond! So with that in mind, if you are sending an order in and need it shipped UPS RED, please have it to our sales department before 2:00pm (CST) tomorrow. If you have any questions, you can contact our Sales team at 563.386.9596 or sales@grace-eng.com.
Oh! And I almost forgot that we will NOT be doing a giveaway this week, as all of our prizes have been packed away in boxes. I know what you're thinking, "Worst new guy EVER!" We might have to double down the next time we meet from our new location, but until then, enjoy the shots and have a great rest of your week!
Over and out,
The Grace Marketing Team