Hey friends and associates:
Today we are reaching out to enlist your prayers, thoughts and good wishes for one of our own.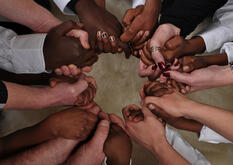 Almost 2 weeks ago, Bernie one of our production workers was burned at home. He has suffered burns on his legs, thighs and right side. He has been being treated and has now moved to a rehabilitation center.
However, he has ups and downs. He has a long road to recovery and experiencing great pain. He has fluid building in his lungs and now has infection in both legs. We, and Bernie know that whatever we ask from God, will be answered. We need today to be the day that God interjects and removes the infection and starts to clear his lungs.
Please take a few moments and Pray for Bernie. We want his room to be overloaded with heavenly blessings to all who enter: Staff, Family and friends all combining to bring miraculous results today.
Please pray for Bernie, his wife and family.
Enjoy your weekend and reach out to those most precious to you this weekend.
Thanks,
Your team at Grace.