When was the last time that you took time to relax and soak up all the positives around you and in your life? With all the hustle and bustle of every day life, the not so nice weather that most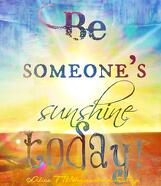 of us are having and the negative news stories going on....everything just seems hectic. Well, I wanted to put some sunshine in your lives today and share some stories and pictures to put a smile on your faces and encourage you to pass it on!
So today I was in the shop waiting in line for the self-checkout (the queue was huge btw), and when I get to the machine I see the lady who was using it before me has left her phone on the counter. So I pick it up and run all the way through the shop to find her panicking looking in her bag and give it back! She said thank you about 20 times :) Then I get back to the queue to check out realizing I'm going to have to join the back of the line, to find that the guy who was behind me has made everyone wait for me to get back and let's me back in telling me what a nice thing I did, and it's not every day he sees people do such things. Nothing huge, but it was really nice of him. I try and do one good deed every day, even if its something small, I think it makes a huge difference to our lives and everyone elses. If everyone does one good deed, no matter how small, every day, we can change the world!! - JT
We hope that these put a smile on your face and that you all have a great day! If you have not signed up for our month long giveaway, you have until the 31st, so sign up here!