As Memorial Day approaches this weekend, we want to take the time to remember the men and women who have fought and died protecting our freedom. Our thoughts and prayers are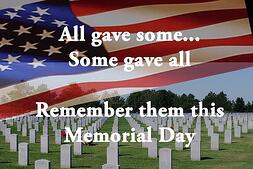 with those left grieving this Memorial Day. Words cannot express our gratitude for the sacrifice made by the ones who died and by the ones who continue to live with out them. With a humble heart, to all past and present soldiers and their families, we say thank you.
A Memorial Day Prayer for Our Soldiers
My God who gave His only Son,
To shed His blood for all mankind.
Give strength to all the loving ones,
Who give their sons or daughters to keep our land free.
Your faithful men and women,
Venture near and far.
We call upon your mercy,
No matter where they are.
Keep them safe, one and all,
On land, in air, on sea.
And while we know some will not return,
Give us strength to accept their destiny.
And to the men and women that have fallen,
Give a special place of grace in eternity.
And help me Lord to never forget,
The price they paid for our great country.
Grace Engineered Products will be closed on Monday for observance of Memorial Day. We hope that you all have a safe Memorial Day weekend! If you have not yet signed up for our month long "Electrical Safety Month" giveaway, you can still sign up until the end of May. Click here to sign up!