Every now and again, I love to get a song stuck in your heads. Today, in honor of the pending snow storm, I give you The White Stuff by Weird Al Yankovic!
As we prepare for the white stuff Mother Nature is getting ready to dump on us, I'm thinking some white stuff between some yummy chocolate cookies are in order! One of my favorite things to do when there is a snow storm is to get some of my favorite comfort foods and hunker down for a spell and enjoy the watching the snow fall. I found some snowed-in comfort food ideas that I thought I would share with you! Let me know which ones top your list!
To be culinarily inspired, check out the rest of these Snowy Day Recipes by clicking here. Let me know if you make any of them! That Toad-in-the-Hole looks interesting...I just may have to try that!
Save Panel Space and Increase Productivity with the E5
Avoid costly downtime delays and increase compliance to NFPA 70E by bringing diagnostic LED's through the panel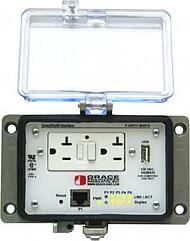 door with Grace Engineered Products new E5 Unmanaged Ethernet Switch!
The GracePort® Unmanaged Ethernet Switch gives you more reasons to keep your control panel door closed and limit exposure to voltage. Under NFPA 70E, opening control panel doors is a time consuming process. Combining safety, productivity, and cost savings into one thru-door package offer you these benefits:
Interior status LEDs (port P2 – P5) duplicated on front for thru-door diagnostics.
Program multiple devices safely from outside the panel.
Reduced cost due to panel space savings.
Convenient external RESET and Power LED indication