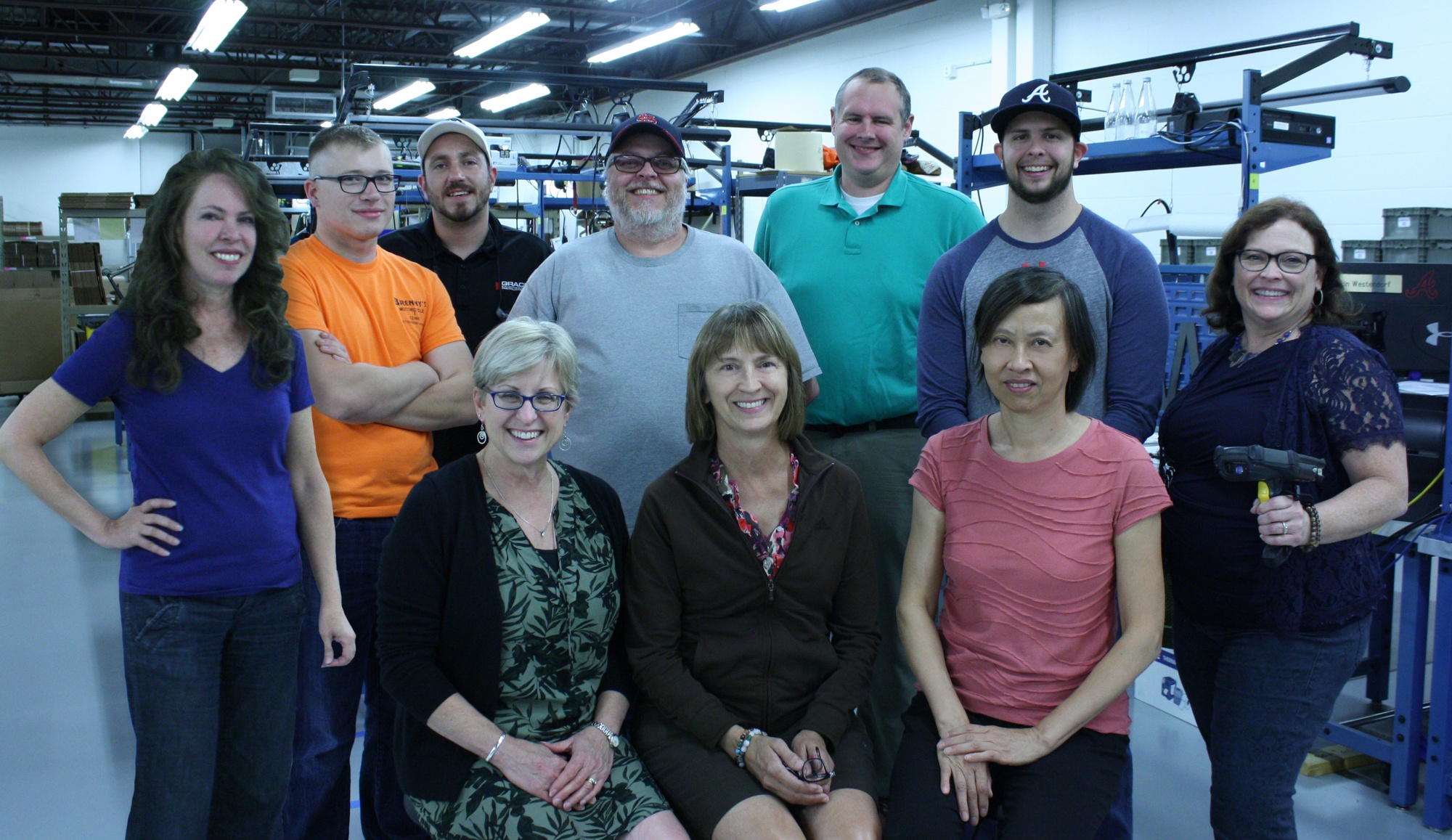 Back row from left: Babette Howard, Austin Kristof, Lyle Tharp, Brett Hart, James Bond, Brandon Westendorf, Claire Coughlin. Front row from left: Vickie Nelson, Wanda Steward, Ling Zou.
On Monday, it was announced that Grace Engineered Products has been awarded a 2018 Top Workplace honor by The Des Moines Register! Out of the 150 Iowan businesses honored with this recognition, Grace is one of the only manufacturers to make the list.
"Top Workplaces is more than just recognition," said Doug Claffey, research partner for The Des Moines Register. "Our research shows organizations that earn the award attract better talent, experience lower turnover, and are better equipped to deliver bottom-line results. Their leaders prioritize and carefully craft a healthy workplace culture that supports employee engagement."
I'd like to introduce you to the talent and our largest department team at Grace; meet Production! Since Phil's inception of the GracePort®, manufacturing of the fully customizable panel interface connector has solely taken place in the USA. Today, everything that comes from Grace is manufactured, kitted, boxed, and shipped by this team.

Starting with the captain of the crew; Claire is our Production Manager and has been a leader at Grace for nearly two years. Over this time, Grace has faced many challenges due to rapid expansion and growth and Claire has been at the forefront of overseeing new integrations and processes for the Production team.
She'll be the first to tell you she loves a challenge and faces them head-on each day, thanks in large part to the incredible support of her team. Her positivity is unwavering and contagious. Outside of work, Claire has been married for almost three decades and has three amazing children. She grew up in Tennessee and says she still has a little hillbilly in her soul!
"I am too blessed to be stressed," says Claire on working at Grace. "Each member of the Production team brings something unique and critical to our overall success whether it's problem-solving, an eye for detail, or a steady can-do attitude!"
His name is Bond. James Bond. And he is our Production Engineer. James has been with Grace for nearly four months and in that amount of time he has become a jack of all trades for our company assisting in many areas beyond the call of duty. Mr. Bond has been married for 13 years to his wife, Wendy, and they enjoy many things together, including cooking, and going on trips together by land, water, or railway.
James also enjoys spending time in his workshop at home and from seeing his carpentry projects at Grace, I'd love to see some of his home projects! I wonder if he can top the built-in, counter top soda machine he recently installed here with Vickie's husband, Bob.
Speaking of Vickie, before James came aboard, the vast majority of carpentry and handiwork around the facility was performed by Bob. She's coming up on 4 years at Grace this December. Prior to working in Production here, she spent 15 years working in a medical office setting and wanted a change of scenery.
Production was completely new for her but she quickly found that she enjoys the people she now works with. Vickie likes to say, "I do whatever needs to be done!" Her primary role involves quality assurance and shipping products after they pass her inspection. After a long day at work, she enjoys cooking for her husband, family and friends; also another reason why Grace Potlucks are so great! Vickie is passionate about being involved at her church and studying the word of God with others; she hosts a Bible study at Grace each week!
Another "can-doer" on the team is Babette who started out bagging and kitting voltage portals from home before becoming a full-fledged Production Associate at Grace in January of 2015. With a multitude of various tasks and duties associated with Production work, Babette fills the gaps by being flexible and rotating between product assembly and shipping.
When it comes to building, she enjoys assembling the Voltage Test Station the most; a top selling unit of which she has likely assembled hundreds, if not thousands by herself! Away from work, Babette is passionate about worship and music and even produces several local concert venues in the Quad Cities.
Come back next week to meet the rest of the team! Until then, I'll leave you with a quote from Drew on this amazing assembly of truly remarkable people who help make Grace a Top Workplace!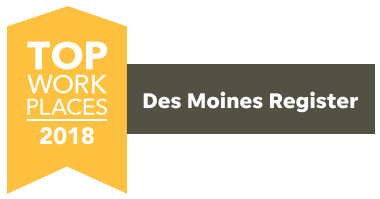 "Our production team is a shining light at Grace," said Drew. "Full of can-do attitudes and smiles. They are constantly dedicated to Grace's success and the truth is that we wouldn't be even slightly successful without them. They are the best!"
---




connect with us
---
Click below to enter the weekly Grace Giveaway Raffle.
Have a great week!