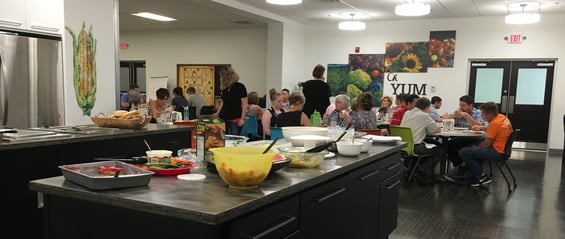 This is a really great and flattering picture I got with everybody's mouth full. Yesterday, we celebrated one cool dude's birthday; Phil Allen turned 55 years old ("double nickels", as he calls it) on June 21st. On the same date, we also got to celebrate his grandson's half birthday as baby Sam Allen clocked in at six months old yesterday!
When Sam comes to our office to grace us with his presence, productivity goes right out the window. The little lady's man always comes away smelling like many different scents of perfume as the women pass him around like a football (a hand-off, specifically; no babies were passed during the making of this metaphor). I really wanted to get photos just like these of Phil wearing "55" on his shirt and doing various fun poses, but I guess you'll have to settle for this mug: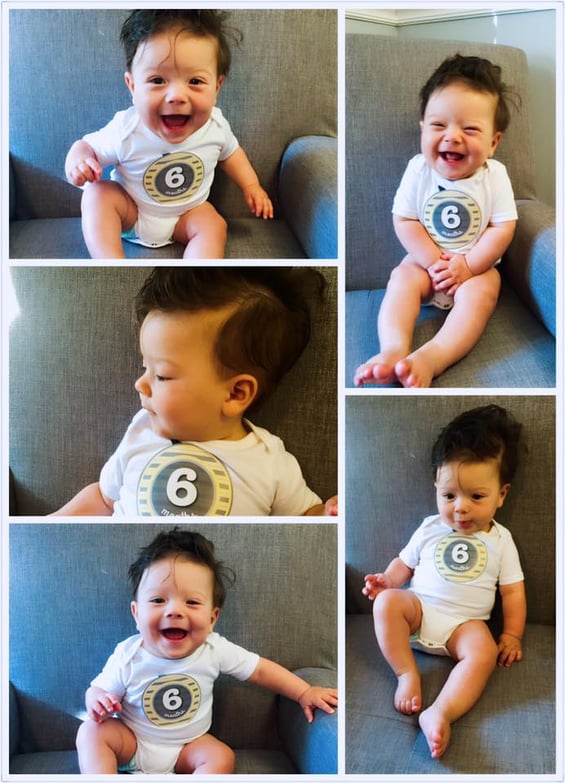 Fun facts about our Allen grandpa and grandson; Phil's birthday falls on the North American summer solstice which is the longest day of the year. Sam's birthday, December 21st, marks the date of North America's winter solstice. Coincidentally, south of the equator in a country such as Brazil where his mama is from, Sam's birthday would mark their summer solstice as well.
I'm not big on astrology and whatnot, but those are a few very incredible coincidences that I'm positive astrology enthusiasts could go to town on! But I digress; that's some Phil-osophy for another day. To kick off the lunch party, Phil shared some words with the Grace Team and we got to take part in the annual birthday-ribeye-lunch tradition. "EAT WELL" was staring me down when it came time for desserts, but I stood my ground!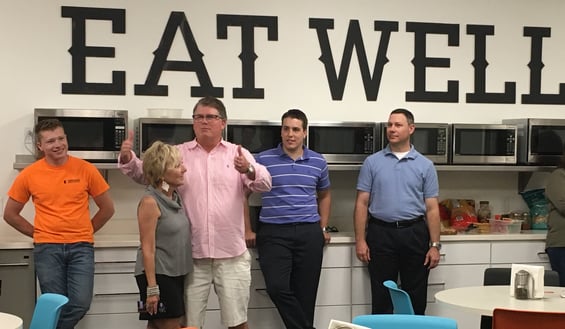 ---

GracePort®+ sales and marketing collateral are now available in electronic format. This includes product photography, data sheets, and more. You can access these by clicking the link to the folder below. We've also scheduled eight (8) webinars from June 28th to June 29th that you can take part in to learn more about these large protected housings. The brief 15-20 minute webinars will be followed by a Q&A session. You can register for a webinar that best suites your schedule by following the link below.
Side Note: We're still keen on making that video happen!
Sales & Marketing Collateral:

Single Page Flyer
Product Data Sheet

Configuration Form

Product Images

Application Photos

2D Drawing Files


HTML Source for Email

Email Banner for Signature

GracePort®+ Webinar Schedule:

Tuesday, June 28 - 10:00 AM
Tuesday, June 28 - 11:00 AM
Tuesday, June 28 - 2:00 PM
Tuesday, June 28 - 3:00 PM
Wednesday, June 29 - 10:00 AM
Wednesday, June 29 - 11:00 AM
Wednesday, June 29 - 2:00 PM
Wednesday, June 29 - 3:00 PM
---
Lindsay Hoggard drives "Big Bertha" and a couple of you guessed correctly!
Look for a YETI Colster in the mail soon...
Please "keep your drink as cold as science allows" responsibly.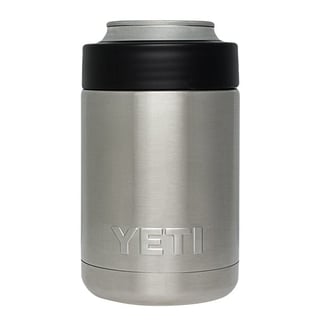 This week marked the one year anniversary of our GracePort® Builder's, Bernie Calkins, injury in a fire accident. It was a very long road to recovery that many of you supported and prayed for along the way and for that, we're so grateful. We're just thrilled to be able to celebrate this incredible milestone with him!
Have a great week!